If you're a Chicagoan who lives in the neighborhoods of Rogers Park, Logan Square, Old Town, Pilsen, or Bucktown, congratulations! You don't exist—at least according to this Old Navy t-shirt.
According to Gapers Block, the Old Navy on State St. is offering up graphic tees with an imaginative view of Chicago's geography, a revisionist landscape in which Austin, Lawndale, and Lincoln Park all border each other, and Lincoln Park appears to be twice as big as everything else.
Graphic designer Jennifer Haffner was nice enough to take a photograph of the t-shirt, one that could be its own Internet drinking game. Take a shot every time you notice a gross inaccuracy! Another one if you don't know what that neighborhood is! Finish your drink if the graphic tee in question appears to be a blatant rip-off of a much-better Ork Posters design! (Hint: finish your drink.)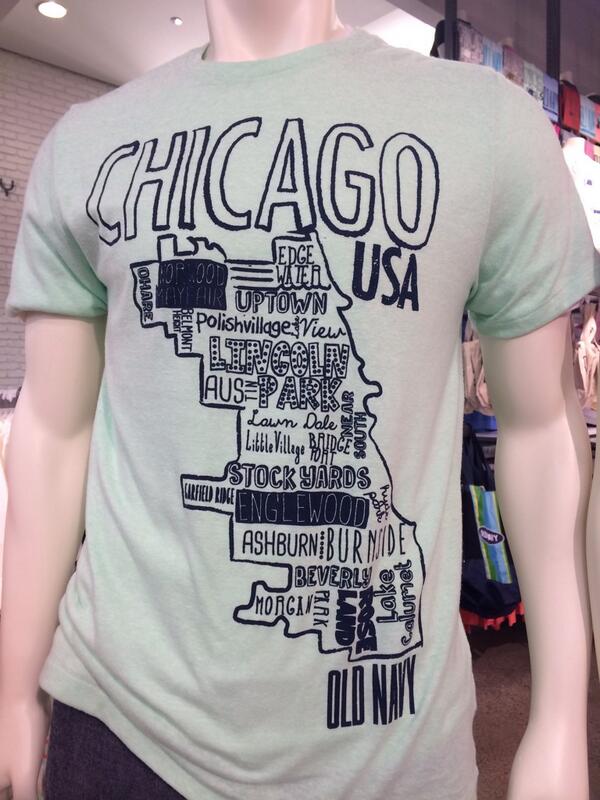 Photo credit: Jennifer Haffner
On Twitter, users quickly got drunk on the shirt's incompetence.
Worst map of Chicago EVER. Old Navy T-Shirt Has, Um, Interesting Ideas About Chicago Neighborhood Locations https://t.co/7B6xvT5t0t

— WGN Radio 720 (@WGNRadio) June 7, 2014
@OldNavy prints t-shirt with map of #Chicago. The one thing they didn't consult before making it? A map of Chicago. https://t.co/8yO1fZARoc

— Alexander Billet (@AlexanderBillet) June 8, 2014
What the hell is the Polish Village. RT@me3dia Old Navy has no idea about Chicago neighborhoods: https://t.co/LybfMyektS (h/t @jenniferh)

— Julie Bennink (@jbennink) June 4, 2014
No Chicagoan would wear this RT @me3dia Old Navy has no idea where Chicago neighborhoods are: https://t.co/lgseIIkSXa (h/t @jenniferh)

— Steph Hardiman Simon (@_StephSimon) June 4, 2014
Old Navy has yet to comment on the debacle, likely because they took a wrong turn at the Stock Yards and ended up in Narnia, where the rest of this map lives.
 Photo via Sergey Gabdurakhmanov/Flickr (CC BY 2.0)