You're sitting in a large leather swivel chair. You've just gotten the most important message of your life. A Russian submarine is preparing to attack the U.S. and you must launch our missiles. Only the catch is, by doing so, all Shiba Inu puppies in the world will die from a dog-specific airborne virus. In front of you on the desk is the big red button.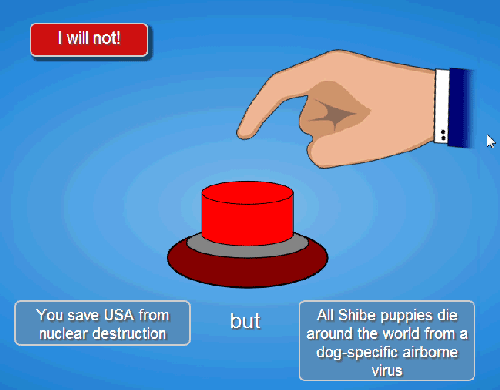 The improbable scenario is just one of the thousands people face on WillYouPressTheButton?, the Internet's latest obsession. The simple site is the brainchild of 19-year-old Martynas from Lithuania who just started his first year at university. 
"It was 4am and I was exhausted, but I liked the idea and didn't want to forget it, so I got up, turned my desk lamp on and drew a basic concept on a sheet of paper," Martynas told the Daily Dot. "Unshaved, under-slept, without the sunlight for about seven days straight, I worked on the website."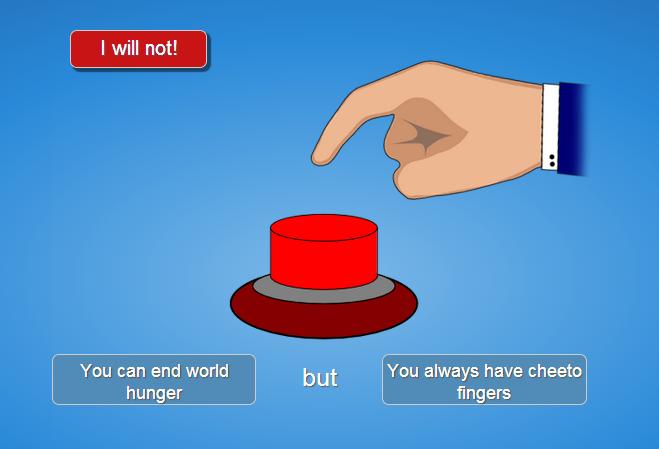 The site's gimmick is one every grade schooler has encountered on the playground: Give someone a positive outcome that is achieved only if a negative one if also satisfied. Like the "Would you rather" game, both expose a person's true leanings by making them choose between a rock and a hard place. Only WillYouPressTheButton? raises the stakes. After each time a question is answered, WillYouPressTheButton? visitors are presented stats on how many people pressed the button. 
The first question on the site was made by Martynas: "You get $1 million, but 100 random people die." The rest were created by friends and visitors.
Since launching on June 17, WillYouPressTheButton? has grown in popularity thanks to 4chan, Facebook, and Tumblr, where the questions have become a sort of meme unto themselves. The community posts screengrabs of their favorite WillYouPressTheButton? scenarios with other photos underneath for added comedic effect.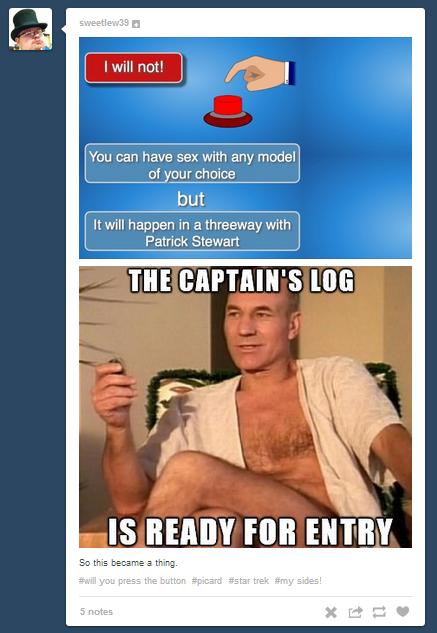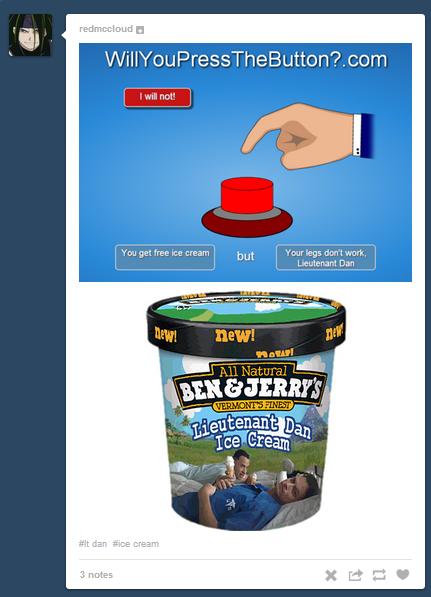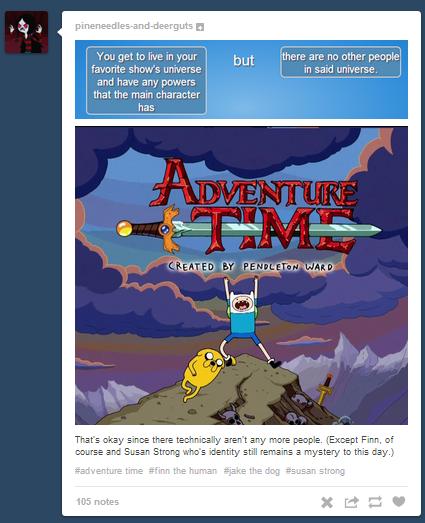 But it's been the Reddit community that has helped WillYouPressTheButton? really grow.
"Whole summer the traffic was about few hundred people a day. It all changed when Reddit found my website," Martynas said. "There was about a hundred thousand visitors one day in the beginning of September. Then the traffic went down to a few thousands a day, but a few days ago it rose again. Now it's about 150,000 visitors a day."
"The imagination of the Internet is unbelievable," Martynas added. "I have seen a lot of stuff, so I am not easily freaked out, but there were some really disturbing and offensive questions. I have received some emails from people complaining about racist or homophobic questions so I added a report button so I could re-review them. The society is really interesting. Some people hate the offensive questions, while some really do enjoy them."
Martynas provided the Daily Dot with the top 10 most popular questions to date; most of which are clearly jokes while others tap into actual scenarios adults grapple with.
1) You could program literally anything BUT You become Stallman-level autism
2) You could walk on any surface BUT You'd have to eat only fat spiders
3) You can make all the world fell (sic) happy BUT you'll become sad
4) You can have a pet dragon BUT You have no tongue
5) You get million dollars BUT lose your both legs
6) Getting your dream job BUT not being well paid
7) You would always sleep well BUT You could only eat cactuses 
8) Eat whatever you want BUT Only eat once a week
9) You can become a real Pokemon trainer BUT The world has no Pokemon
10) You would be a highly paid professional athlete BUT You would have to spend one month living without using any money
So, will you press it?
Art by Fernando Alfonso III