Anyone interested in gaming knows the joke: VR has been "about to hit the mainstream" for about five years now. But it never quite catches on or is on the verge of death, depending on who you listen to. To tell someone that VR workout apps would be the saving grace of the format would likely get you laughed out of the room.
I didn't click with VR myself at first. The Oculus Rift was my first foray into it, at a friend's house last year. I came away mostly motion sick and unsure I ever wanted to put on a headset again. Less than a year later, I not only have my own Oculus Quest, but I do VR workouts daily. It's the most fun I've had exercising in my life. Sometime between the beginning of the pandemic and now, VR became indispensable for me. Little did I know it was becoming the same thing to thousands of people across the world. And remarkably, many of them are well into their golden years.
What made VR exercise click for me
Coming across Supernatural, a VR workout app I discovered early in the pandemic, has been a game-changer for me. I've never been great at hitting the gym––I'm more of the home yoga type. But since I really started to fall in love with VR late last year, I realized the format had something to offer that I couldn't find anywhere else: a way to make working out truly fun. Also, it also kept me moving through the early stages of the pandemic. It gave me something to look forward to, which I really, really needed.
As I got further into Supernatural and joined its growing community on Facebook, I noticed something unusual. Many of the people posting were a decade older than me––or more. At first I thought perhaps a younger family member introduced them to VR and perhaps they caught on that way. It was hard to believe they'd found it on their own. After all, I've been a gamer since I was five years old, and I've heard the same rhetoric from older people all my life: "Aren't games for kids?"
Yet here I was in an active group of gamers, some of them 70 years old. They were doing VR workouts every day. Buying a VR headset is a pricey investment. Tech journalists still say the cost prevents accessibility to VR. So what about Supernatural made these folk spend money even hardcore gamers aren't willing to fork out?
Bonding in a VR universe
"I wanted to play Beat Saber and could stomach buying a $500 unit to play a $32 game," Jill Lampi told me. Lampi, 48, is a highly active Supernatural community member. "But I couldn't think about buying a $3000 computer and a $900 VR rig for a $32 game."
Like me, Lampi grew up with games, so VR wasn't that big of a jump to make. Her first computer was a Commodore 64 in seventh grade. That paved the way to a love for MMOs like World of Warcraft. Also, she admits that current events played a role in her getting involved in Supernatural's daily workouts.
"Supernatural came into my life at a very key time," she said. "I get the feeling it's that way for a lot of us. Covid isn't mentioned a lot (in the Supernatural Facebook group) but it's changed the world. Our socializing and our way of thinking about the future has changed. So something like this community is amazingly helpful."
How music paved the way for VR
It's not a huge leap to imagine a gamer finding their way to VR workouts. But Jackie Dubill, a 56-year-old music teacher, loves it. She had no involvement in games whatsoever until her husband purchased a VR headset early in the year.
She thought the headset was a frivolous purchase at first. Discovering Supernatural changed her mind. Once she tried it, she was hooked. Now her husband plays Supernatural too, and she's hoping to show her 18-year-old daughter how fun VR can be.
"As a musician, I love that music is such an important part of the workout," Dubill said. "Not just playing in the background but by hitting the balloons rhythmically, you are actually part of the music."
But I wondered: did VR take the place of the workouts she did before the pandemic? Or would she give it up once a vaccine made the world once again safe to navigate?
"I will never go to a gym again," she said.
"It's not just a physical workout"
When I asked 71-year-old Lauren Gayl what drew her to VR, she called Supernatural a "moving meditation."
As the founder of Gayl Creative Arts and a Chakradance teacher, she was already intimate with the idea of spiritual movement. When she saw the game in a Facebook ad, she was instantly intrigued by the concept.
"I love to dance," she said. "And it seemed like a cheap way to travel." For Gayl, the gorgeous locales of the workouts also attracted her to Supernatural. She purchased an Oculus Quest and started playing regularly, quickly racking up 300 sessions since July.
Gayl saw immediate strength changes, but also said it was more than just a game for her. "It's not just a physical workout," she said. "I've experienced body growth, spirit growth. It's created this amazing safe space."
VR workouts: A way of life
At 2500 members and growing, it was obvious something special was happening within the Supernatural community. But was it just the game, or was VR actually a gateway to something more?
Job Stauffer, a Supernatural dynamo, very much believes in the latter. After decades in the videogame industry, Stauffer founded Flow State Transformative in 2018. The consulting firm focuses on VR development projects with a spiritual/mental health bend.
Stauffer has long believed VR workouts offer a unique magic. You'd think that's because he lost more than 80 pounds doing them. But the weight loss is only a scratch in the surface of a much deeper experience.
When Flow State Transformative connected with Supernatural, Stauffer started to play the game regularly. He quickly found he was experiencing flow state in VR, a sentiment which many others in the Facebook group shared.
The experience inspired him to create the Supernatural 100K Club, a gathering space for players who have surpassed a score of 100,000 in the game (a feat that requires months of consistent play). The group's weekly Sunday brunches bond over everything from Supernatural scoring tips to mental health. Stauffer tells me the median age in the group is 50––and more members keep on coming.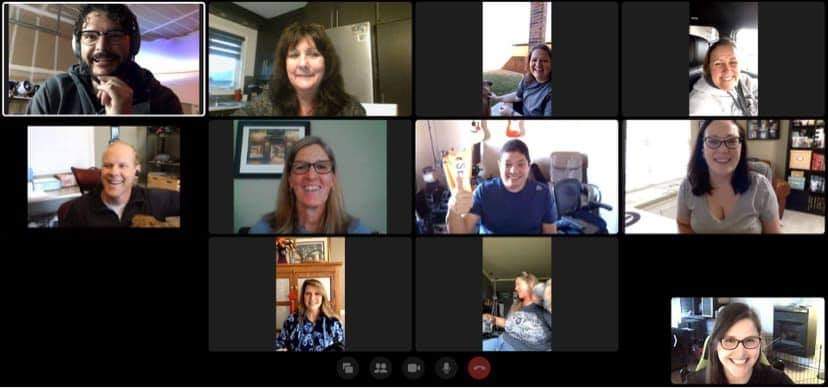 "Points really aren't the reward in this space, a safely-connected community is the reward," Stauffer told me in an email. "2020 has been unusually dark and disconnected. Finding a way to safely build unity and a purpose to keep going seems like the right thing to do. And yet it's always been the right thing to do, all of the time."
I attended a Supernatural 100K brunch myself and was amazed at the genuine positivity and hope present. No doubt all those endorphins from their VR workouts had a major effect on mood! But it was also clear the group felt at ease together. While some were just there for Supernatural, others had begun to explore more of the world inside the headset. And that unveiled something that has been true all along: gaming is not, and has never been, about age. Watching people decades older than me light up about the magic games for the first time, I couldn't help but smile.