BY MATT SACCARO
The first era of social media marketing is dead. The "new" has worn off, and the "cool" has dissipated into the wi-fi beams.
Earlier this week, a tweet from the Federal Student Aid Agency sent the Internet into a rage. This agency oversees FAFSA (Free Application for Federal Student Aid) forms. Students who need financial assistance to attend college must fill out this lengthy document. To remind incoming students that the June 30th deadline was looming, they tweeted this: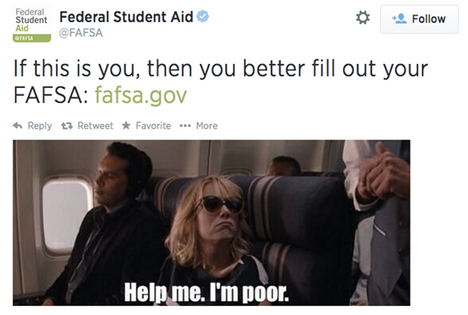 Offensive? Well, of course—it mocks poor people. The Education Department apologized, as did the Federal Student Aid Agency's Twitter account.
But the biggest issue with the tweet isn't necessarily the insensitivity of it, but the reasoning behind it. Social media marketing has become a game of GIFs, memes, and manufactured quirkiness. Not only is every Twitter (or Facebook, or Tumblr, or Pinterest) account trying to attain the ever-nebulous holy grail of "engagement," they're also attempting to achieve the impossible feat of unceasing growth.
The best way to do all that is to post funny, lighthearted content in order to make the brand seem human and relatable. Perhaps the two best brands at accomplishing this are Taco Bell, whose Twitter prowess has been well documented, and Denny's—who's kind of a big deal on Tumblr. When you get an entire social network to anthropomorphize your brand and ship it with another brand, you're doing something right…right?
New data indicates this might not be the case. Likes, reblogs, favorites, retweets, and other cherished metrics may well be meaningless for brands and advertisers, according to a new Gallup poll. The poll found that 62 percent of Americans are uninfluenced by social media when it comes to purchasing decisions. Only 5 percent of people claimed that social media had a large influence on their spending habits. Less than half of Millennials—arguably the most avid users of social media in the poll—are impacted by social media when it comes to purchases.
Gallup condensed their findings into a sentence that should give social media marketers everywhere chills: "A solid majority of American adults say that social media have no influence at all on their purchasing decisions—suggesting that the advertising may be reaching smaller segments of the market, or that the influence on consumers is indirect or goes unnoticed."
If words aren't driving the point home, here's a picture courtesy of the Wall Street Journal: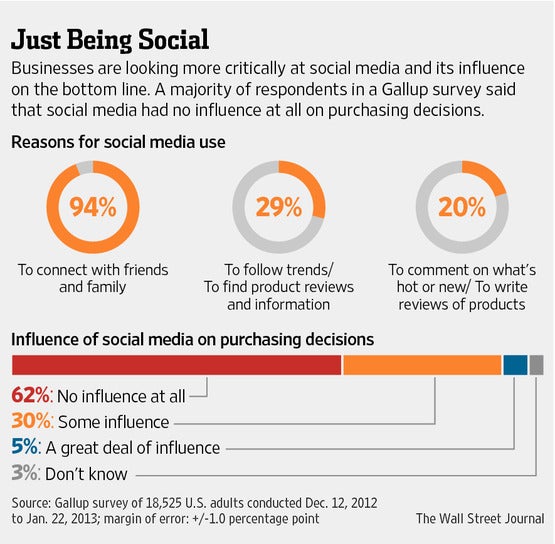 The Wall Street Journal also reports brands are overhauling their use of social media in response to the recent news about social media marketing's apparent ineffectiveness.
This is a wondrous and necessary change. The ethos of increasing metrics by as much as possible by whatever means necessary that many social media managers/consultants/ninjas/gurus/cosmonauts subscribed to led many a brand astray. Brands focused so much on engagement and metrics they forgot what purposes those things were supposed to serve in the first place.
Let's go back to the Federal Student Aid Agency. The controversial tweet they sent out reeked of "engagement statistics" and other BS buzzwords. While the kernel of the tweet was fine—it reminded people the FAFSA deadline was coming—the rest was so unnecessary (in addition to being aloof and foolish).
A Twitter account (or even Facebook or another social network) like the Federal Student Aid Agency's doesn't need to tweet out memes and image macros. All it needs to do is be an accessible help desk for people with questions and concerns about their FAFSA.
Similar sentiments are true for most brand or government agency Twitter accounts out there. There is a specific purpose for these accounts, and trying to be cool isn't it.
Matt Saccaro has contrbuted to Salon, Thought Catalog, Medium, and BuzzFeed. He's the author of the eBook, Sex, Lies, and Scantrons, as well as an eBook about U.S. diplomatic history.
Photo via GettysGirl2460/Flickr (CC BY S.A.-2.0)