Various Hulk Twitter accounts have received a fair amount of public attention, with @FilmCritHulk even landing a review in the New Yorker—a review of Mark Ruffalo's performance as the Hulk in The Avengers, that is.
But while the all-caps Hulk format has proven itself to be hugely successful, superhero fandom has provided us with a plethora of other options ranging from serious roleplayers who never break character, to parody accounts whose followers number in the hundreds of thousands.
1) @godofbadassery 
@godofbadassery showed up sometime between the release of Thor and The Avengers, parodying the main supervillain, Loki. Spurred on by the popularity of Loki (as well as Tumblr's rabid fascination with the actor who plays him, Tom Hiddleston), @godofbadassery has reached over 42,000 followers and even inspired a spin-off T-shirt business. In fact, not only has the account gotten into public showdowns with Tom Hiddleston himself, there is also footage of its writer meeting him in real life. Six months since the release of The Avengers, @godofbadassery is much quieter than before, possibly because its author is currently working on an Indiegogo-funded documentary on British cinema. But fans will surely be hoping for a comeback when the "real" Loki returns in Thor 2 this summer.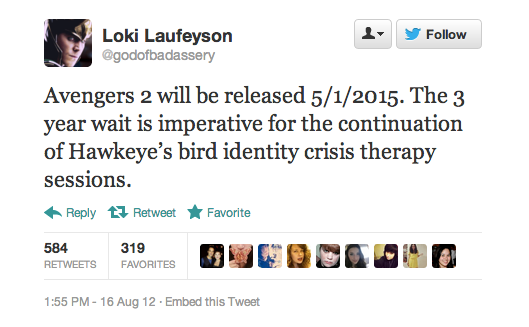 2) @JerkSuperman
Possibly inspired by the "Superman Is a Dick" meme, @JerkSuperman now boasts almost 35,000 followers. This parody account characterises Superman as a boorish idiot who brags about his laser eyes and calls out his rival superheroes at Marvel Comics.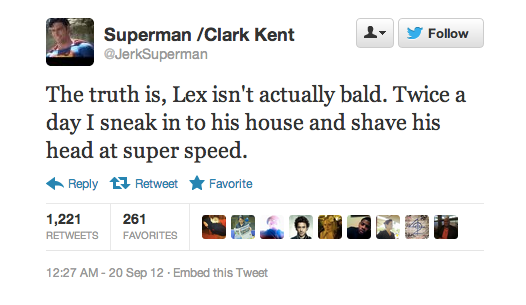 3) @CK1Blogs
Possibly the only Weird Twitter superhero account, @CK1Blogs belongs to a Clark Kent who is about as far from @JerkSuperman as it's possible to be. Now a Daily Planet blogger thanks to the decline of print media, @CK1Blogs clearly knows nothing about the internet, and regularly misuses hashtags or accidentally tweets his own google searches: "rush tribute band metropolis"; "jack reacher based on a true story." And in true hapless Clark Kent style, he constantly tweets banal messages to a Lois Lane who never replies: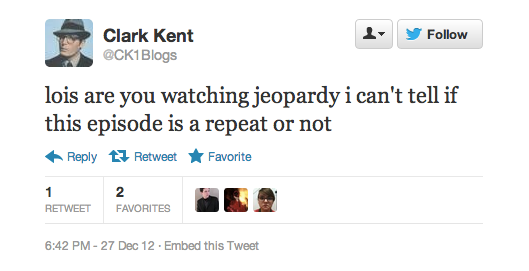 4) @planet_lois
Feminist Hulk would no doubt be disappointed to hear that there are currently no female superhero Twitter accounts on the same scale as Batman and Superman. However, it's very easy to imagine this Lois Lane account as the recipient of @CK1Blogs' constant barrage of tweets about panera bread and Jeopardy: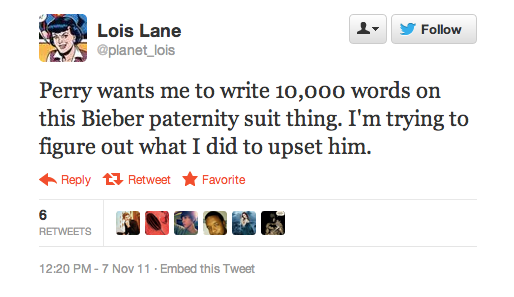 5) @God_Damn_Batman
With a whopping 409,098 followers, Batman may well be the most popular superhero on Twitter. As one might expect from the caped crusader, he speaks to no one, follows no one, and tweets a lot about vigilante justice.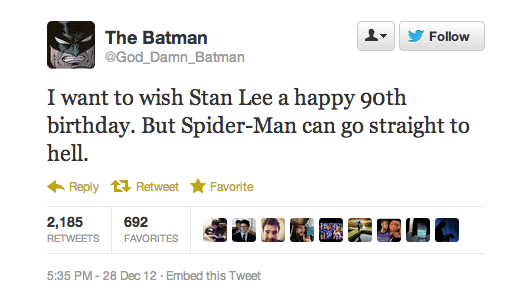 6) @starsandtights
This Captain America account is one for the old-school fans, a Twitter version of the slice-of-life roleplayer blogs that originally became popular in LiveJournal fandom. @starsandtights tweets entirely in character, interacting with followers and participating in an ongoing Avengers soap opera of Twitter roleplayers including Tony Stark and Bucky Barnes. @starsandtights is similar to the type of Captain America one sees in fanfiction: sweet, patriotic, and slightly confused by 21st-century technology.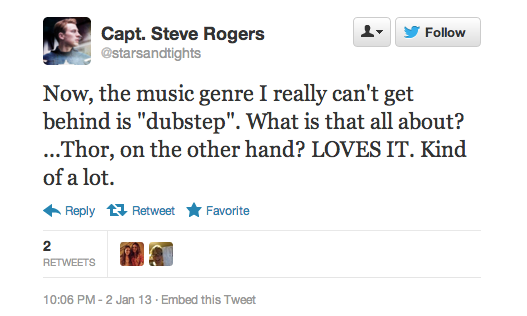 7) @Pizza_Dog
Matt Fraction and David Aja's Hawkeye proved to be the surprise hit of the superhero comic book world in 2012. The series celebrates the everyman nature of Marvel's most overlooked Avenger, including his adoption of Pizza Dog, who became something of a cult figure once writer Matt Fraction began tweeting Pizza Dog facts. There are even Pizza Dog cosplayers!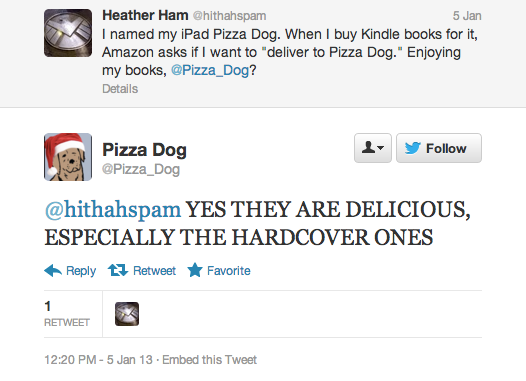 Illustration by rismo/DeviantArt