Swedish politician Lars Ohly seems a big fan of English Premier League team Liverpool. So much so that he tattooed the team's liver bird emblem on his calf.
Proud was Ohly of his ink that he wanted to share it with all and sundry. He took a photo of his calf and the tattoo and shared it on Instagram. Nothing wrong with that.
Except for one thing. One thing between his legs.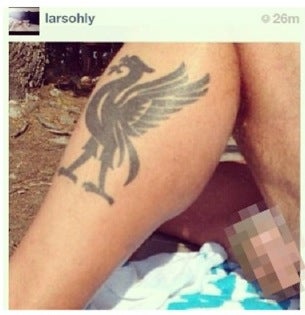 The former chairman of the Swedish Left Party received a whopping 18 likes before realizing his mistake and deleting the photo, The Local reported. Yet, in true European fashion, Ohly wasn't truly ashamed of baring his dong.
"Haha, just happened to post a picture on Instagram, which showed more than intended. Now fixed," he wrote on Twitter in Swedish. "Summer's wonderful. The willy picture is today's hot topic. Completely by accident, though. The future will see a more thorough uploading review process." That process is likely to be undertaken by his wife, he joked.
Ohly also tweeted he'd received an influx of Instagram followers ("how disappointed they're going to be," he said). He claimed the best reaction was from former Social Democrat leader Håkan Juholt. "I'd planned to grill sausages tonight but now it's going to be chicken," Juholt wrote to Ohly in a text message.
The blunder caused mirth elsewhere in the country, though the person curating the @Sweden account this week has yet to weigh in.. "Anyway nice to live in a country where a politician can show ***%! without it becoming more than a little giggle," tweeted one resident.  
Never change, Sweden.
Photo via larsohly/Instagram