Silk Road 2.0, the heir apparent to original king of Deep Web black markets, is in chaos as two top moderators appear to have been arrested in the United States and Ireland. Rumors began spreading this morning and have been confirmed by TechCrunch.
One, a man named Andrew Michael Jones who uses the name Inigo on Silk Road, was arrested in Virginia. The second, an as yet unnamed man who uses the name Libertas, was arrested in Wicklow, Ireland.
"They caught [Libertas] this evening at his house in Wicklow at around 8pm Irish time, and managed to seize approx 200,000 Euro of bitcoins in the raid,The figure is to be confirmed," TechCrunch's source said. "It looks like the the beginnings of the demise of Silk Road 2, not very long after its resurrection."
The rumors started swirling early this morning when a user named PrincessBtcButtercup on Reddit's r/SilkRoad forum said that her boyfriend, a Silk Road administrator, had just been arrested. She didn't know his login name, she said, but the police had told her they were making arrests around the world. 
"He is a wonderful person," she continued, "and has been supporting me (due to my chronic pain), so to say the least my world has been turned inside out and upside down."
On another Deep Web forum, someone claiming to be a Silk Road user posted what he said were messages from the black market's private vendor forum.
"Guys I was arrested yesterday and out on bond now," said the vendor. "But something is fucked! I know I'm risking more warning you guys and my attorney doesn't even want me on the internet but you guys need to know this. When I was in the interview room they showed me all sorts of shit that they should not know or have access to including conversations I've had with buyers and even DPR. I don't fucking understand.. and when I was in there I was at a loss for words. Something is definitely wrong and they have the ability to see things on here only mods or admins should like btc transfers and a dispute I had. WHAT THE FUCK?"
The Silk Road forums, by this point, were in full panic mode. Other administrators stated they were looking into the matter and had suspended the account of Inigo, the leader of Silk Road 2.0.
Soon, the "girlfriend" (whose Reddit account has since been deleted) posted court documents to back up her claim.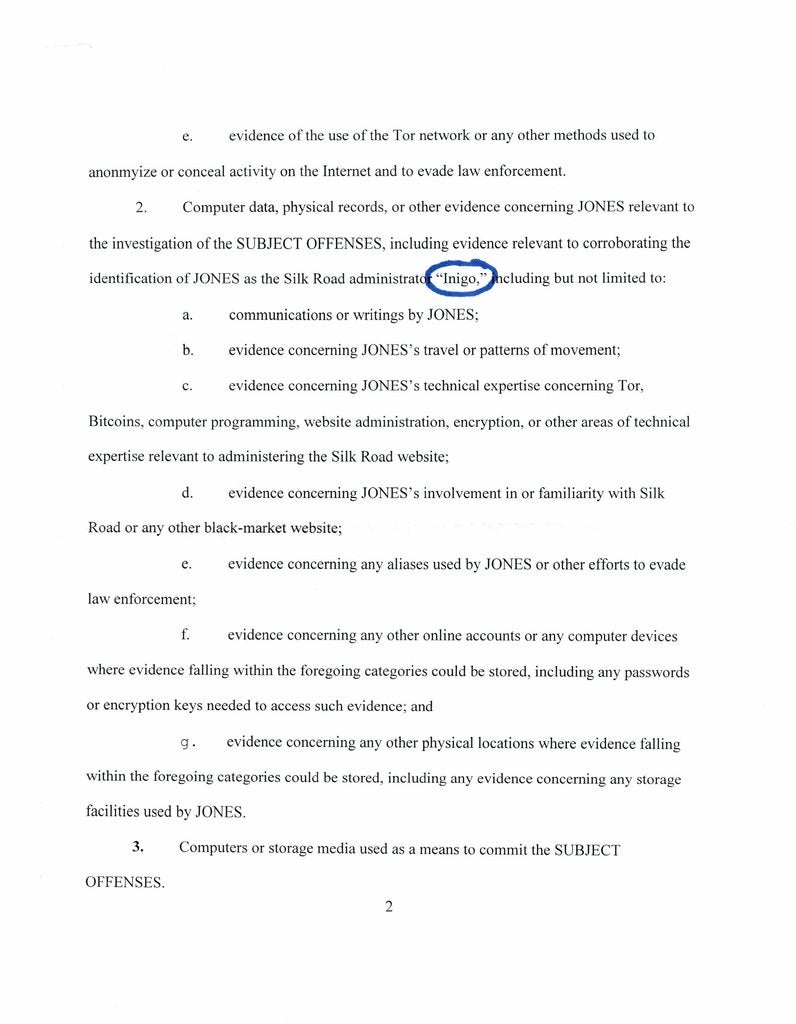 The documents, which have not been verified, say "Andrew Michael Jones" was arrested and that he used the name "Inigo" on Silk Road. A list of property to be seized includes computers, Bitcoin wallets, and "evidence relevant to corroborating Jones as the Silk Road administrator 'Inigo.'"
The girlfriend also posted what appears to be a scanned copy of the business card of FBI agent Christopher Tarbell, the man who has been called "the Elliott Ness of cyberspace" for his roles in taking down cybercriminals such as Sabu and Dread Pirate Roberts from the original Silk Road.

The rumors appear to be true. It's unclear whether the police activity is at all related to the recent DDoS attacks suffered by Silk Road that appeared at first to be cyberwar with rival markets.
Due to the fall of Silk Road 1.0, it's likely that multiple high-level users have access to the Dread Pirate Roberts account in an attempt to decentralize power and make it more difficult for law enforcement to take control.
"We are still here," one administrator wrote this morning. "And we are still in full control. More to come."
Later, the DPR account posted that "Silk Road has not been compromised even if the allegations are true. Neither had access to sensitive material."
The post suggests that while the arrests may be real, and the threat of police informants on the site is enormous, Silk Road 2.0 itself will live on  at least for a while.
H/T Deep Dot Web | Illustration by Jason Reed