Hidden among empty beer bottles and cardboard boxes in the Peteuil family basement is a secret sculpture garden featuring clay busts and full-bodied models.
In the back, against one of the walls, is Daniel Peteuil's most prized creation—and also his most stolen.
It is called "The Sitting Man," a sculpture of a nude, sinewy man carrying a book behind his back while sitting atop a rock. The piece has remained in that basement for three years. But thanks to photographs the 24-year-old sculptor posted on his portfolio site, a handful of Reddit users have falsely claimed ownership of "The Sitting Man" in exchange for karma, the points system the site uses to reward quality submissions.
A post of this nature made on Sunday was the final straw for Peteuil.
"At first I was like, 'this is not good,'" Peteuil told the Daily Dot. "People on Reddit noticed the sculpture wasn't this guy's, so I wasn't really that mad because a lot of people didn't fall for it."
Peteuil was tipped off to the thievery Thursday, and worked with the moderator of the hugely popular r/pics subreddit to claim rightful ownership of his work.
Not only did the sculptor finally get proper credit for his creation, but thanks to the overwhelmingly positive response Peteuil has received from the Reddit community, he has also started a Kickstarter campaign to transform the 19 inch tall sculpture into a bronze cast.
"I didn't make it originally to be permanent," Peteuil said. "So I don't want to destroy it and start something new."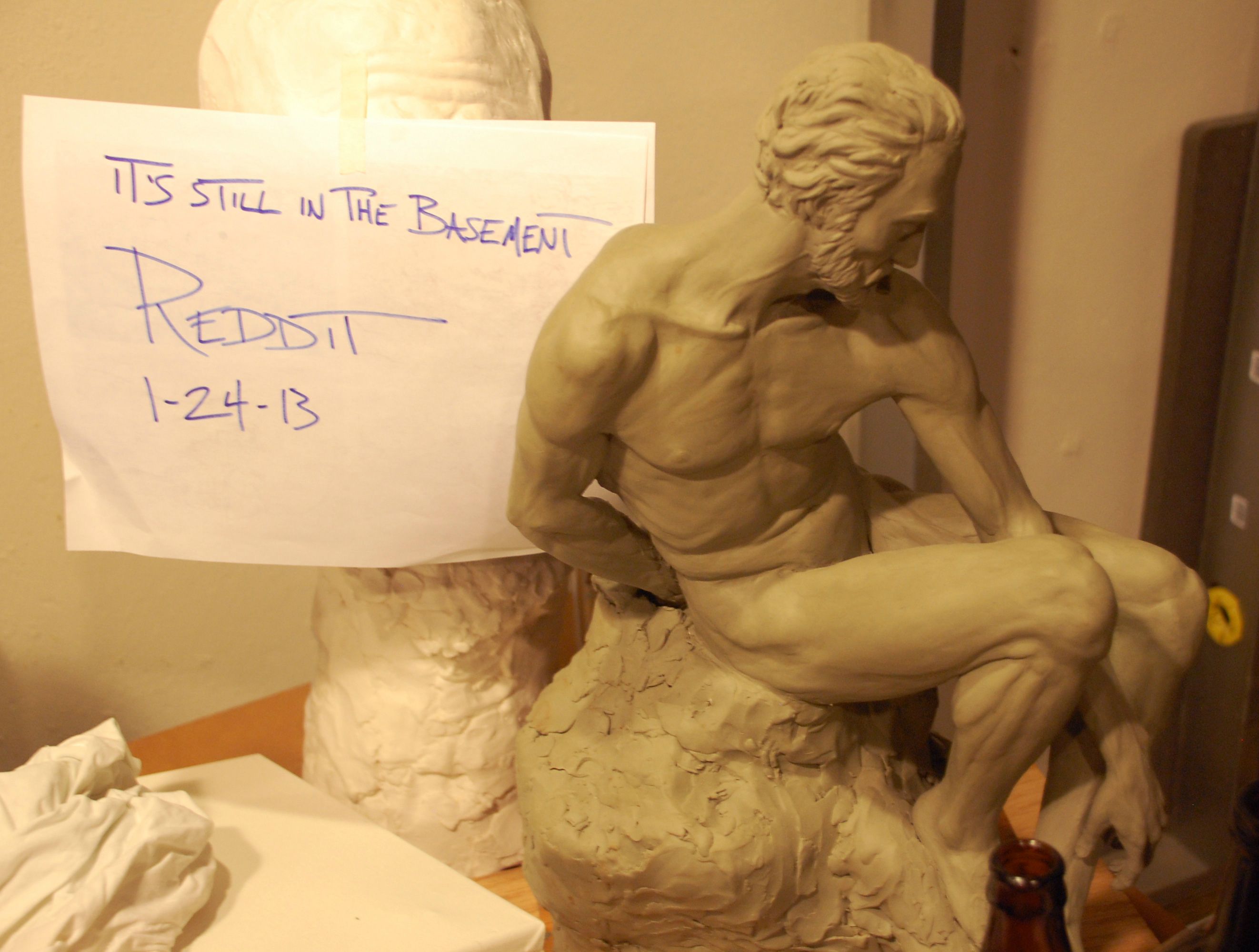 So far, the Kickstarter campaign has collected $2,651 toward its $3,125 goal. Rewards for contributing include a postcard of the statue, a plaster cast of a female torso, and for a donation of $2,250, a bronze cast of "The Sitting Man."
"It's my 1st time backing something on kickstarter. I hope it works out for you," redditor wilwith1l commented. "I need to succeed through you!"
Peteuil created the statue in October 2009 after drawing inspiration from the works of Michelangelo. Using ROMA Plastilina, an oil-based compound, some rudimentary modeling tools, and his hands, Peteuil created "The Sitting Man" over the span of 30 days. Aside from using notes and images from Paul Richer's Artistic Anatomy, "The Sitting Man" was created using no physical model.
 
"A man desires to be what his environment tells him he shouldn't," Peteuil wrote on Kickstarter regarding the inspiration behind the work. "He is a man of physicality and strength, yet he hides in shame his thirst for knowledge where others cannot see."
Peteuil's passion for sculpture was honed at San Francisco Academy of Arts in the fall of 2008. It's there where he took his first sculpture class.
Today Peteuil is a freelancer specializing in digital sculpture and 3D modelling. He is currently working on model of a woman. Yet, chances are, she will not be cast in bronze.
"Getting it cast in bronze made me realize why there's so few sculptors," Peteuil said. "Compared to painters, there is so much manual labor involved in sculpture and the materials cost so much. Especially if it's a big piece."
All photos via Daniel Peteuil