Filmmaker Michael Evans doesn't need comic books, personal experiences, or cookie-cutter Hollywood plots to generate ideas. All he needs is Reddit.
Everything began on April 6, 2012 in the subreddit r/LetsNotMeet. The community, which is home to over 43,000 subscribers, collects true stories of unnerving–and oftentimes downright frightening–encounters with creepy individuals. Unlike on scary stories subreddit r/nosleep, the r/LetsNotMeet moderators require submissions to be 100 percent true.
Redditor blue_tidal posted his tale about a late-night encounter with a clearly deranged stranger who danced as he walked, his face twisted into a permanent, creepy smile. Despite blue_tidal's attempts to ignore the individual, "The Smiling Man" eked ever closer to him, ultimately giving chase.
Redditors applauded blue_tidal's story, awarding it over 1,200 karma points and praising it for its real-life creep factor. But Evans, who goes by the Reddit handle michaelje0, decided to reward blue_tidal's tale with something a little more permanent than upvotes or comments.
"A month ago, in /r/AskReddit, someone asked "What is the scariest/creepiest thing you have seen/heard?" We made a short film based on the top comment. It's called "2AM" and it's about The Smiling Man," Evans wrote in a July 23 post on r/videos, referring to a May 29 r/AskReddit thread.
Evans' short film, titled "2AM," illustrates blue_tidal's story scene-for-scene, albeit with a different ending. The video clocks in at just over four minutes in length and, like the source material, contains only one line of dialogue. What drives it are the music choices that accompany the Smiling Man's appearances, which range from eerie to absolutely terror-inducing.
The video has seen over 400,000 views since its July 23 upload. YouTube and Reddit alike have reacted favorably to the recreation.
"This was such a great film that? now I'm terrified of walking alone and creepy dudes smiling. But cool video" YouTube user Tabby Zarin said.
"It's 8:54AM and that creeped me out" redditor KevinDurden said.
Even blue_tidal himself offered his thoughts.
"First thing's first: this is pretty cool," he wrote. "It's really well shot, and the actors did a great job. It's not particularly accurate in terms of how it actually went down, but a few things were very close. The moment when The Smiling Man stops after the narrator crosses the street in particular is very close. The dance was more flowing and true to a waltz, but I think a lot of the choices they made for this video were for the sake of adaptation for the different medium (including the different ending)."
Blue_tidal went on to say that he doesn't mind others adapting his story, revealing that he gets many messages from interested parties every day. He simply does not wish for someone to make money off of it.
Reddit-born stories being adapted into other media is nothing new. In November 2012, Dathan Auerbach saw his collection of scary, albeit fictional, stories published as the book Penpal. In October 2011, Warner Bros. optioned a tale spun by redditor Prufrock51 on r/AskReddit for a movie.
With all of the newfound attention his story has garnered, it's safe to say that, somewhere, blue_tidal himself is walking around with a permanent smile on his face.
Chances are, so is this guy.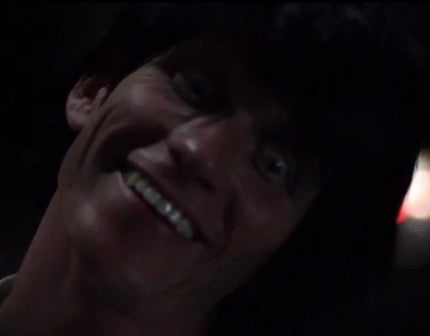 Screengrabs via Michael Evans/YouTube