Warning: This article contains spoilers for Queen Charlotte: A Bridgerton Story.
Queen Charlotte, Netflix's Bridgerton prequel limited series that served as an origin story for a fan favorite, faced the conundrums that most prequels do: Could it tell a compelling story that could stand on its own as it connected to the flagship show while justifying its own existence?
In Bridgerton's first two seasons, Queen Charlotte (Golda Rosheuvel) was mainly comic relief, although we saw glimpses of her interiority in her few bittersweet interactions with King George III (James Fleet), who is no longer capable of ruling and doesn't remember who his wife is on most days. She's essentially a show creation with no basis in Julia Quinn's Bridgerton novels—and if she had been in the books, she would've only been able to appear in the first three before the series went beyond her lifespan. Any depiction of her would have to dip into real-life history, which opened itself up to immediate scrutiny of the show's historical accuracy in addition to the critiques it already faced for handwaving away some of the more unpleasant aspects of the British Empire (e.g., colonialism, slavery); Queen Charlotte insisted upfront that it wasn't a history lesson and instead operated as "fiction inspired by fact."
And in depicting the love story between a younger Queen Charlotte (India Amarteifio) and King George (Corey Mylchreest), the prequel had to sell an epic romance about the same guy American audiences had been told through years of history classes was a mad tyrant who made life so intolerable we declared independence. Or, at the very least, that young King George was the same George who spits his way through Hamilton. (But then again, it took some viewers a while to make that connection.)
It doesn't escape every single prequel trap as it shows us how London high society became integrated and how Lady Agatha Danbury (Arsema Thomas) became the person she was. You can also argue about how effective the execution of how Charlotte and George's marriage led to the integration of London's high society and non-white members of the ton obtaining titles, wealth, and land known in the show as "The Great Experiment," which takes some aspects seriously but handwaves others. But in many other regards, Bridgerton's prequel absolutely works.
Queen Charlotte: A Bridgerton Story: Chemistry, chemistry, chemistry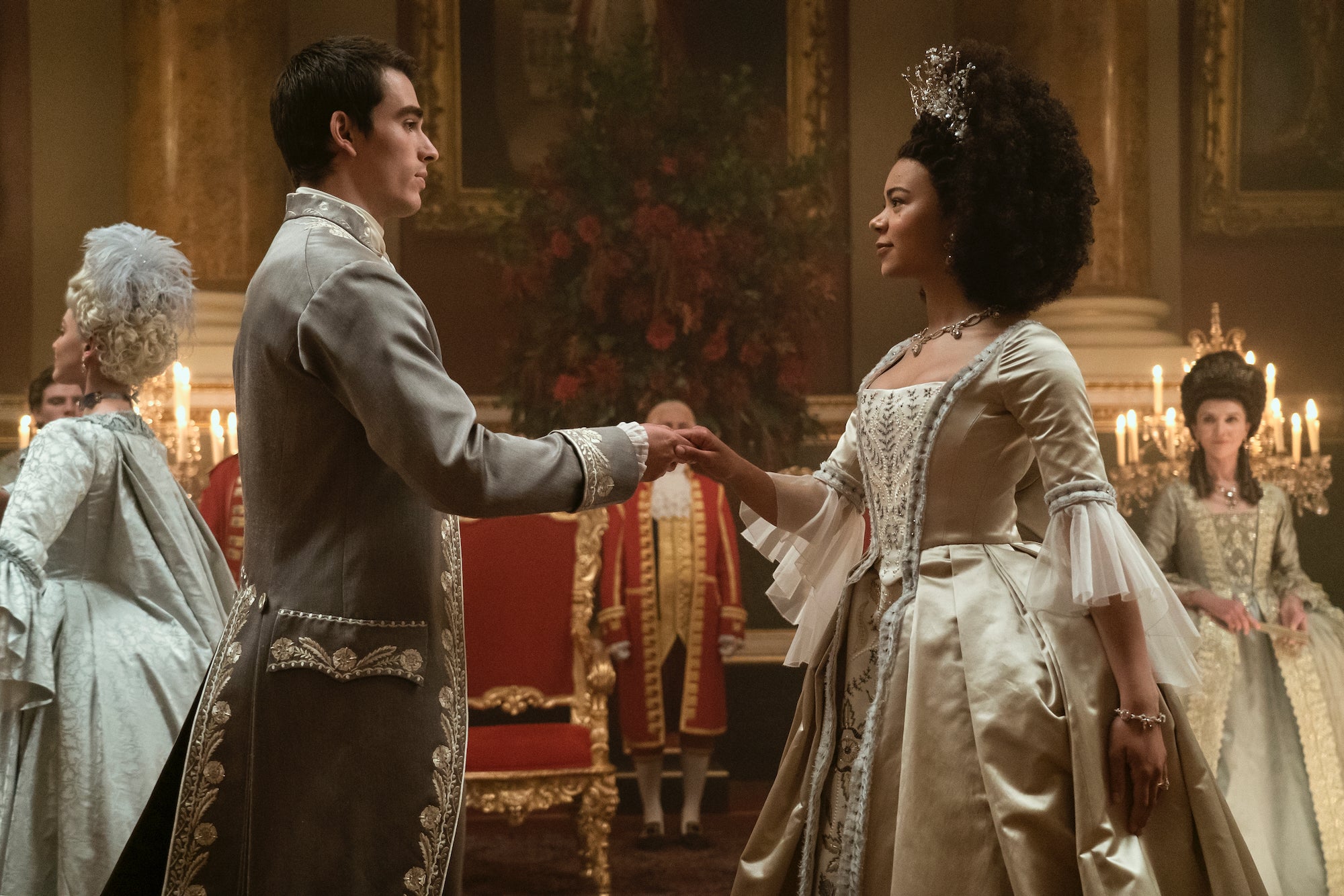 For nearly 20 years, Shonda Rhimes has launched a slew of hit TV dramas that captivated audiences. Each of them—whether you're talking about Grey's Anatomy, Scandal, How to Get Away With Murder, or some of the other shows she made for ABC, some of which are still ongoing—had plenty of high-stakes drama to offer, but chief among them was the sizzling chemistry between her characters that made viewers forgive a lot of a show's potential shortcomings.
Rhimes didn't create Bridgerton, her first series with Netflix, after signing a historic deal (that distinction goes to Scandal alum Chris Van Dusen) and has yet to write an episode for the flagship series. But her tradition of making you believe the love story it's selling in the central romantic pairing—Daphne and Simon in season 1, Kate and Anthony in season 2—lives on in Bridgerton. The series has several memorable characters, Queen Charlotte and Lady Danbury (Adjoa Andoh) among them, but the success of those romances is paramount to Bridgerton's success.
With Queen Charlotte, which Rhimes created and wrote nearly episode of (Nicholas Nardini wrote one episode and co-wrote the teleplay of another with Rhimes), she struck gold yet again in Amarteifio and Mylchreest. The chemistry between those actors is evident from Charlotte and George's first meeting, first teased in a clip released seven months ago. We see them banter, fight, and the power that comes with heated arguments leading to heated sex scenes.
We eventually learn that, for George, it was love at first sight. For him, the emotional conflict of the series isn't about him falling in love with his wife but rather the realization that he doesn't have to distance himself from her because of his mental illness and that she loves him for he is. Charlotte's emotional journey involves that realization, but it's also about her coming into her own as queen in a political realm expecting her to fail and asserting herself with George's mother, Princess Augusta (Michelle Fairley), who tries to maintain control for as long as she can. It makes Charlotte and George's personal and political moment of triumph in the finale—they host a ball at Buckingham House to celebrate the birth of their son, Prince George—all the sweeter.
Queen Charlotte: A Bridgerton Story: The Bridgerton universe finally delivers a queer romance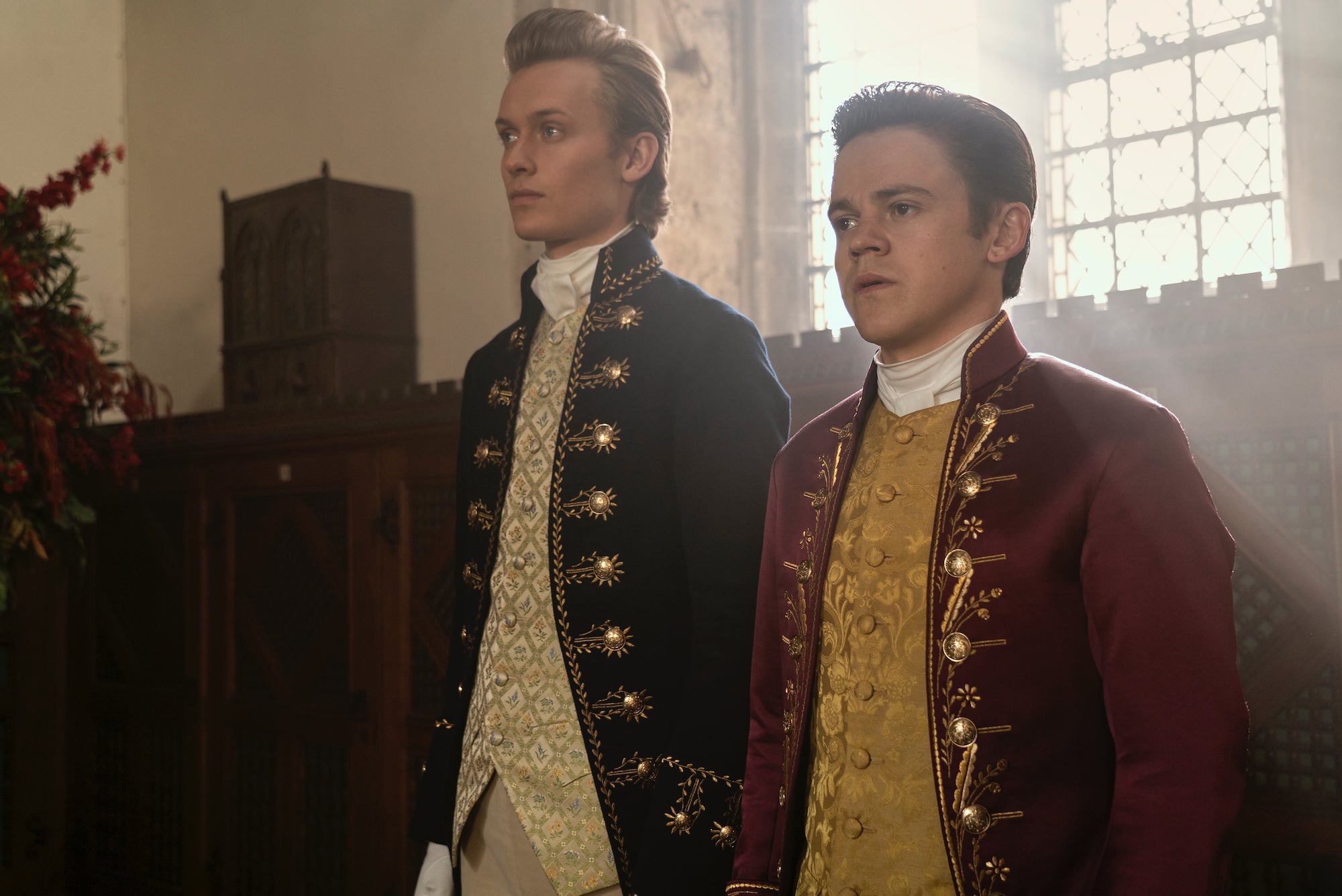 Bridgerton and Queen Charlotte are more inclusive than what people might expect from (but isn't always the reality) Georgian and Regency romances. But it's still largely lacking in queer representation. Quinn's final Bridgerton novel centered on Gregory Bridgerton, On the Way to the Wedding, is the only one to feature a gay character—a foil set to marry his cousin, Lucy (and the book's heroine), to cover up his homosexuality—and Bridgerton's queer rep is limited to Henry Granville, an acquaintance of Benedict Bridgerton (Luke Thompson) who has an understanding with his wife that allows them each to sleep with whom they wish. Fans have long read Benedict and his younger sister Eloise (Claudia Jessie) as being queer-coded.
Bridgerton's Regency England might have evolved on racism. However, it's still very traditional regarding sexism and homophobia, the latter of which could be a death sentence if someone was caught (an idea that the final season of PBS's Regency-era romance Sanditon touched upon). And while Queen Charlotte doesn't stray from that mindset, it also shows how easy it can be to incorporate it into the story.
As Charlotte and George figure their shit out, we frequently flash to Brimsley (Sam Clemmett) and Reynolds (Freddie Dennis), the royal footmen tasked with following Charlotte and George, respectively, tangled in their own romance. Sometimes, their moments are brief or involve a fleeting glance; they're restricted not just by society but also by the whims of their royal bosses. Other times, they can spend ample time together while still operating in the shadows. Their conflicts aren't about who they are or who they love but rather about their work: Brimsley calls out Reynolds' unwavering loyalty in keeping the king's secrets from Brimsley and Charlotte, while Reynolds says his loyalty is first to the Crown.
Their final scene in the show's last episode shows them taking a moment for themselves: As the ton waltzes out in the open, Brimsley and Reynolds waltz under cover of shadows, reveling in the brief moment of joy. The scene eventually fades to an older Brimsley (Hugh Sachs), who's been by Charlotte's side throughout Bridgerton, dancing alone, without any indication of what happened to Reynolds. (Sachs says Queen Charlotte featured a scene with an older Reynolds that was written but cut before filming.) But it also shows how little Charlotte ever paid attention to Brimsley's interiority. When she inquires whether Brimsley had a family or was ever married, you get the impression that it's the first time she's ever asked him about himself.
And as refreshing as seeing a queer romance in this universe, it shouldn't be the last one. Here's looking at you, Bridgerton season 3.
Queen Charlotte: A Bridgerton Story: It delivers the kind of love stories we don't often see onscreen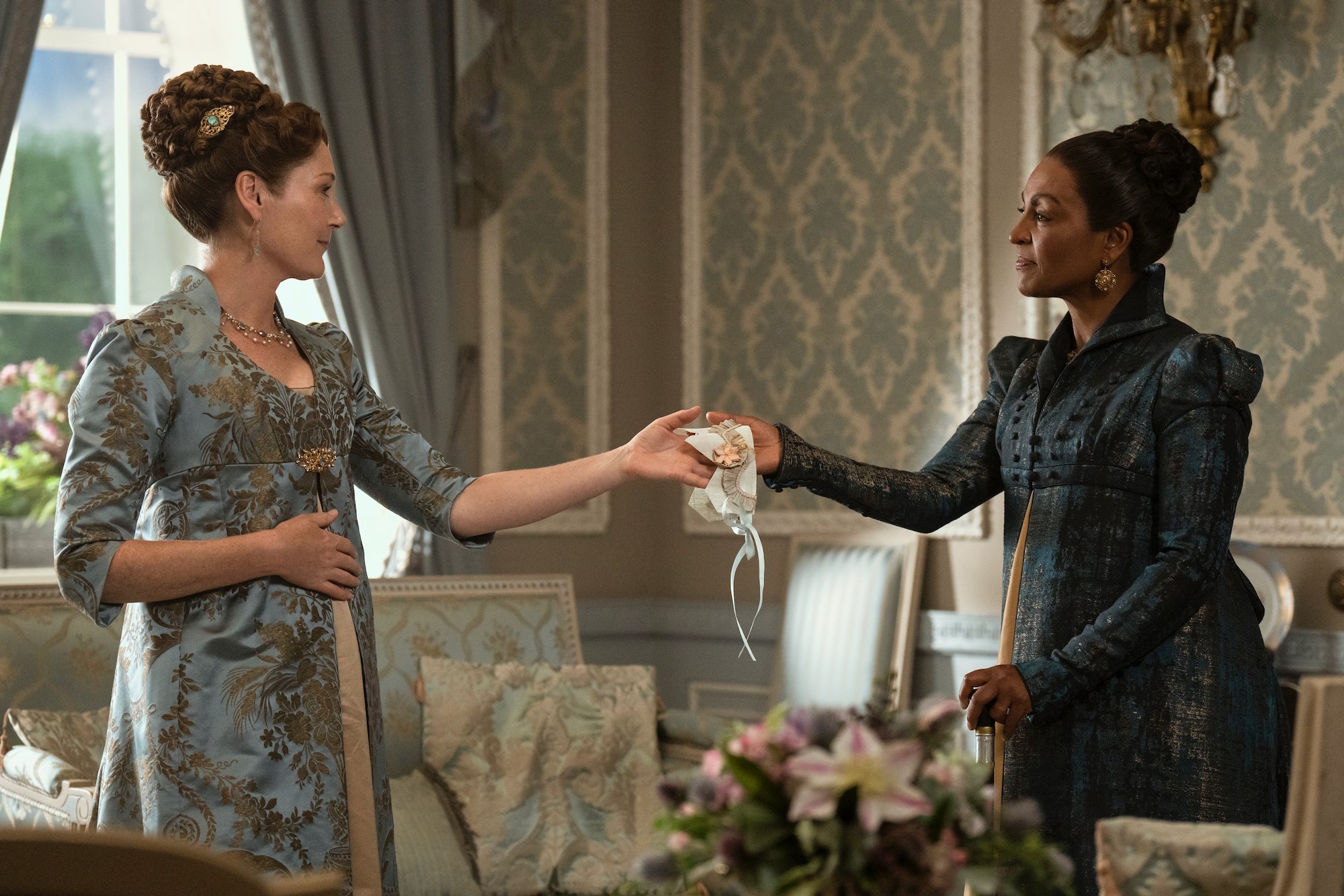 Romances that start with marriage and tell a story of spouses who fall in love with each other anyway—whether arranged or for convenience—are a genre staple. But perhaps less common is showing how actively loving someone is a choice, the loneliness that can emerge, and how to find oneself again.
Toward the end of episode 5, the older Charlotte is about to see two of her sons marry in her push to solve the succession crisis plaguing her family throughout the series. Her sons have been reluctant to settle down, and some are upset about not being allowed to choose their spouses. One son expresses doubts, but he assures Charlotte that he's not about to bugger off. Instead, he's more concerned about whether he'll be able to love her. Charlotte then gives one of those big and essential speeches about love that frequently occupy Rhimes' shows.
"Love is determination," she explained. "Love is a choice one makes. You take someone in marriage, and you choose to love them. You do not give yourself any other option. Because marriage is difficult. Full of pains. The life of a royal is lonely. So you grab someone, and you hang on. You love, and you love hard because if you do not, you are lost."
It's evident she's speaking from experience, illustrating her efforts to achieve happiness with George.
But it's also at the forefront of the friendship of Agatha Danbury and Violet Bridgerton, who, in the Regency timeline, are navigating a new arena: For the first time since her husband Edmund died more than a decade ago, Violet feels desire again—and shame in admitting that she may want to be physical with someone other than her husband. With excess garden metaphors to discuss sexual desire, Agatha treats this rare admission of truth in a society that values polite pleasantries above all else as a gift and assures her she has nothing to feel ashamed of. While Violet found happiness in her marriage, it took Agatha until after her husband's death to find joy in sex. It's not until later that Violet realizes that it was likely her father, Lord Ledger (Keir Charles), who was the catalyst for Agatha's sexual awakening, something their elder versions seem to acknowledge without saying it explicitly.
We'll have to wait to see if Violet ever entertains another romance (or even a dalliance) while the rest of her children find love in Bridgerton. But even the suggestion that Violet entertained the idea of forming a connection with someone else again is far more than Quinn's books—and Violet's novella—gave her. And that, in and of itself, is refreshing.


We crawl the web so you don't have to.
Sign up for the Daily Dot newsletter to get the best and worst of the internet in your inbox every day.