Did the art editors at New York Times Magazine know that their unreal "Planet Hillary" cover was a Photoshop comedian's dream come true? Because it really seems that way.
A sentient space testicle? MT @davidjoachim Hillary Rodham Clinton, as you've never seen her…. pic.twitter.com/C2lzdz3reC

— Luke O'Neil (@lukeoneil47) January 23, 2014
Just like that, a meme was born.
take me to your planet @DPD_ pic.twitter.com/wyqJpd4t7X

— Brendan Davis (@notbrendan) January 23, 2014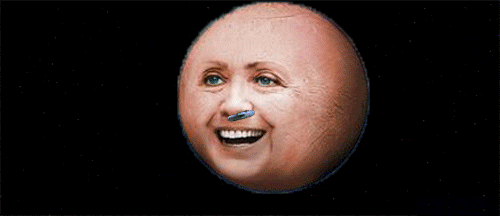 GIF via Ben Rosen
A meme that would pair nicely with other memes, too—and not just Hillary-based ones.
Texts from Planet Hillary: pic.twitter.com/xUT7wrGm5X

— Eli Langer (@EliLanger) January 23, 2014
I'm sorry pic.twitter.com/bmt0p95IMO

— Jia Tolentino (@jiatolentino) January 23, 2014
There were some other pop-cultural comparisons.
So… did that Planet Hillary NYT Mag cover make anyone else think of Doctor Who's Cassandra? cc: @TwitchyTeam pic.twitter.com/BXKFL9xNqA

— Katherine Cresto (@kcresto) January 23, 2014
Oh no! What happened on Planet Hillary? pic.twitter.com/FHQgcdd6F5

— Kimberly C (@conkc2) January 23, 2014
The planetoid image also proved instrumental in news-of-the-moment mashups, because can a Justin Bieber mugshot and hideous winter Olympics uniforms ever make things worse? 
Ok fine. #Bieber pic.twitter.com/Au6mRVeSRs

— Jacob Fischler (@ItsFischy) January 23, 2014
— Adam Frucci (@frucci) January 23, 2014
Submitted for re-approval: A mashup of all photos on my timeline today. cc: @BriTheWebGuy pic.twitter.com/0hxxvNoo1s

— Mick (@swasko) January 23, 2014
i'm sorry @darth i couldn't wait pic.twitter.com/tLtBUflkod

— lindsay blackwell (@linguangst) January 23, 2014
Here you go #PlanetBieber pic.twitter.com/RixH3Oq9nn

— Dan Milano (@DailyDanMilano) January 23, 2014
And the meme-ification begins RT @christofear Miley and Hillary on NYT Mag cover. how weird pic.twitter.com/ka8qwmfY1F

— Scott Bixby (@scottbix) January 23, 2014
Did anyone do this yet? You're welcome. #planetdoge #hillary @nytimes pic.twitter.com/LQdq0InBJN

— Grace Dobush (@GraceDobushToGo) January 23, 2014
Poor Hillary Clinton. Does she truly deserve to be lumped in with these other disgraceful stories, just because she's had her face digitally altered into a celestial sphere? Of course not—but that doesn't mean we'll ever stop laughing.
Photo via davidjoachim/Twitter