All of the major dominoes for the NBA offseason have already fallen into place: LeBron James returned home to Cleveland, Carmelo Anthony launched a VC firm in New York, and Pau Gasol shipped out to Chicago. All that's left now is the moneyball—teams looking to fill holes and make small stakes moves to maximize whatever budget they have left. 
That's why NBA teams would be wise take a look at the charts compiled Reddit user Swederman. He's compiled info about NBA salaries that determines how much a player would be paid if his salary was based on actual performance. The meticulous data reads like the haywire dreams of Nate Silver.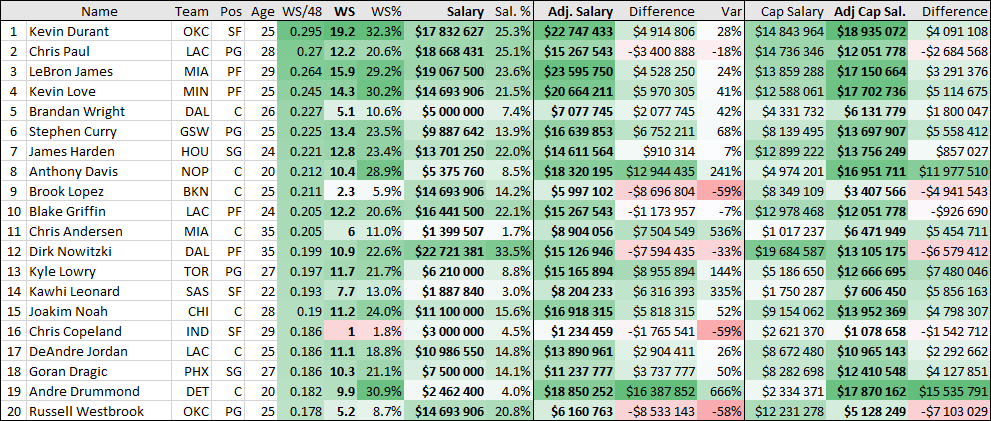 It's no secret that NBA players make exorbitant amounts of money that most of us could only dream about. If you're anything like me, you're paid for the work you do, not the work you're expected to do. 
NBA players are not, and that leads to very few players being paid a salary that directly corresponds to what they contribute to the team. Players are paid out despite season-ending injuries, despite surprisingly low or high shooting percentages, and in accordance to what their teammates are paid. It's a structure that would never fly in corporate America, and you can thanks the NBA's collective bargaining agreement for that. 
Some players like Kevin Durant and LeBron James carry the teams they play for, and are compensated for such. Others underperform, and although Kevin Durant made a point of showing appreciation for Russell Westbrook, anyone with a basic understanding of the game knows that Westbrook didn't earn his keep last season, due to a series of injuries and setbacks. 
Swederman's chart helps put matters into perspective. He determined his results by using a player's Win Shares, an advanced statistic that Basketball Reference describes as "an estimate of the number of wins contributed by the player." 
Here's how it looks when breaking down the salary efficiency for individual teams during the 2013-14 season.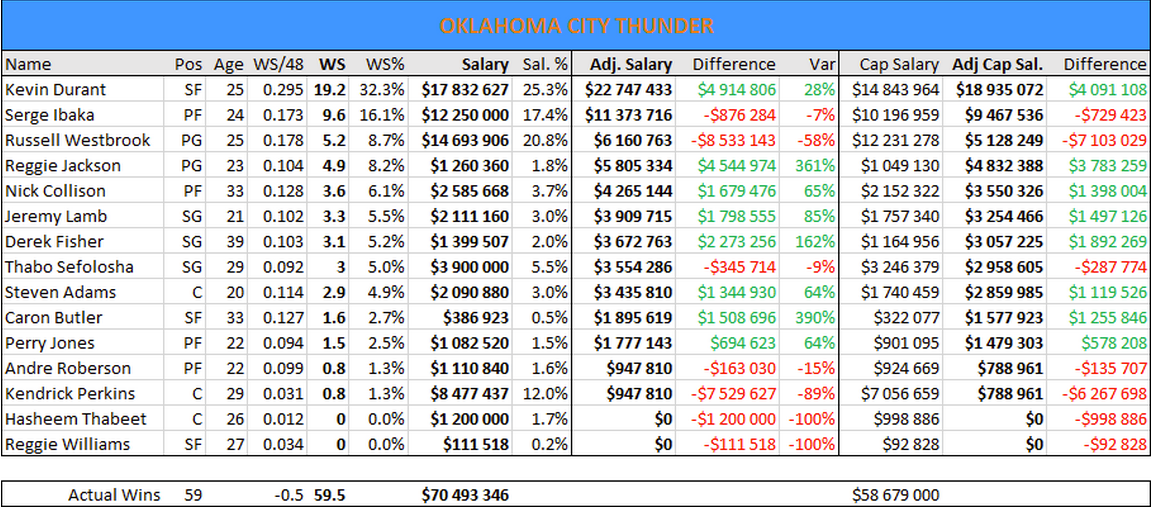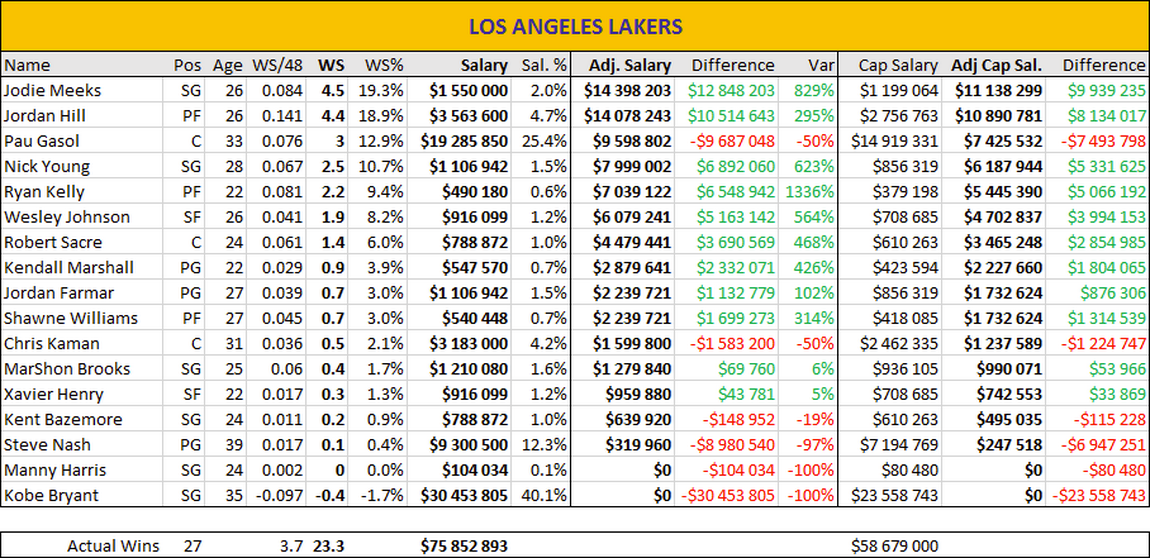 According to Swederman's research, here are the most underpaid and overpaid NBA players of the 2013-2014 season. 
Some of the finding are obvious: Isiah Thomas had a true breakout, near All-Star level season last year out of nowhere, and Anthony Davis is still locked into his rookie contract. While others, like Jodie Meeks, just turned his fortune around with a three-year, $19.5M deal with the Detroit Pistons. 
Underpaid (click through here for more ways to break down the data)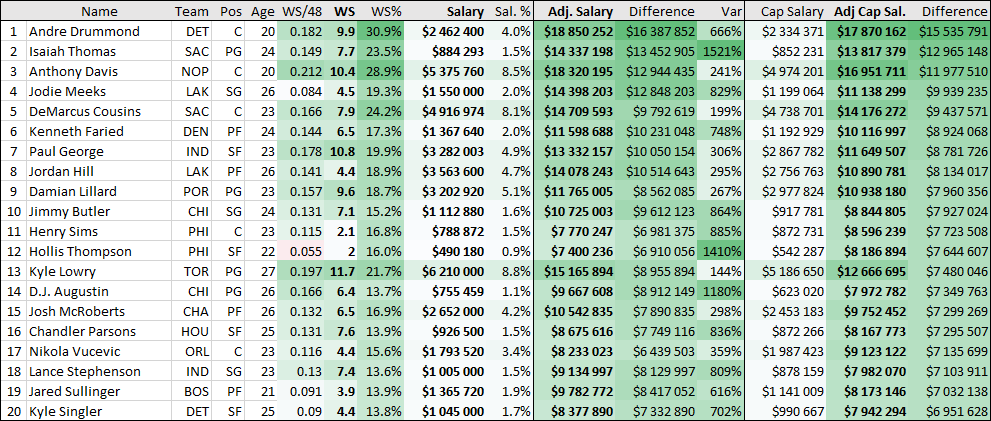 Overpaid (click through here for more ways to break down the data):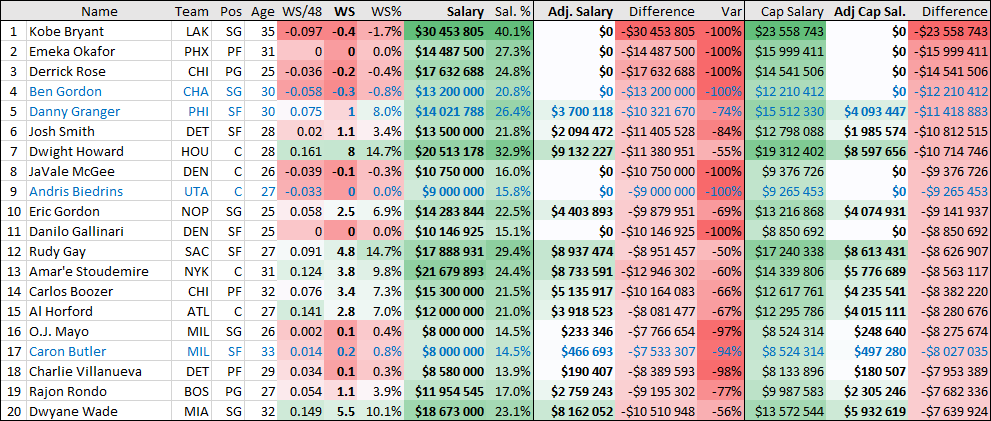 You can find Swederman's extensive research and analysis of the NBA Collective Bargaining Agreement here. 
We'd say he's earned an upvote.
 Photo by Keith Allison/Flickr (CC BY-SA 2.0)