Here at the Daily Dot, we swap GIF images with each other every morning. Now we're looping you in. In the Morning GIF, we feature a popular—or just plain cool—GIF we found on Reddit, Canvas, or elsewhere on the Internet.
It's been more than 13 years since Segway creator Dean Kamen introduced the world to the iBOT, the world's first powered wheelchair capable of climbing stairs and traveling over rough terrain.
When the iBOT was first introduced in 1999, Kamen was praised for his creation and even got the chance to show it off to former President Bill Clinton.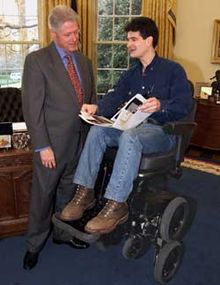 However, due to its extremely high price tag of $22,000 and the fact that Medicare would only cover $6,000 toward the chair, iBOT proved to be an iFlop.
But despite Kamen's failure, a handful of engineers at Japan's Chiba Institute of Technology are developing their own powered wheelchair capable of moving sideways, turning in one place, and yes, climbing stairs. 
A prototype of the wheelchair, which has not been named yet, debuted in October and features a four-wheel drive, five axes, and a joystick to control it. 
"The robot has five sensors on its feet, to see if there's anything nearby," team leader Shuro Nakajima, a Chiba associate professor, said in a video. "It can also see how far it is from a step."
At the moment, the Chiba wheelchair is still being tested and developed. If there's any hope of it coming to market, Reddit and wheelchair user Poopems have two pieces of advice: Make it affordable and easy to use. 
"These limitations swayed me into not purchasing the [iBOT]," Poopems wrote in a thread featuring a GIF of the Chiba wheelchair. "I opted for a Balder chair that goes into a standing mode as well as raising up to roughly eye level with most individuals. It's also the perfect height for pulling up to a bar, my personal favorite feature."
The iBOT hasn't been manufactured since 2009, but could this new chair step up to take its place?
GIF via Imgur