The boom in Bitcoin, an electronic currency whose fanatical adherents have pushed its value to over $15,000 per digital coin has caused some very weird changes in the way people do business in the real world. For example, an iced tea company just rebranded itself as a company that does "blockchain"—the technology that makes sure all Bitcoins are unique and can't be copied. And when it did, its stock value skyrocketed.
Long Island Ice Tea Corporation is now Long Blockchain Corporation, Ars Technica reports. Long Blockchain will continue to make iced tea, but it will also go into "blockchain infrastructure for the financial services industry."
Because "blockchain" is one of the hottest corporate buzzwords you can summon in 2017, Long Blockchain's stock "zoomed" nearly 200 percent after the Thursday announcement.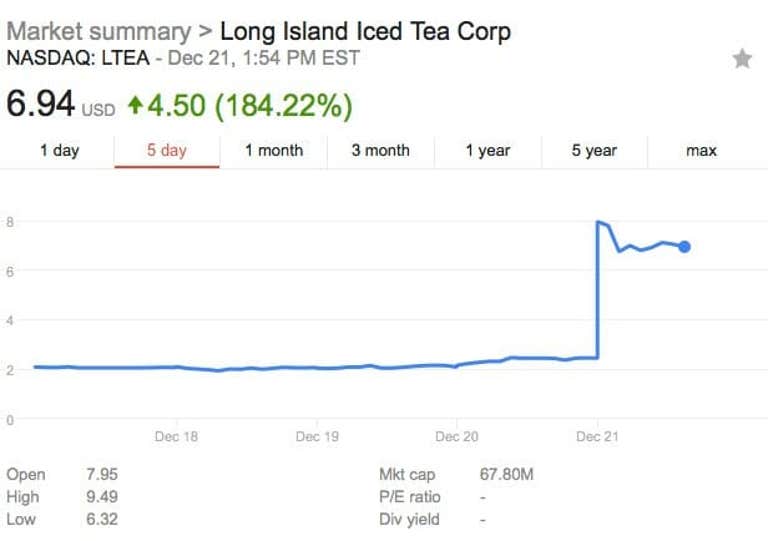 Long Blockchain isn't actually offering Blockchain services yet, and Ars reports it's looking to partner with other companies to do so.
Businesses are wild for blockchain not just because of its Bitcoin applications, but because it can be used for all kinds of things
But it's also eerily similar to the internet stock craze in the late 1990s when several companies that weren't destined to become the next Amazon simply added a dotcom suffix or 'e' prefix to their name and watched their stocks soar," Paul La Monica wrote.
Blockchain is the new iced tea, and also the new ".com."