Like any blue-blooded American schoolboy, Jake Davidson wants to take the girl of his dreams to his high school prom.
It just so happens that girl is supermodel Kate Upton.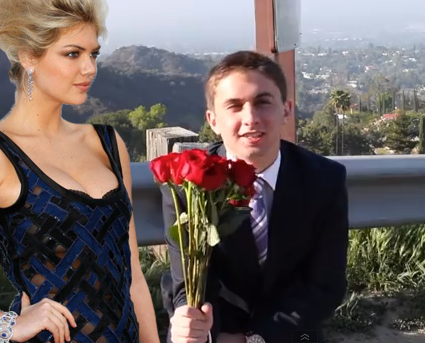 The Los Angeles native took to YouTube this weekend to ask the buxom blonde, who recently celebrated her second year on the cover of Sports Illustrated's famed swimsuit issue, to accompany him to his senior prom, that wonderful night in a man's life when he drinks rum out of an airplane bottle and tries to get laid in the back of a limousine.
"You had me at hello," Davidson says to Upton while shaving his peach-fuzz face. "You are the yin to my yang. 
"I'm Jewish, 5'9″ on a really good day, and I can't dance at all. You're Christian, 5'10", and that Cat Daddy video should have won an Oscar for Best Short Film. You could say this is destiny."
Of course, they also have their commonalities. He likes sports. She likes sports. He likes fine dining. She likes fine dining. He likes Sports Illustrated. She's on the mag's damn cover.
Maybe this really is destiny. Since posted Saturday, the video's already racked up more than 18,000 views, though presumably none of those views have come Upton, who's yet to acknowledge the boy's request.
No matter, Davidson beats on.
"Great moments are born from great opportunity," he says at the end of the video. "That's what we have here today: a chance to make a nice guy's senior year the best ever. 
"We can ride around all night long—until 11, that's my curfew."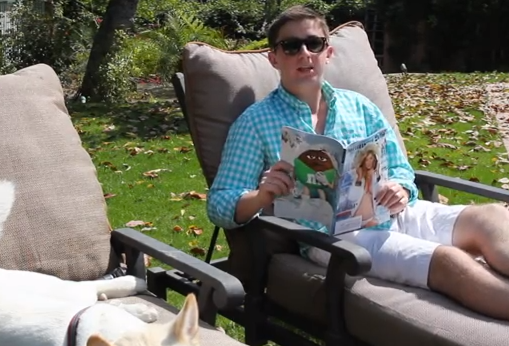 The whole story strikes as somewhat similar to last year's Minnesota affair in which a high school kid named Mike Stone took to Twitter to ask a harem of random porn stars to accompany him to prom. Megan Piper eventually agreed, and though the school intervened and said she would not be welcome, the two did parlay the 15 minutes of fame into an interview on The Daily Show.
Stone's tactics were a bit more primitive, however. He found Piper through the 140-character equivalent of mass texting, sending more than 600 messages to porn stars that read as some iteration of "May 12 is my high school prom and I want to ask u to be my date i have dinner and hotel and a personal massage."
In retrospect, that method's no match for Davidson, who went with a well-produced video in hopes of wooing a well-respected model into joining him on the most overblown night of his high school life. Here's hoping it happens. Here's hoping they dance the Cat Daddy.
H/T HyperVocal | Photo via Talia Myers/YouTube