Even great things can come from the humblest of beginnings. A Kickstarter project to fund one man's potato salad has exploded in popularity, becoming—by some metrics—the most succesful crowdfunding project ever. And it still has almost a month to go.
Zack Danger Brown never asked for any of this. Just an ordinary man, the Columbus, Ohio resident told BuzzFeed that whilst he's "always enjoyed potato salad at Memorial Day parties and Labor Day parties… early this week someone asked if I'd ever made potato salad and I couldn't say I had."
With this realization in mind, Brown turned to Kickstarter—a crowdfunding website that allows users to collectively fund projects—to make his dream a reality. He wasn't looking for much, just a paltry $10—a far cry from the $250,000 sought by virtual reality headset Oculus Rift, or the $1 million that Reading Rainbow recently asked for.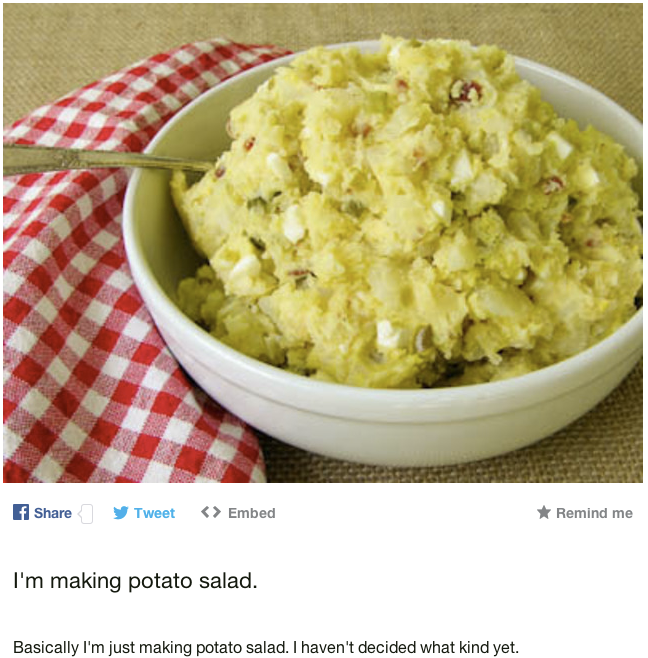 The potato salad's original Kickstarter page.
However, the Internet heard Brown's plea, and responded astoundingly. When CNET first picked up on the Kickstarter project last Thursday, it had raised $107—ten times the amount Brown was initially looking for. Since then, the project's rise has been meteoric, and has now raised a stunning $7,696, and counting. 
As a percentage of the initial target, this may well make the potato salad the most succesful Kickstarter project of all time. Oculus Rift might have raised just under $2.5 million, or 1000 percent of its target, but Zack Danger Brown's potato salad has—almost unbelievably—achieved more than 75,000 percent of its initial target.
How did it do so well? Perhaps the Internet's imagination has been captured by Brown's sheer verve or originality—and perhaps the perks he offers have something to do with it. For just $1, Brown will thank you on his website and say your name whilst making the potato salad. Pledge $10, and you recieve the honor of "hanging out" with Brown in the kitchen whilst he makes the salad, along with the option to add a relevant ingredient. Dare to pledge $25, and you'll receive a potato salad-themed hat.
They say that fortune favors the brave, and that's certainly true of the mavericks that have pledged $50—all 24 of them will recieve a recipe book wth "potato salad recipes inspired by each country where we have a backer," along with a thank you, and a recitation of their names during the cooking process.
Given the runaway success of the campaign, multiple stretch goals have been added—and all subsequently met. If the campaign reached $1,000, Brown promised to livestream the potato-salad-making process. If it reached $3,000, he said he'd hire a party hall and invite all backers who've pledged $10 or more to come along and join the potato party. 
Some users have cast doubts over certain aspects of the project, which Brown has done his best to dispel in the FAQ section:

Though it at first glance seems unlikely that Kickstarter will allow the project to continue, it might actually not fall short of the company's rules. Whilst the initial project almost certainly violated the rule that "projects must create something to share with others," since Brown offered backers a bite of the potato salad, it can technically be considered to be "sharing."
If you think this is impressive now, remember: this is still very early days. The campaign has only been live four days, and won't close until August 2nd. If Brown continues to fundraise at the current pace, he'll make almost $60,000 by the end. 
H/T BuzzFeed | Photo via TreblRebl/Wikimedia Commons (CC BY 3.0)