By JASON KESSLER
If the now-out-of-work Paula Deen started a Kickstarter campaign for a new line of wigs made from butter, would people fund it? I wish the answer was no, but I bet that project would raise money left and right, regardless of her recent fall from grace. 
The crowdsourcing model started out great, absolutely: a way to help people with a dream achieve their goal. It was about putting cameras on roller skates and turning any TV into a smart TV. Being a part of these projects once felt fun and inclusive. You probably even got your money's worth, with an advance version of the product in exchange for your investment.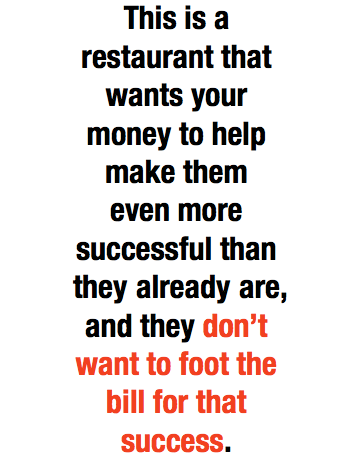 That's all changed now. Sure, you can still fund passion projects and help small-scale inventors and creators turn their ideas into reality. But you can also give money to Zach Braff so he can make a movie (that will make him money), or you can hand over cash to support a sleazy pick up artist. Crowdfunding has gone from niche, community-based support for innovation, to flat-out panhandling. 
In the food world, it's become downright insulting.
Food restaurants and industry products are now all over crowdfunding sites. Everybody and their mother has some sort of fancy beef jerky company they want you to finance. Some of these businesses are great—like the Nomiku immersion circulator, which brings professional sous-vide cooking to your home kitchen—but others are just insane. One recent successful Kickstarter fund raised money for a guy to realize his lifelong dream of owning a cafe. In return for investing your money, however, you don't get a piece of the cafe, like a normal investor once would. You get some baked goods. What kind of return on investment is that?
The best recent case in point is this plea from a decent Filipino barbeque restaurant to raise $20,000. What's an already established, up and running restaurant going to use that $20,000 for, you might ask? Here's what: To pay for staffing costs to accommodate the overwhelming success they anticipate will occur after a soon-to-be-scheduled appearance on Food Network's Diners, Drive-Ins, and Dives.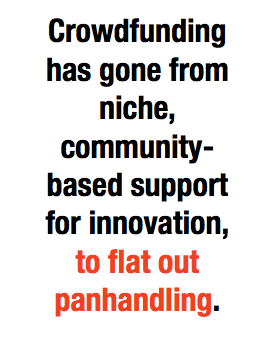 Let's go over that again. This restaurant expects to be "very popular" next month after they appear on TV. They realize that they'll need to beef up their staff to accommodate all of these new customers, but instead of going to investors for help (and then paying back said investment)—or, heaven forbid, pouring cash earned from said success back into the business—they've decided to go to you instead. You know, to just give them some cash. In return, you'll get… a t-shirt! And a meal! Oh, and that warm feeling that comes from funding a business that will take your money and turn it into more money without returning any of that money to you.
This isn't some mom-and-pop small town restaurant that's about to go under because Applebee's is moving in. This is a restaurant that wants your money to help make them even more successful than they already are, and they don't want to foot the bill for that success. They're not about to go under—they're about to receive a windfall! 
In a way, I don't blame them for asking. If I could convince suckers to fork over money just because I asked for it, then I'd be doing it, too. Those suckers, by the way, are apparently plentiful. So far 52 people have funded this stupid venture, which translates into nearly $5,000. Adding insult to injury, those meal incentives they're giving out are priced at $50 per person. An actual meal for one at this place costs less than half of that. Even with the cost of that very exclusive t-shirt thrown in, you're still paying a premium—to give them your money. It's a ballsy move on the restaurant's part, and it appears to be working.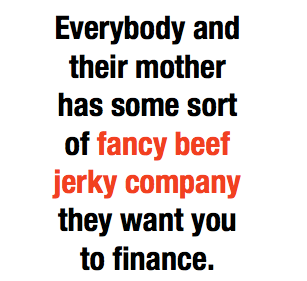 The worst part of all this is the way the restaurant's campaign is couched in some sort of bullshit altruism. The fundraising page says, "This is our opportunity to give back. We need employees. The community needs employment." Those things are true. So why in the world would this place need to reach out and get a "capital injection investment" from us without giving anything of real value in return? Because we're letting them.
This is the moment where crowdfunding has peaked. It's no longer about businesses looking for help; it's now about businesses looking for handouts. 
Investment is about risk and reward. Traditionally, that means financial risk for financial reward. Now it's about financial risk for substandard trinket. Crowdfunding has turned into the Chuck E. Cheese of investing. Instead of playing skeeball for hours in exchange for stupid red tickets, you're paying actual money to real people who take that money and give you the same crappy bag of plastic soldiers that you would have gotten at the arcade. 
I hope you like your toys; while you're playing war on the living room floor, that investment you made is making real money for those people you just "invested" in. When you take a step back, it all just looks like one big kick in the ass.
Jason Kessler is a food and travel writer based in Los Angeles. He writes The Nitpicker column for Bon Appetit and is a frequent contributor to Food Republic, Sunset Magazine, Organic Spa and many other publications. If you're not careful, he'll empty out your refrigerator. Follow him @thehungryclown.
Illustration by Jason Reed