We're all to used to the instantaneousness of the Twitter gaffe. Some politician or celebrity tweets something offensive, there's a swift and fierce backlash, and within hours or sometimes even minutes the offensive remark is deleted, replaced with an abundance of excuses or apologies.
But, the usual anatomy of a social media bungle warped Friday after InterActiveCorp Communications Executive Justine Sacco tweeted this racist joke: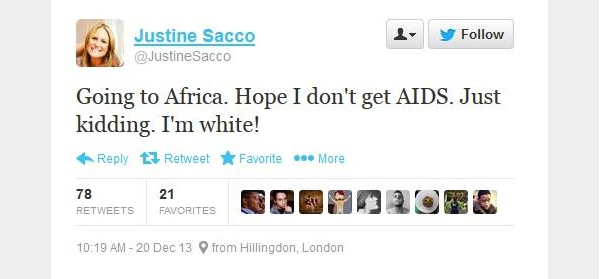 "Going to Africa. Hope I don't get AIDS. Just kidding. I'm white!"
Sacco apparently made the comment mid-morning Eastern time just before embarking on a lengthy flight to Africa. While the backlash exploded with ferocity befitting such a stupid and offensive remark from a communications professional on Twitter, there was conspicuous lack of "boom."
Sacco likely had no idea that while she was contemplating her in-flight beverage options, her sick joke was the talk of the Twitter and had generated so much bile her company was forced to respond.
In an email to the International Business Times, IAC stated: "This is an outrageous, offensive comment that does not reflect the views and values of IAC.  Unfortunately, the employee in question is unreachable on an international flight, but this is a very serious matter and we are taking appropriate action."
Within hours, IAC fired Sacco and scrubbed her contact information from the company website.
The tantalizing nature of Sacco's delayed reaction to the eruption added drama to the proceedings. People became engrossed in waiting for Sacco to land, only to realize that she was Internet famous in the worst possible way. It was like waiting for the sonic blast after seeing a mushroom cloud.
In the anxious hours before Sacco's plane landed, a number of fake Twitter accounts were created using her name. JustineSacco.com was geniusly registered to direct funds to HIV/AIDS charity Aid For Africa.
The hashtag #HasJustineLandedYet popped up as the most obsessed followers cross-checked flight times against information from Sacco's Twitter account to guess the time of her arrival.
I'm really busy tracking the flight of a woman on Twitter who made a racist joke so no, I can't come to your party. #HasJustineLandedYet

— Diane Alston (@dianelyssa) December 21, 2013
I don't think America has watched a landing this closely since Apollo 13 re-entered the earth's atmosphere in 1970. #HasJustineLandedYet

— Kieran Healy (@kjhealy) December 21, 2013
This is better than watching a bad driver get pulled over by the cops. #HasJustineLandedYet

— Nolivia Nope (@vinabean) December 21, 2013
When Sacco's plane did touchdown at about 11:20pm EST, she didn't offer any apologies or excuses before she deleted the tweet and killed her Twitter, Facebook, and Instagram accounts in quick succession.
As of Saturday morning social media sites and news outlets from the New York Times to the Huffington Post are still buzzing about the fallout, and #HasJustineLandedYet has continued to trend on Twitter.
H/T The Frisky | Photo via Kuster & Wildhaber Photography/Flickr