American DJ Diplo uploaded a photo to Instagram on Tuesday, despite being somewhat unhappy with the final product.
"Couldn't get rid of these dudes behind me so please pretend they are not there and this picture is perfect," he wrote alongside a photo of him in a calm body of water, with three men chilling behind him. The idea of using a digital altering program hadn't seemed to cross his mind when a very unlikely person came to his rescue.
It turns out John Mayer, award-winning singer-songwriter, is a fair hand at Photoshop. The 41-year-old saw Diplo's post and saw an opportunity to share his hidden talent with the world. "I can easily photoshop this for you," the seven-time Grammy winner wrote.
Don't forget about this part pic.twitter.com/7CPF3j9kQi

— mariahcastillo (@maariiah_caa) February 20, 2019
Mayer didn't disappoint. Not long after the exchange, Diplo—who's real name is Thomas Wesley Pentz Jr.—uploaded another picture, this time entirely clear of background men. Mayer's only addition was a "John Mayer Digital Editing" watermark over the center—and partially covering Diplo's face.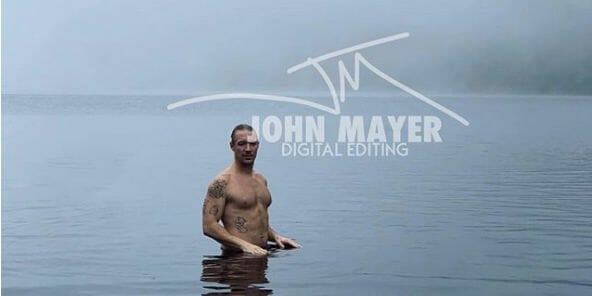 "Wow @johnmayer really came thru for me at my time of need but he wanted 400 dollars to remove the watermark," Diplo captioned the follow-up photo. Mayer's priceless response probably earned him a new fan or two. "Wow okay guess you don't like supporting artists," he wrote, before sharing a new version of the photo. This time, it was missing both the watermark and Diplo.
Savage.
READ MORE: