"Rich Kids of Instagram" is more than just a way for the offspring of the mega-wealthy to gaudily flaunt their excessive privilege. It's also a great resources for would-be thieves to find their next victim.
Over the weekend, Jonathan Cheban—a regular fixture on Keeping Up With the Kardashians—was enjoying lunch at 75 Main, a popular spot in The Hamptons. In between bites of his lobster salad, Cheban thought that posting a picture of his ridiculously expensive watch to Instagram would be a perfect idea.
"I think I overdressed my wrist today with [email protected] …22 karat's is a bit much for daytime LOL cc @richkidsofinstagramm," he wrote, referring to his diamond-encrusted watch allegedly worth $500,000 and tagging the account of the popular Tumblr blog.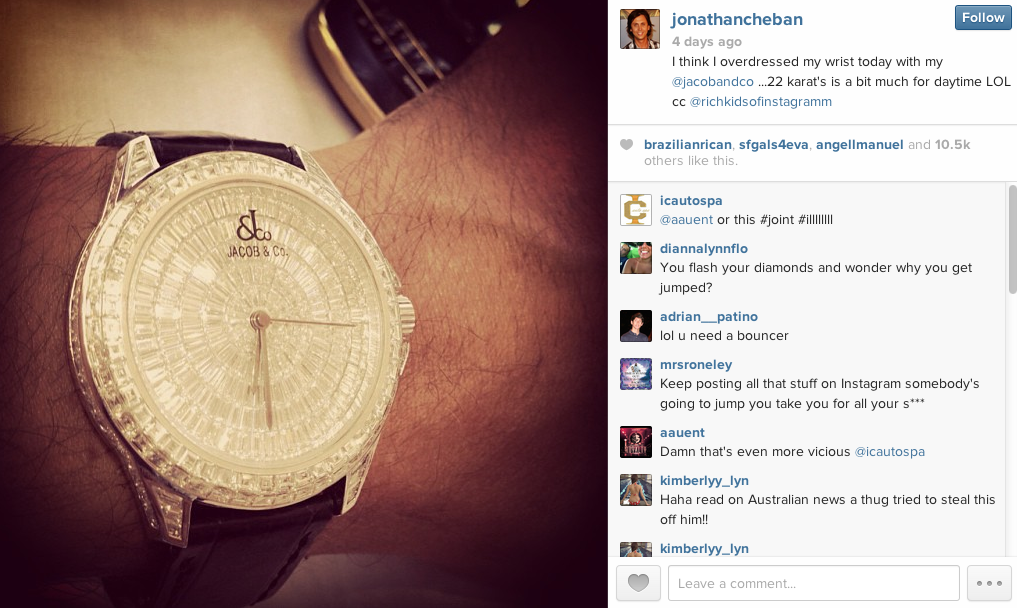 Moments later, according to the New York Post, an unidentified man walked into the swanky restaurant and struck up a conversation with Cheban.
"Jonathan was very friendly," a witness told the Post. "But then the guy grabbed Jonathan… and tried to steal his half-million-dollar watch! Jonathan fought back to stop him, and he pushed Jonathan to the floor."
The suspect quickly fled, failing to take the watch from the C-lister. And how did the would be assailant know where Cheban would be? Before his gauche watch upload, he had posted a picture of his lobster salad and tagged the restaurant.
Despite almost being robbed, Cheban didn't file a police report because he didn't want to deal with the hassle and the paperwork. Only plebes put up with that kind of inconvenience.
Photos via Jonathan Cheban/Instagram