With Halloween less than ten days away, ghouls across this country are in the final stages of costume preparation so they can darken your door for some candy. But this year it's not about front porches, because the kitchen is where it's at. That's right, the only thing hotter than ringing door bells is pressing your refrigerator's ice-dispense button and cooling down with some frozen candy.
The life hack so ingenious that it deserves a Nobel Peace Prize comes courtesy of redditor dericpeace. On Tuesday, the candyman took to the site to proudly display how he had converted his fridge's built-in ice dispenser into a candy slot machine where you always hit the jackpot.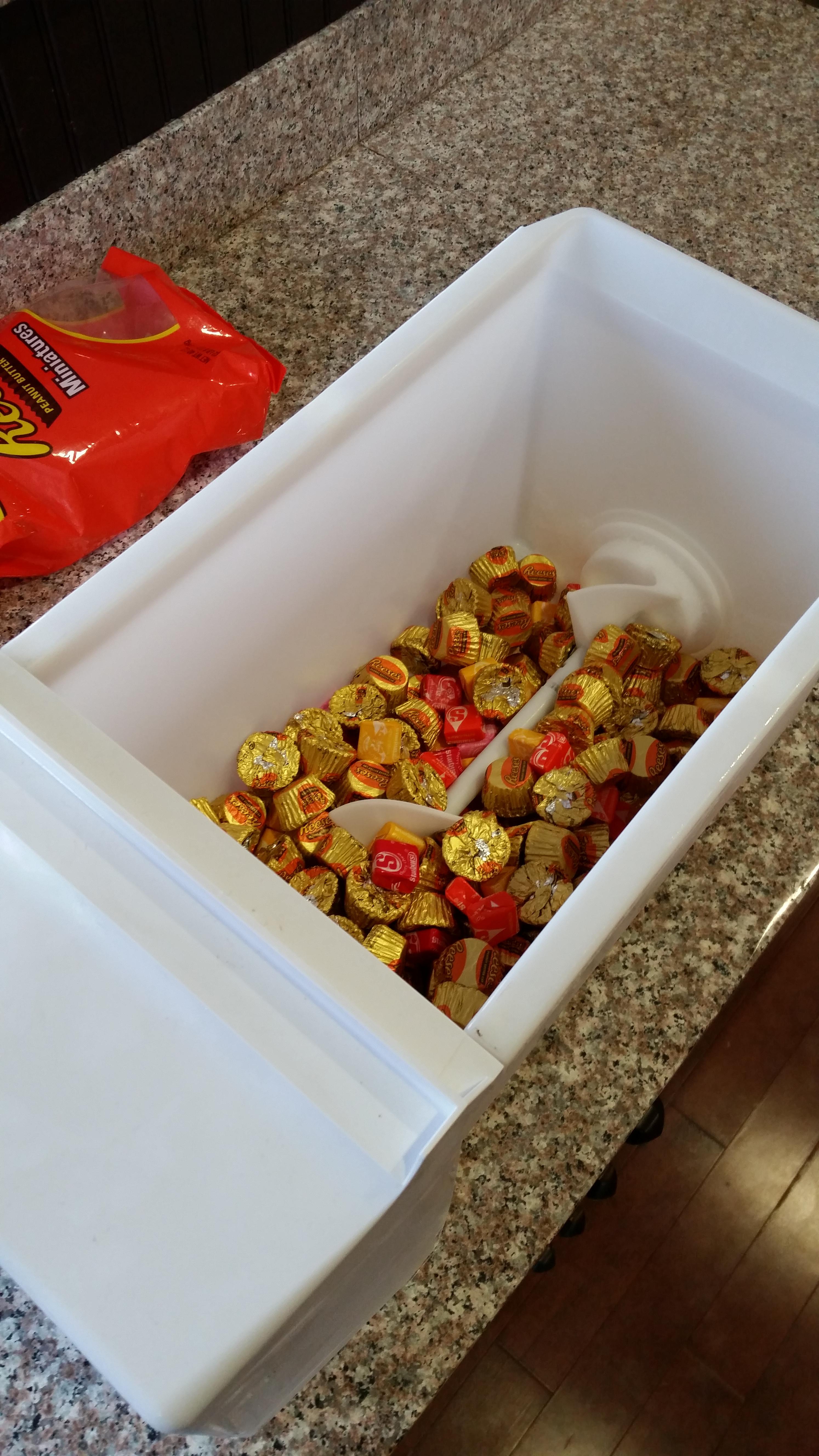 The response was so overwhelming that he followed up his initial post with a video on Wednesday of the ice-turned-candy dispenser in action.
But what inspired this stroke of absolute genius? Deric conducted an AMA to answer that very question for the sweet-tooth sleuths who just couldn't get enough. When a redditor asked if he came up with the idea while in the shower, he replied:
I thought of it while grabbing my last bit of Peanut Butter M&M's from the bag, and as I looked at the freezer door, I said, hmmm. If this thing spits out cubes of ice, why not candy?! And I swear that was it. I woke up the next morning thinking I had something good on my hands, and am overwhelmed by the response.
Though he's still finishing off his current medley of Skittles, Starbursts, Reese's Cups, M&M's, and York Peppermint Patties, Reddit's answer to Willy Wonka has big plans still in the works for his freezer. As he mused in a follow-up video, after finishing all his wrapped candy he plans to switch to unwrapped—including Kit Kats and Oreos—to see what crushed-topping madness he can rain down upon some ice cream.
Here's to you, Deric! Thanks to your ingenius thought, getting diabetes has never been more convenient. 
H/T Reddit | Photo via mulmatsherm/Flickr (CC BY-SA 2.0)