John Green's favorite Olympic moment wasn't about winning. It was about the mantra he and his brother Hank have passed on to fans around the globe: DFTBA (don't forget to be awesome).
When British gymnast Jennifer Pinches finished her routine during the women's all-around team finals, she flashed the Nerdfighter sign, proving that what might seem like a malformed Vulcan greeting to the uninitiated is actually becoming an international call to arms to Decrease World Suck.
The Nerdfighters are the immense fanbase of the Vlogbrothers, two cool nerd siblings who formed a YouTube vlog in order to keep in touch with each other long distances. Had the Green brothers been an ordinary pair of siblings, their weekly video messages to each other, however entertaining, might have languished in obscurity. But John Green is a celebrity Young Adult author whose books have been showered with praise and critical recognition, while Hank Green is a technical wizard, the creator of EcoGeek, Sci Show, and The Lizzie Bennet Diaries, to name just a few. Oh, and he sings, too.
The size of the Nerdfighter movement is boggling. Over the five years since the Vlogbrothers' creation, the fanbase has grown at a kudzu vine-like rate, encompassing everything from social activism to Olympic competition and beyond. From the original YouTube vlog, which has nearly 250 million views, there's an official forum and Nerdfighters directory with over 1600 local meetup groups worldwide. Nerdfighteria—the global span of Nerdfighters—includes chat rooms, a Reddit board, a Minecraft server, and an unofficial holiday, Esther Day. On the official Nerdfighters website, the list of social projects spearheaded by Nerdfighters around the globe is eight pages long and counting.
They've even had a plane named after the movement: the SS DFTBA.
The overwhelming success of their vlogging project propelled the Green brothers into a veritable empire of vidding projects: education, gaming, and trivia channels, not to mention the creation of a little-known event called VidCon. And thanks to the popularity of Hank Green's Billboard-charting musical efforts, they now have their own record studio, DFTBA Records.
But none of the Greens' laundry list of achievements quite equal the phenomenon of spawning an entire social movement. Asked at LeakyCon, an annual Harry Potter fandom convention, which of his careers he would choose if he could only pick one, Hank Green responded, "Vlogbrother."
The friendship between the two brothers—or, as they call it, Brotherhood 2.0—seems to have inspired a true fandom. Eff Yeah Nerdfighters, the official Nerdfighters Tumblr, links to GIF sets, fan videos, fan art, and more, as well as a host of other Tumblrs devoted to the Vlogbrothers.
The Vlogbrothers' enduring connection with their audience is based on a combination of sincerity, humor, and hope. Printz-winning John Green is no stranger to reaching his teen audience with funny but realistic looks at the world we live in, and his vlog contributions are no exception.
"The Venn diagram of boys who don't like smart girls and boys you don't want to date is a circle," he advised fans.
Meanwhile, Hank Green takes on explorations of major and minor parts of the universe. When they get together, they have sword fights.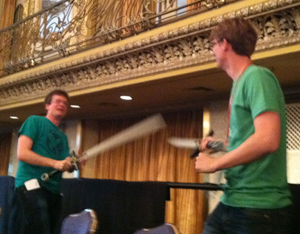 At LeakyCon, thousands of Nerdfighters gathered to hear the Green brothers talk about the movement. When asked what the ultimate Nerdfighter job would be, John Green offered, "President of the United States would be nice." Hank Green echoed, "Teacher would be pretty nice, too."
After the meetup, a group of Nerdfighters, online friends from Tennessee, Wisconsin, and Florida, told me what DFTBA, means to them.
"It's a reminder that you are awesome," said a fan named Memphis Vinny, the owner of the swords with which the Vlogbrothers battled it out. "That you have all these wonderful things about you, and not to forget that, and to celebrate that."
"You're not awesome just for yourself," Katherine chimed in. "You're awesome for the people around you."
"I do my best to try to spread Nerdfighteria as far as I can," Heidi added.
Most of the social activism they do involves building their local community. They've done Christmas concerts and a community gift exchange. They also support various Kickstarter campaigns and various local causes.
"I like to try and decrease world suck in small ways," Memphis Vinny said. "I've been giving out prizes all week. In college I gave away kites. I think the little things are the most significant."
All photos by Aja Romano