After nabbing Best Rap Album at Sunday night's Grammy Awards, Macklemore did something unexpected for a winner: He apologized.
Macklemore's win capped a sweep of the rap category, despite competing against heavy hitters like Kanye West, Jay Z, and Kendrick Lamar. Not even Macklemore wanted himself to win in the category. The 30-year-old rapper (né Ben Haggerty) was rooting for Lamar, who despite his seven nominations, went home empty-handed. In a mea culpa text sent to Lamar, Haggerty asserted that his friend had been "robbed."
"I was gonna say that during the speech," Haggerty's text read. "Then the music started playing during my speech and I froze. Anyway you know what it is. Congrats on this year and your music." Macklemore posted the text to his Instagram after the ceremony.
It might have been a shock to Haggerty, but the rapper's win shouldn't be surprising to anyone who regularly watches the Grammys. Want to win your Grammy pool? You just have to figure out what appeals to old white people, and the easy rule of thumb is to pick the whitest music in every category.
Of the last 10 winners in the Album of the Year category, all of them except for Herbie Hancock and Ray Charles were white. Charles finally won with an assist from a bunch of other white people the Grammys love, including Bonnie Raitt, Michael McDonald, James Taylor, Diana Krall, Willie Nelson, and Van Morrison. Hancock's win was considered a freak fluke in a year where Amy Winehouse was considered a landslide favorite, a critical and commercial powerhouse.
How on Earth could Herbie Hancock have won? Because it was a Joni Mitchell tribute album.
Wins like these keep Grammy voters from having to deal with anything modern, especially genres like R&B and rap, to which they're notoriously averse. No rap album in the history of the ceremony has ever won Album of the Year, considered the night's top prize.
The Grammys are the Rex Reed of awards bodies, only voting for things that remind them of when they were young. For a great indication, check out the Best Rock Album category. Led Zeppelin won for Celebration Day, beating out young whippersnappers like David Bowie, Black Sabbath, and Neil Young.
Even the awards show's more outre picks indicate their genre biases in telling ways. Bruno Mars's Pop Vocal Album winner, Unorthodox Jukebox, largely paid homage to '80s bands like Def Leppard and the Police. ("Locked Out of Heaven" was the catchiest song Sting never recorded.) Daft Punk's Random Access Memories was '70s disco as sung by two French white dudes.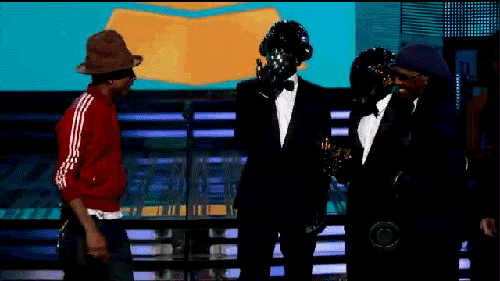 Random Access Memories is a great album, possibly Daft Punk's magnum opus, but there was something undeniably depressing about seeing Pharrell Williams accept the award on the band's behalf. Here is an artist and a producer at the top of his game, who helped spawn two of 2013's most ubiquitous singles in "Get Lucky" and "Blurred Lines." The man defined music last year.
But the only way Williams was able to get onstage was as a guest artist on somebody else's song.
Had Williams been competing in the category with his own album, it's unlikely he would have won (or even been nominated), unless it was a Paul McCartney cover album. No black person has won an award in a major category since 2010, when Beyoncé took Song of the Year for "Single Ladies (Put a Ring on It)," despite being otherwise shut out of the evening's top honors. Those went to Taylor Swift.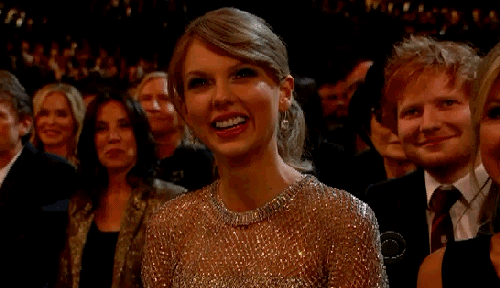 Here's another peek into the Grammys' skewed sense of reality: Beyoncé is arguably the biggest pop star in the world right now, after her last album broke the Internet. But do you know which popular musician holds the most Grammy awards? Allison Krauss. She has 27, 10 more than Ms. Knowles.  
This is a conversation we have what seems like every year, but it's more troubling after a year in which white people didn't just win all the Grammys. In 2013, white people won at everything.
2013 marked the first time in the 55-year history of Billboard that every single leader of the Billboard Hot 100 was white. People of color got in as featured artists only, like Ray Dalton on Macklemore's "Can't Hold Us" or T.I. and the aforementioned Pharrell on "Blurred Lines."
A person of color hasn't had a No. 1 single as a lead musician since Rihanna led the charts with "Diamonds" back in December 2012. In recent years, every year has been whiter than the one previous, in almost every genre. Other than the lone week that Wiz Khalifa's "Black and Yellow" topped the Hot 100 in 2011, a black man hasn't had a rap single go to No. 1 since 2009. That's almost five years. Macklemore had two No. 1 hits last year.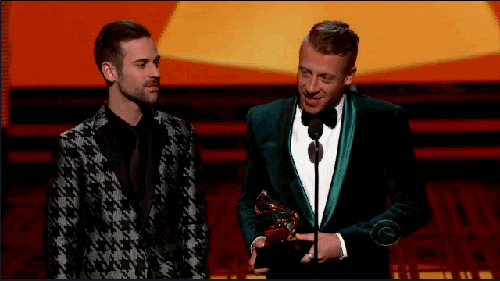 In the past year, Macklemore has endured the brunt of criticism about the gentrification of popular music, following an ongoing discussion about "Same Love" and leaving queer rappers of color in a discussion of homophobia and hip-hop. As Carl Wilson pointed out in Slate, Sunday night made it "hard not to see the critics' point … with the weddings of 68 people reduced to liberal-kitsch window-dressing and Ryan Lewis at one moment physically pushing Latifah out of the way of Madonna's entrance."
Even my grandmother, who still refers to Lee Daniels' The Butler as "that black people movie," complained to me on the phone yesterday that it was bullshit Latifah (who is the very definition of "glass closet") was all but ignored on her own stage. 
When an old racist is calling out your awards show, that's a problem.
However, the issue is a lot bigger than Macklemore. Was the Grammys' lauded collaboration between Imagine Dragons and Kendrick Lamar any better? At first glance, you have a moment of two acts getting to share the stage who seemingly have nothing in common with each other, coming together to create unexpectedly electrifying music. This moment was what awards shows should be all about—giving you something you didn't know you needed.
Yet there was something incredibly disingenuous about the stunt, considering the Grammys' long-standing whiteout when it comes to black rappers. Sure, Kendrick Lamar got his moment in the spotlight, but only one of the two acts was ever going to realistically be rewarded for it. The Grammys' attempt to give Imagine Dragons and Lamar equal weight only works if their actual award decisions ever show the same regard for inclusion, instead of getting whiter along with the rest of the music industry.
GIFs by Fernando Alfonso III | Photo via sffoghorn/Flickr