Warning: This story contains content that may be NSFW.
How's 4chan's mission to dismantle modern-day feminism going? Terribly. That's to be expected when a group of teenage boys, with no understanding of the movement they're criticizing, launch a couple silly hashtag trends.
But they're having fun.
As part of its month-long vendetta, 4chan's prank-loving community /b/ is trying to convince women that feminine hygiene products are a form of oppression and they should not be used. 
It's called Operation Freebleeding, a "new radical feminist movement." The goal is to manufacture enough fake social media outrage over the use of sanitary pads that news organizations and feminists fall for it.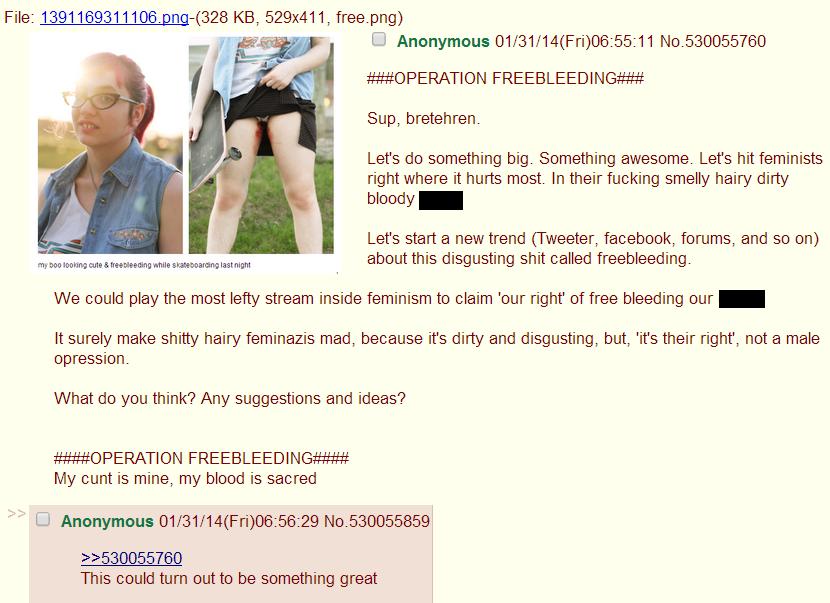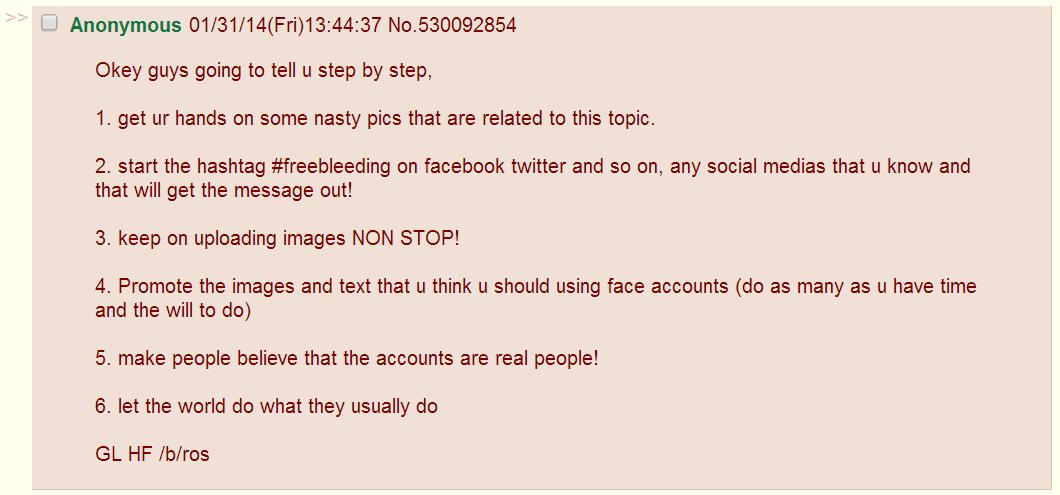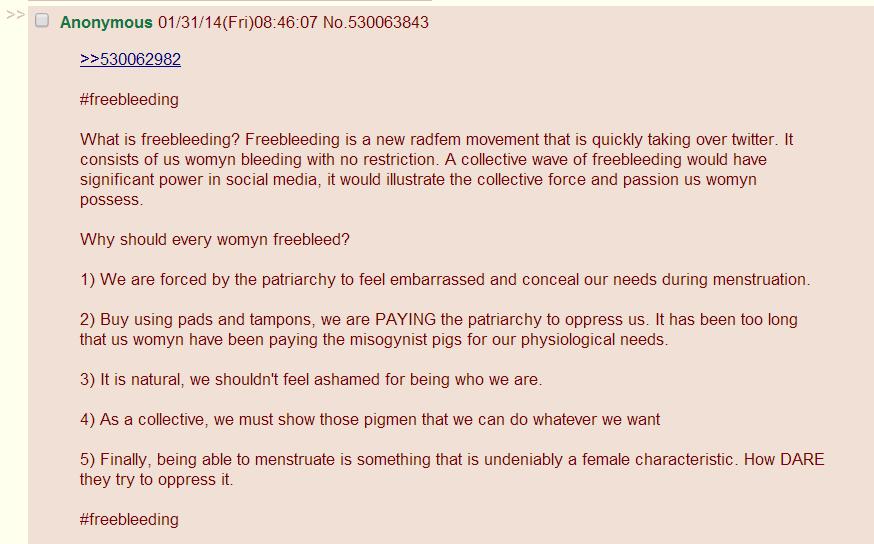 As was the case with two other feminist-related pranks this month, /b/ has created dozens of dummy Twitter and Facebook profiles to disseminate out-of-context photos and shoddy Photoshopped images of women menstruating down their legs. 
One of the photos /b/ has used (the third one down) is by photographer Emma Arvida Bystrom. It's part of a Vice photo series addressing our tendency to turn natural bodily processes into something shameful.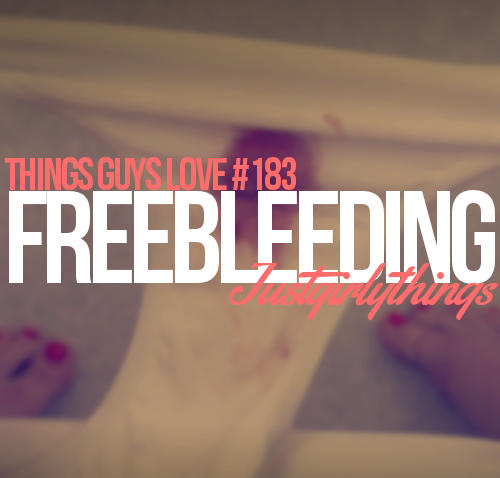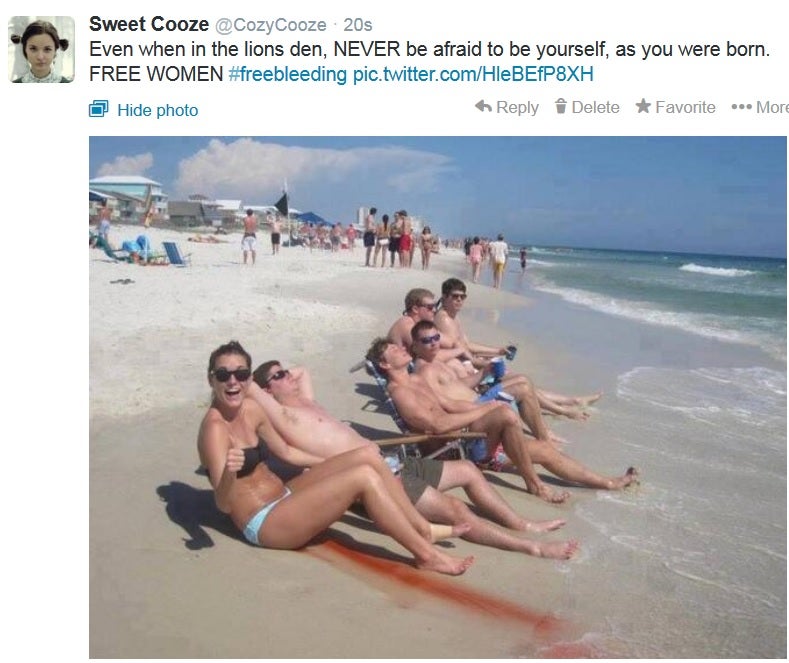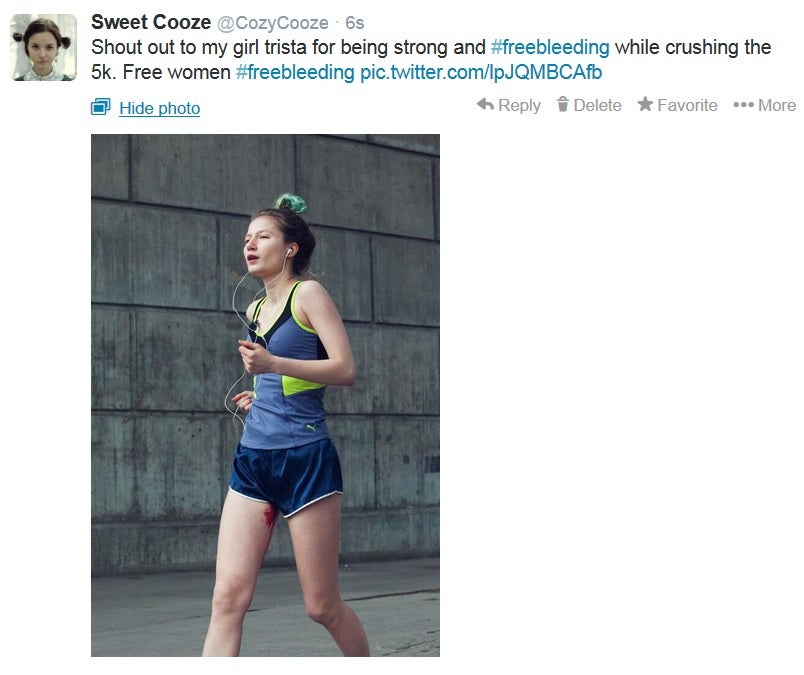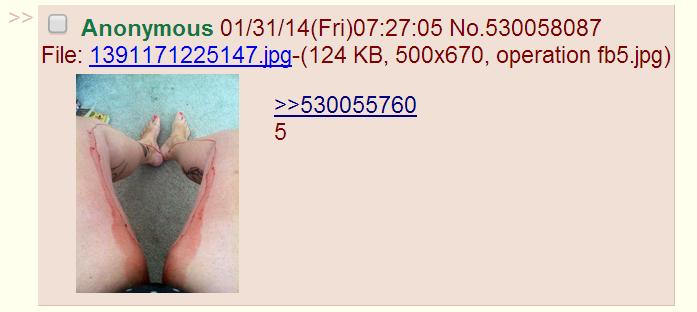 Since launching the operation Friday morning, #freebleeding has been tweeted about 1,000 times. Many of these tweets have been sent from fake accounts, while a few appear to come from real users. And they aren't happy.
@Bidenshairplugs These idiots have totally lost their minds. #freebleeding

— Cherry_Bos (@cherrybos) February 1, 2014
I looked at the #freebleeding hashtag. It's the end of days, people. Prepare yourselves for zombies or Jesus. Or, like me, prepare both.

— Sheila Gunn Reid (@SheilaGunnReid) February 1, 2014
I feel sorry for the conservative women having to put up w/ this crap by radical feminists #FreeBleeding #tcot

— Mitch Behna (@MitchBehna) February 1, 2014
/b/'s latest spat with feminists began on Jan. 5 with Operation Bikini Bridge. The goal was to spam social media with conflicting messages regarding the fashion phenomenon that occurs when bikini bottoms are suspended between hipbones, causing a space between the fabric and the lower abdomen. 
/b/ was successful, and then some.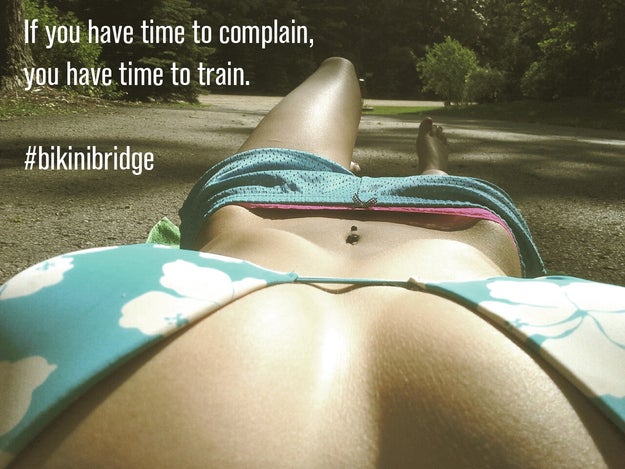 A day after launching the hoax, the hashtag #bikinibridge had been mentioned in more than 4,000 tweets. This new "trend" was mentioned in ABC News and the Sydney Morning Herald. Some publishers, like the New York Daily News, even appeared to take the bikini bridge seriously, calling it something that "will likely do real damage."
By week's end, the bikini bridge was the most-talked-about topic online, edging out Gov. Chris Christie's bridge scandal.
But that wasn't enough for /b/.
About a week after Bikini Bridge went viral, /b/ and 4chan's politics board (/pol/) launched Operation Fourth Wave Feminism. It's goal was to emphasize "the attractiveness and sexualization of skinny and fit female bodies" and pit second- and third-wave feminists against one another.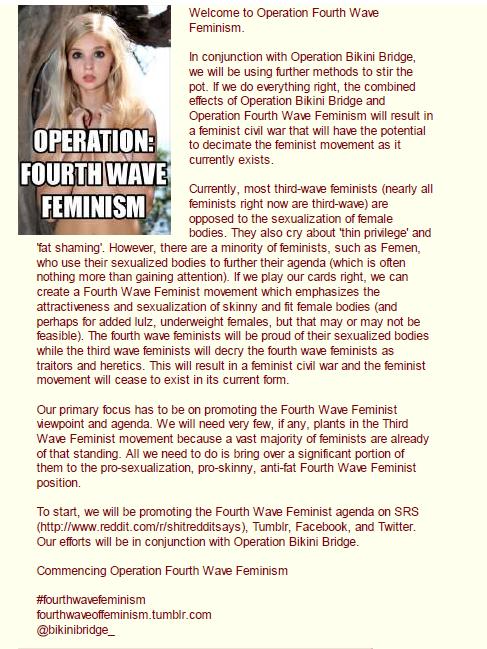 The free-bleeding trend is nothing new, however. A simple Google search for "free bleeding" turns up a handful of blog posts discussing it (here, here, here, and here). 
It's also nothing to get riled up about.
On the site Remaking June Cleaver, author Kenda Smith answers questions surrounding the topic of free bleeding and what it should mean. "Maybe if you forget to change your tampon on a regular basis—yes, you should definitely do this and save yourself the risk of Toxic Shock Syndrome," she writes. "But I'd wager the majority of women don't have that problem. Many of us like keeping Aunt Flo contained."
Free bleeding was a thing before 4chan. But let's be clear: This iteration is a hoax. 
Photo via me and the sysop/Flickr