Jen Ellison started the Drunk J.Crew Tumblr as a joke, then saw it go viral within minutes. It wasn't long before copycat accounts began to "borrow" her idea. We spoke with Ellison—a resident director and teacher at the Second City in Chicago, and a professor of ethics at DePaul—about the fleeting thrill of online fame.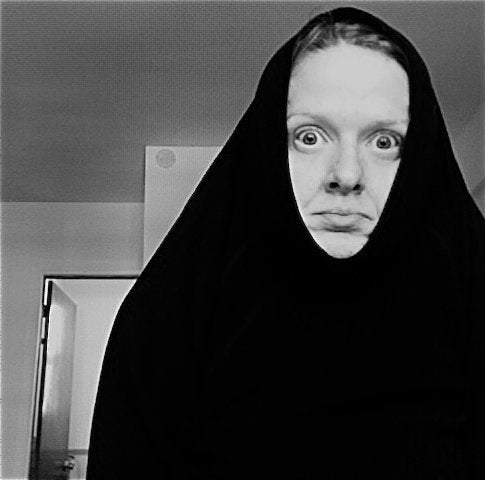 Photo via Jen Ellison
You've already talked about this on your blog, but I didn't want to steal your words. I'm sure that's sensitive at this point. How did you come up with this idea?
The truth of the matter is, I'm always sort of doing inner monologues for everything. Not just for models at J.Crew, for everything. I'm always thinking, "What would that [thing] think?" Like the Cuisinart. [I] have a little voice for the Cuisinart. 
I was sitting there eating breakfast, looking around, and I just kind of, I don't know, I was like, Oh my God, these women look drunk. I'm always looking at advertisements like that. I think advertising says a lot. I don't know if you want to go here.
You know what, I 100 percent do. 
Advertising says a lot about us as a culture, as a society. It's what we want and yet we hate it. We love ads! We are OK to pay for our souls a little bit with advertising. I'm fascinated by it. I hate it. I used to have a blog called "Just Enough Shame to Wear Clothes," and I would do this segment called "Rage Advertising," where I would just watch these ads and get so pissed because of how inflammatory they were. But [they were] also amazing, and the storytelling was good. But then, oh, look, it's another long-suffering wife with this doofus husband who decides he wants to eat the chicken wings from White Castle. It's fascinating, how all of that reflects us, but that we don't like [it].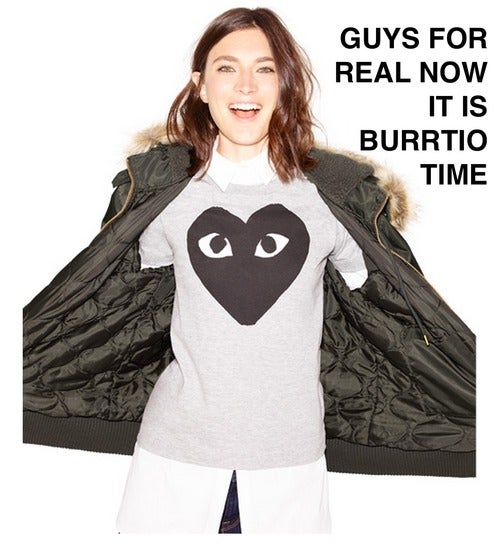 I think it's so interesting when you see a project like this and you think, maybe the creator just wanted to create something funny. Instead, though, it's a person who's pissed about something and came up with an idea around it. There's often a message behind our favorite memes and we never know it. It's rarely just someone trying to be hilarious. 
Right! Part of it was also I'm very aware of how women are presented in advertising overall, but how women were presented here, in contrast to the men who were kind of steely eyed and looking off into a bright future. The women aren't like that. It's so crazy! They just drape clothes on them, they're not even really people, they're just clothes horses that are kind of just staring off; they look vacant. Not sad, just searching… which is what drunk people are.
So that's kind of what happened. I'm always on the lookout for that kind of thing, and it was easy for me to play with. 
Drunk J.Crew seemed to receive instant fame. How quickly was it picked up and how did that happen?
I made this album of six or eight of them on Facebook. (I usually just share these things with my friends, and maybe I'll post them someplace. I don't really tweet that often, or at least I didn't.) People immediately responded. I made it public on purpose. If people liked this, I wanted them to be able to share it. My husband, Dave, messaged me immediately. At the same time, Ariel Dumas, who is a now a writer for The Colbert Report, told me, "You gotta do a Tumblr." Dave told me, "You gotta do a Tumblr." I was like, OK, I guess I gotta do a Tumblr! I think it was up for, like, half an hour. I don't even know, Claire. It was so crazy how fast it got traction. I was shocked.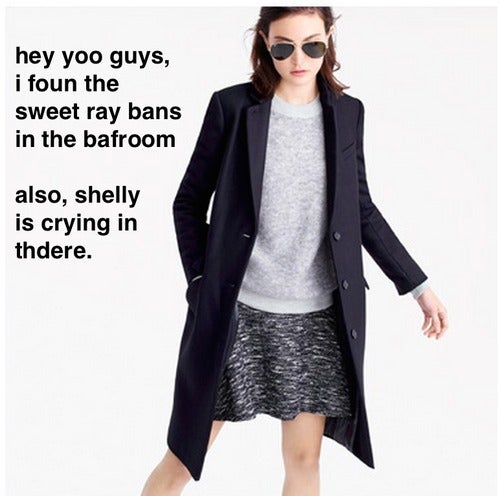 Did J.Crew ever reach out to you?
No. I'm really curious about that. I love J.Crew clothes. They haven't said anything, and really, the worst it can do is be good for them. I wasn't necessarily out for J.Crew. I just have thoughts about how women are portrayed, which is why there are no men on the blog. I did do one, but that's because someone sent me a direct link on Twitter and asked for a specific one. I made it very clear that this doesn't normally doesn't go on the blog and it's not what I normally do. 
So you've had a few copycats online. Have you reached out or reported them?
I reported it on Twitter as someone who was impersonating me. Who knows. [The impersonator] also grabbed up the name on Facebook and Instagram, and they bought the website. I sent them a message on Facebook. Nothing back. A couple people have kind of gone after them, asking people to report and block them. As of yet, nothing has happened. Another problem, and this is something I feel weird about saying: It's not good. The stuff they are posting is not as good. 
By virtue of the fact that I posted it on the Internet, I figured that if it got anywhere, people would post their own shit. It didn't even occur to me as though people would act as if they were the originator. It's genuinely confusing to me.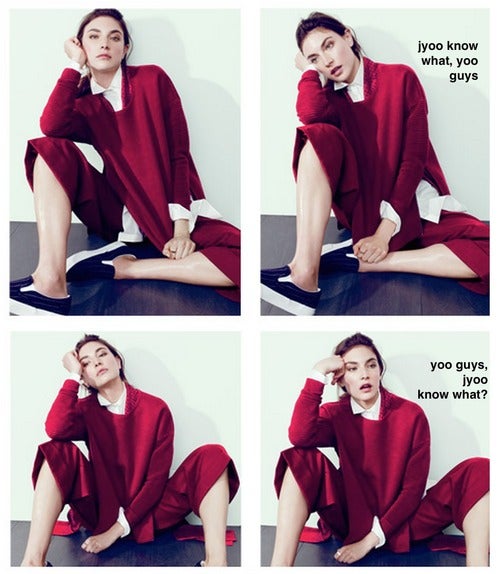 What do you think they are getting out of it?
I don't know! I don't care if you make your own stuff. I really don't. I've thought about it a lot. Just don't act like it's me. Because there's a very specific voice that's happening on the Tumblr. Now, let's be real clear: I know that I'm not Edward Albee or Rembrandt. I have a pretty clear context of what this is that I'm doing. I think it's a fun thing and a funny thing. It's also something that is very much something I would do. I very much like making these kind of quirky, weird sites that kind of express how frustrating and confusing the human condition is in an innocent way. I think that's what people are responding to. 
I kind of got into it last night. On the imposter's site, the guy posted something where the implication was that a child had been slapped. I posted to him that if you are going to continue to do this, please be plain about the fact that you are not me. Also, because they're taking submissions, I sent my FAQs page to the person who [submitted the child-slapping photo]. He told me, literally, "Wah wah wah, either copyright it and sue me, or shut up. It's the Internet." So what I wrote back was, "Thanks for the response, have a great day," because it's not worth it. 
I'm furious about it, but I also don't want it to become a negative thing. [This] troll's gravity is, like, black-hole-level.
You know what, I may lose in the end, but I do believe people respond to positivity. Not in some Pollyanna sunshine way, but… let's be realistic. 
Is there any part of it that's flattering to have your work stolen?
Flattery is not the right word for me. If he wasn't saying he was me, I might be more so. You're being dishonest about it. I mean everyone has lied at some time in their life. These are the things I talk about all the time, because I teach ethics at DePaul. 
They stole from an ethics teacher. The irony must hurt them at night.
That's what's hilarious to me. So I'm not flattered by it. I kind of don't hate them: They just did a bad thing and now I feel like they probably think they can't back out of it. 
Where are you hoping the project will go from here? 
I've thought about doing a Kickstarter for a Drunk J.Crew catalog. My sister actually brought it up, and I liked the idea. I also want to keep the Tumblr going for a bit. As long as people are interested and it's exciting and fun for people, I'd like to keep doing it. It does take up time. I take a lot of time! One of the images is "todd breakened up with me." That thing took me forever. I kept staring at it, thinking, "What is she looking at? What is she thinking about?" I mean, that's probably the dumbest thing I could be spending my time on. 
Claire Linic is a Chicago-based comedian, crier, and friend. Her book, The Awkward Phase, will be coming out through Skyhorse in fall 2015. You can keep up with all of the fights she has with her fiancé at @Wefoughtabout. 
Lead art via inorman/Flickr (CC BY 2.0) | Photos via drunkjcrew.tumblr.com