What do you do when someone blames your renovated cotton mill for something it didn't do? Do you deny everything and blame the other cotton mill down the street?
In the curious case of a Facebook racist, that's exactly what seems to have happened. The small town of Monroe, Ga., has two historic cotton mills that both, farcically, currently serve as upscale event rental spaces. And now, after a weekend that has seen Tumblr and Twitter incorrectly link them both to the antics of a mysterious Facebook user named Andrew Moskowitz, they may have one whopping PR mess on their hands. 
The cotton mill affectionately referred to as The Mill has been standing since 1895. In 2008, the Monroe Cotton Mill was facing demolition when local lawyer Paul Rosenthal stepped in to save it. The Mill received a lengthy restoration and a new life as an event location. Nearby, The Cotton Warehouse, a circa 1890s storage building, carries on in its new incarnation as a wedding and event facility. The two businesses are used to getting confused with each other—it's just part of the territory.
But Sunday, hasty doxers on Twitter and Tumblr accused both the Mill and the Warehouse of hiring Moskowitz, an allegedly racist hiring manager who proudly boasted about his activities online.
"I have NEVER heard that name until 11 AM this morning, when I started getting emails sent to me during church asking why I hired a racist," Rosenthal wrote in an email to the Daily Dot Sunday evening after being bombarded with outraged inquiries all day from people wanting to know why he'd hired a man he says he's never even met.
"I have no idea where this guy works," Jakob Garner, the equally frustrated owner of the Cotton Warehouse, told us via email. "Not sure how we ended up getting in this craziness!"
Said craziness started on Thursday, when the New York Times' Facebook page linked to an article exploring how giving a child an ethnic-sounding name could damage their social and professional prospects. While many studies have proven that gender biases and racial biases exist in employee hiring decisions, Moskowitz allegedly went a step further than anyone expected. He allegedly left a comment in response to the article in which he defiantly embraced racist hiring practices, claiming to be a hiring manager who automatically overlooks "African sounding" names like "Tamisha" and other "tribal names."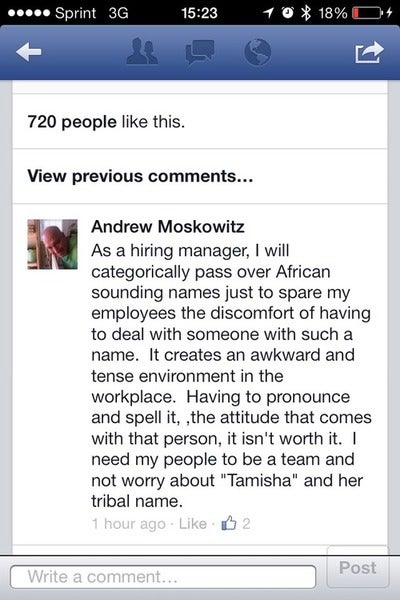 What happened next is familiar: outraged Tumblr and Twitter users who saw the comment began digging up the dirt on Moskowitz. Since he had allegedly commented with his own Facebook, it was easy enough for others to find other instances of comments he'd left in the past, such as this one, allegedly made in 2009:
Screencap via HolzmanTweed/Twitter
And this one: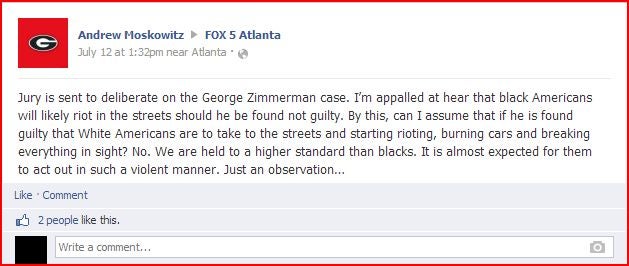 Screencap via tashabilities/Tumblr
But when the Twitter machine quickly went to work doxing Moskowitz, they tied him to the wrong location.
Let's find/get him fired: MT @LoveMySkip:#BlackTwitter who is Andrew Moskowitz? Where does he work?RT @britneyisland: pic.twitter.com/HZCJw3s8ky

— Shannon LC Cate (@lilysea) September 21, 2013
Twitter user HolzmanTweed was the first to make the connection between Moskowitz and the Monroe Cotton Mill, presumably because Facebook records him checking in from Monroe Cotton Mills last month. However, this check-in appeared to be at an antique mall that occupies part of the Mills' location; at the time, Moskowitz was apparently just shopping for "army stuff." 
Unfortunately for employees at The Cotton Warehouse, HolzmanTweed initially claimed that Moskowitz worked for them instead of for The Mill. This led to Twitter and Tumblr users trying to contact employers at the Warehouse, and led to angry comments on the business's Yelp page as well on photos that have since been deleted:
Look what folks did to Moskowitz' employer's business page on Yelp. I'm fucking screaming. pic.twitter.com/kP9gLvLwQG

— Asia Chloé Brown (@AsiaChloeBrown) September 22, 2013
The Cotton Warehouse was quick to assert that they weren't Moskowitz's employer. "We don't know Andrew Moskowitz or anyone at The Monroe Cotton Mills," confirmed the actual hiring manager at the Cotton Warehouse, Ebony Patrick:
He does not work for us and whenever a business title and number were linked, they should have been referenced to our website and it would clearly show that the phone number and business title were completely different. 
But while many onlookers quickly backed off the Cotton Warehouse, they ran instead with the link to the Cotton Mill—which still wasn't right.
Call Paul Rosenthal @ 877.305.6544 & tell him Andrew's racist hiring practices at Monroe Cotton Mill are unacceptable pic.twitter.com/wVA610kpiM

— The Breakdown Blog (@WeSeeRace) September 22, 2013
But Moskowitz has reportedly never worked at The Monroe Cotton Mill either. A confused Rosenthal explained to the Daily Dot that while he wasn't certain how the initial connection had been made, there were numerous businesses in the area with names related to cotton. Even more confusingly, the Mill's answering service, which according to Rosenthal handles all calls to the number on the Mill's website, told early callers inquiring about Mr. Moskowitz that he wasn't in, not that he wasn't on staff. And when the confused staff members of the Cotton Warehouse heard about the rumor, they assumed inquirers were asking about someone who worked at the Mill, and erroneously told several Tumblr users that he worked there instead.
Meanwhile, Moskowitz covered his tracks. As outrage began to build, Moskowitz allegedly deleted his original Facebook comment, along with other inflammatory posts and personally identifying comments from his Facebook page. The Facebook groups that amoskowitz27 belongs to include Rednecks, White Socks & Blue Ribbon Beer and The International Association of Professional Grumpy Old Bastards.
When Tumblr heard about the scandal, they leapt onboard. A post about Moskowitz by reverseracism has received over 10,000 notes since Friday, and popular Twitter and Tumblr user Franchesca Leigh contributed details linking Moskowitz to the Mill. After Rosenthal contacted Leigh to deny the allegations, she updated her Tumblr, expressing the hope that "someone that knows Andrew Moskowitz will come forward and set things straight."
Except someone already had. Tumblr user therearedemonsinsideofus thought they knew Moskowitz thanks to their local Magic: the Gathering meetup. After some digging, they came up with Moskowitz's phone number, email, and address—in Dakula, Ga., half an hour away.
Yet when they reblogged to add their info into the mix, no one really paid any attention. "Well, honey, we've found out that he works at the Monroe Cotton Mill," tashabilities noted. "I've already contacted the Fox 5 I-Team and the [Atlanta Journal-Constitution]."
Because of all the confusion, I met with similar resistance when I floated the idea among Twitter users that there was no real link between Moskowitz and the two cotton mills and there never had been. After a few exchanges in which Twitter user @weseerace insisted the owner of The Monroe Cotton Mill must have been lying and doing "damage control," they blocked me. HolzmanTweed came around to the idea that the Mill wasn't involved, but failed to realize that there was no real connection to either of the businesses:
https://t.co/xalvcRqePu has a disclaimer on their webpage(!) that Moskowitz doesn't work for them. I'm prepared to take them at their word.

— Dan Holzman-Tweed (@HolzmanTweed) September 22, 2013
The desperate Rosenthal updated Facebook twice to make it clear his company had no connection at all.  "We do NOT have a HIRING MANAGER at all," he stated via email. On Facebook, he wrote: "we would like to be able to get back to what we are about here at the Mill…..restoring and preserving this great old cotton mill."
After he deleted the negative comments, of course:

"Now there are two businesses who are going to experience high levels of interrogation and scrutiny when we should not be involved," Patrick said.
It's still not clear what company Moskowitz actually works for—if any. Indeed, therearedemonsinsideofus found that he may be self-employed, working with his partner in a home business selling commercial candy equipment.
Calls to Moskowitz and his partner went unreturned as of press time.
Photo via tashabilities/Tumblr