On Oct. 3, Christian Adamek died at a hospital in Huntsville, Ala. from severe self-inflicted injuries. Two days earlier, the 15-year-old's mother found him barely alive after he attempted to hang himself in their home. 
Adamek had been arrested for streaking at the Sparkman High School homecoming game a week before. A video of the prank was captured using Vine, later uploaded to YouTube and has since been removed.
The day before the teen suicide, Sparkman High principal Michael Campbell gave an interview to a local news station, relaying the serious implications of the streaking incident. Campbell told WHNT, "There's the legal complications. Public lewdness and court consequences outside of school with the legal system, as well as the school consequences that the school system has set up." WHNT aired the story, but later deleted it from their website. A copy of the broadcast appeared on YouTube within a short time, uploaded by user xrayultra.
School administrators made it clear they had no intention of treating the streaking incident as just another adolescent prank. Since Adamek was arrested, criminal charges may have followed, and Sparkman High confirmed that it would push to have the student go before a judge. During his interview with WHNT, Principal Campbell declined to specifically say what disciplinary actions could be used against the teen. According to Adamek's sister, Danielle, her brother was facing expulsion from Sparkman High. 
During the same WHNT segment, a reporter speculated that Adamek could potentially face charges for indecent exposure. British tabloid the Daily Mail also pointed out that indecent exposure, a Class A misdemeanor in the state of Alabama, is linked to sex offender laws. However, in the Principal's statement to WHNT, he referred to the incident only as an act of "public lewdness," a lesser crime. Indecent exposure and public lewdness are separate charges in the state of Alabama, and the latter is not considered a sexual offense.
Students at Sparkman High School expressed their grief over the loss of Christian Adamek online. One student asked others to wear orange bandanas at a football game to remember him. Others started a fundraiser for the teen's family. Some simply shared their thoughts and prayers with the Adameks.
Why does someone have to die for our school to show that we care for each other… Show it in person and our school could be so different.

— Lauren Shull (@l_shull) October 4, 2013
My thoughts and prayers go out to the Adamek family. No parent should ever have to bury their child. Rest in peace Christian.

— Tyler Hemphill (@Tyler_Hemphill7) October 4, 2013
Everybody spread the word! Do it for Christian. pic.twitter.com/Udhjkocdc8

— Ryan Reid (@its_Reid) October 4, 2013
Christian Adamek's funeral service took place on Oct. 7. His mother told his friends to smile. "Don't be afraid to do something goofy," she said.
Adamek is survived by both of his parents, a brother, sister, and four grandparents.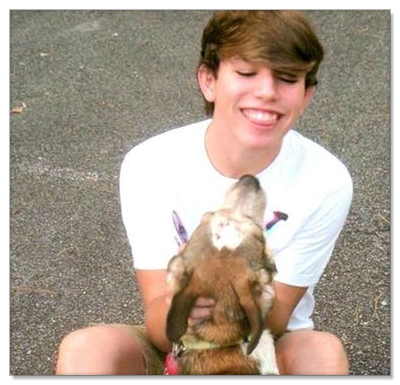 Photo via Memorial Service for Christian Adamek/Facebook
H/T RYOT News | Photo via Facebook