In China, the Shuangliu police department, from Chengdu in Sichuan Province, have hit it big on social network Weibo. When they're not helping small children cross the street, they're declaring their love for Breaking Bad.  
But when three rats broke bad in their town, the Shuangliu police let vigilante justice take over. Now an amusing but controversial picture they shared of the three live rats tied to a tree in their district has gone viral on Weibo, creating a debate in many Chinese communities about the best way to deal with the "rats" in the Chinese government.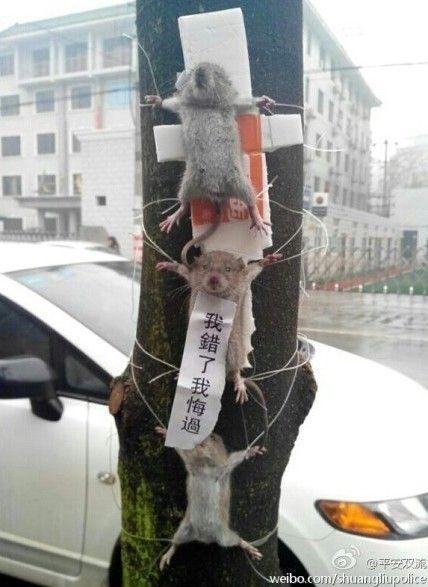 The rats' captor, according to Hao Hao Report and Sichuan Online, is an advertising employee named Liu Junjiang, who captured the rats with coworkers on Friday after they habitually ransacked the firm's new office. The ad execs tied the rats to a tree in order to humorously shame them for their crimes.
"I was wrong, I repent!" reads the banner attached to the rat in the middle.
The Shuangliu police saw the mice and shared their photo on Friday in mock outrage:
Who did this? They even dared to establish a court in front of the police station and executed the thieves in broad daylight!
Their post promptly went viral, collecting thousands of shares and comments. Many Chinese netizens reacted with amusement, comparing the rats to corrupt government officials who should be publicly shamed in similar ways:
NetEase user  花開o : There are rat thieves all over the country. These rats are fat and big, running amuck across the country and they disguise themselves as civil servants, but our police pretend to be not aware of the situation.
But many also reacted with horror due to the apparent animal cruelty of leaving the rats tied and helpless.
Weibo user @自然新观察 :【Being beaten is the fate of mouses by birth, but please do not abuse them】 This picture taken by police showing what the perpetrators regard as a proud work but actually reflects the morbid mentality  deep in their hearts. The Supreme People's Court has stipulated that testimonies gained through freezing, starving, scorching, beating the suspects are illegal and should be excluded from the court. We should show the animals that we are a highly civilized society. Violence will bring insecure emotion to humans, and if the abuse out of freakish mentality affects others, it is crime.
Contrary to rumor, the rats were not dead and have reportedly since been freed and released in the countryside.
"Cat police will handle them" now, joked Sichuan Online.
Photo via Hao Hao Report