Cards Against Humanity, the Chicago-based party game, finally issued a statement addressing accusations of racism, sexism, and toxic workplace culture, as well as the rape accusation against co-founder Max Temkin.
Temkin was publicly accused of rape in 2014, which he has denied. In the statement, six other "active" CAH co-founders (all men) claimed that after an internal investigation, Temkin stepped down from his role on June 9; a "specialist firm to review and improve all HR, hiring, and management practices" would be implemented; and an "outside organization" would help with "workplace training" and "communication and unconscious bias at work."
The statement—which mostly consists of the co-founders answering questions sent to them by Polygon ahead of today's report—comes two weeks after several former employees, many of them BIPOC, detailed their experiences at the company. One former employee, Ali Barthwell, tweeted that writers "tried to write cards calling out abusers or punching up at rape culture," but were denied because of the accusations against Temkin. She was also "constantly mixed up with the other Black women who worked there." She told Polygon that when she tried to get Shonda Rhimes added to a card, other employees wondered if people knew who she was, and leadership asked, "Is she fat?"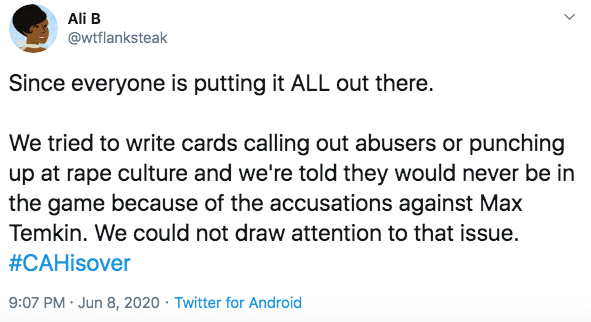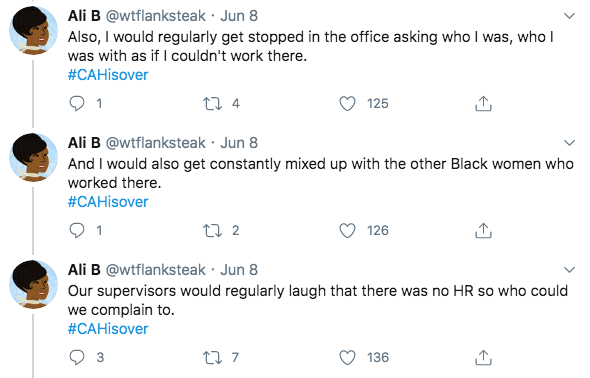 Another former employee, Nico Carter, told Polygon of an instance where the N-word was considered being added to the game, and that the concerns of Black writers were often not taken into consideration. On Twitter, Carter claimed Temkin "tried to have me fired when I complained," which the company denied. He told Polygon that when outdated or problematic cards were removed, "the feedback was partly heeded, but when the owners didn't agree or didn't like our opinions, they would just ignore them."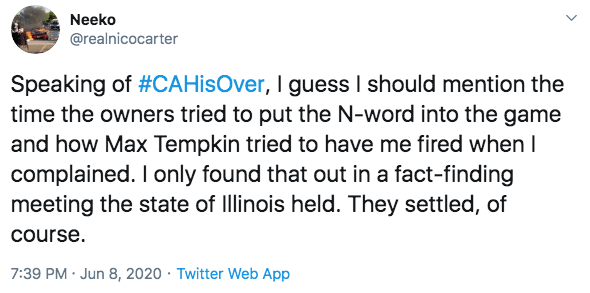 In the statement, founders claim "Max was particularly adamant about rejecting" the N-word card and that the company "solicited feedback on the card from the full writers room, including several people of color."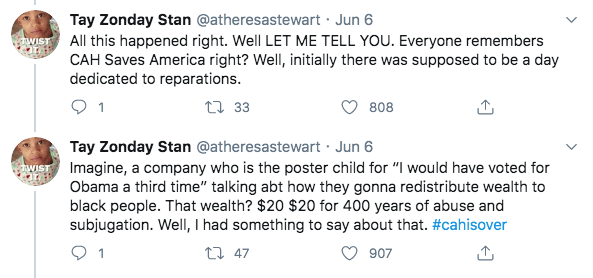 Another former employee, Theresa Stewart, raised concerns about an idea for "reparations," especially coming from a majority white company. On Twitter, she posted the email she sent to address this, which is also included in the statement. The co-founders stated: "In the end, we agreed that she and others were right that this stunt was minimizing an important issue, and that this wasn't our story to tell." Stewart told Polygon that, like Barthwell, she was often confused for other Black women in the office, and that "I was afraid to speak up not only when I worked there, but also when I left because of the influence of the company."
These stories circulated around the same time Black performers accused The Second City, a Chicago comedy institution, of racism and sexism, leading to the resignation of its co-owner. CAH is a major gatekeeper in Chicago comedy, design, and gaming, and while many associates kept quiet, some eventually broke ranks. Last week, Chicago Comic & Entertainment Expo (also known as C2E2) said it would no longer work with the company.
On June 8, media critic Anita Sarkeesian wrote that she was ending her relationship with CAH, and she apologized for being "complicit" in working with an "abuser" for so long and accepting "donations from Max and Cards Against Humanity" for her nonprofit. Cards Against Humanity has faced criticism in the past for its choices, like a pink card game specifically for women and a transphobic card.
The founders did not directly address the accusations against Temkin, stating: "We do not know the truth. We believe that all claims of sexual violence must be taken seriously, and we know that it takes incredible courage for a victim to speak out." But Polygon's report shows upsetting or disagreeing with Temkin could have consequences, and many stayed silent or commiserated in private. Three former employees said that one woman used a "safe word" when Temkin got too aggressive. Another employee, Elaine Short, said he tried to control who she dated.
Polygon also spoke with the woman who accused Temkin of rape in 2006, when they were both in college (she posted about it in 2014). Five former classmates said they were told about the assault. Temkin again denied the allegation in a statement to Polygon.
While Temkin stepped down, he is still apparently a "one-eighth shareholder."