This week in Florida: A 19-year-old self-described "porn diva" and "foot goddess" has been arrested in connection with a case in which three underage girls were shown participating in an online video of an orgy, the Miami News Herald reports.
Bianca Byndloss, who describes herself on her (NSFW) Twitter as "Miami's po$hprincess aquarius goddess up-cumming porn diva," is one of three people believed to have been involved in the filming of a group-sex video with three underage girls, aged 12, 13, and 14.
Along with Christian Hernandez, 18, and Bryan Yanes, 19, Byndloss is accused of participating in group sex with the three girls and taking turns filming it on their cellphones. They've been charged with three counts of lewd and lascivious battery on a minor and promoting sexual performance of a child.
Byndloss has an active social media presence, running an (obviously NSFW) foot-fetish blog on Tumblr and camming with her followers in exchange for donations on Skype. "Hi im bianca, im 19 years old from miami i have a foot fetish just like you!" she writes in her Tumblr bio. "I love to show off my sz 5 feet and paint them colors you love!"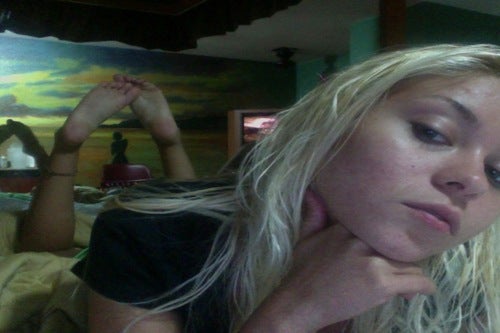 Photo via Tumblr
Although Byndloss's sideline career as "porn diva" and "foot goddess" is obviously not illegal, she's no stranger to the Miami-Dade country criminal justice system, the Miami News Herald reports. She's been arrested for burglary and petty theft, as one of her Tumblr fans learned after she allegedly stole money from him when he paid to cam with her. Florida arrest records reveal that Byndloss was arrested and charged with battery last January.
H/T Miami News Herald | Photo via bibimiami/Twitter