Lots of things will be debated on the Democratic side in the run-up to 2020 campaign against President Donald Trump: healthcare, the economy, immigration, and who should be the party's national messenger for these issues.
But those things will not be debated today. No, today only one thing will be debated, and that is how Beto O'Rourke's ability to make you cum stacks up to some 2020 also-rans. Because in the wake of his impressive showing against Ted Cruz, O'Rourke chatter for 2020 has built up online. And it culminated today, with this tweet.
https://twitter.com/willmenaker/status/1062079702129631232
(Ojeda is Richard Ojeda, a Democrat in West Virginia who announced today he would run for president. Avenatti is Michael Avenatti, best known as Stormy Daniels' attorney. And O'Rourke is, as you can read, "like the guy who is all sweet and nerdy but holds you down and makes you cum until your calves cramp.")
(He's also been highly critical of the militarization of immigration law enforcement, but has stopped short of joining the "Abolish ICE" movement.)
That stance, which was flittering through the internet this afternoon, blew up when Will and Grace star Debra Messing co-signed the notion that Beto orgasms consist of a bit of dom-sub play and muscle spasms.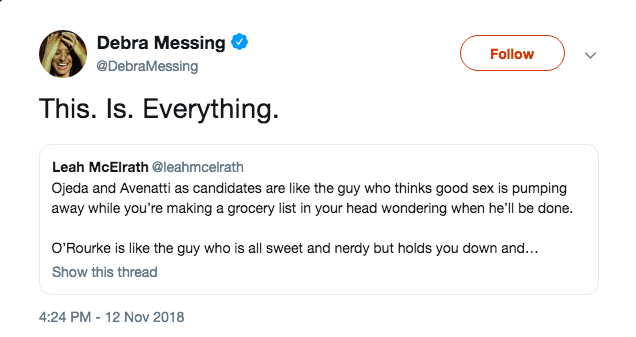 It almost immediately became known as the Beto Sex Tweet.
RIP Stan Lee, a brilliant man who fucked up by dying on Beto sex tweet day.

— Nathaniel Friedman (@freedarko) November 12, 2018
found the Hot Beto Who Fucks tweet mere moments before that woman locked her account, what a THRILL

— Tyler Coates (@tylercoates) November 12, 2018
after seeing that tweet about Beto I must reluctantly announce I'm joining no nut november

— Brandy Jensen (@BrandyLJensen) November 12, 2018
https://twitter.com/TonyaJoRiley/status/1062101725090402304
me after reading the beto tweet pic.twitter.com/VnPz712PDS

— jordan (@JordanUhl) November 12, 2018
In response to the attention, the woman who made the Beto Sex Tweet locked her Twitter account less than 24 hours after it was posted.
In case you're curious, here is a list of other 2020 Democratic contenders, not sorted by orgasm-inducing abilities.