Magazine stands around the world are plastered with glossy publications featuring near-perfect female celebrities posing seductively. These flawless women—who are often Photoshopped judiciously—are meant to grab a person's attention but also often make women question their own beauty and self-worth.
Instead of letting those feelings consume her, 39-year-old artist Rebecca Dart channeled her reaction into Battle Kittens, a comic series featuring ferocious cats and burly women joining forces in epic clashes.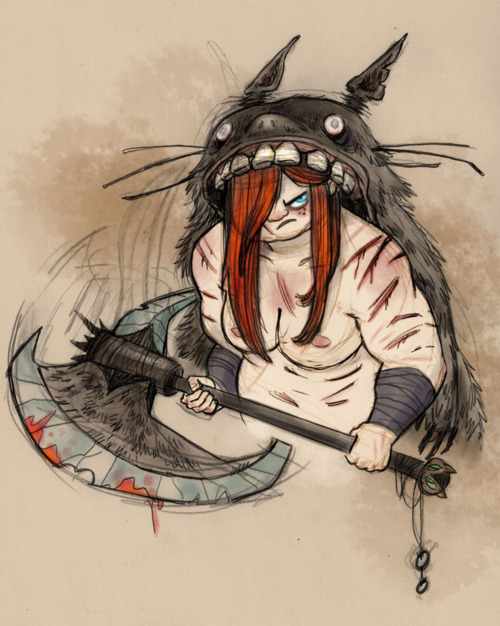 "They were a direct reaction to images of women I had been seeing a lot in contemporary art: skinny, waif-like girls staring blankly into space," Dart told the Daily Dot.
"I felt that this didn't represent me; this didn't represent any of the woman I knew, so I went to the complete opposite extreme and made my women violent and ruthless, not that this represents me any better, but I had a lot of anger to exercise. 

"Their physical scars represented my mental scars."
Dart has been using her art to mend those scars for the last three years. Between working as a character designer for the My Little Pony: Friendship Is Magic series and as an illustrator in Vancouver, Dart has spent most of her free time creating the world of Battle Kittens. The comic is set in the brutal land of Growler's Sweep, where the bodacious, bare-chested women and their gaggle of large kittens fight off monsters of all shapes and sizes.
"Having my ladies topless was a conscious decision," said Dart, who has featured many of her Battle Kittens sketches on LiveJournal but has recently moved over to Tumblr.
"I was thinking about the feminist movements that would burn their bras as a symbol of oppression, and also how old housewives were often referred to as 'the old battle axe' (which is why the axe is the preferred weapon of choice). The babe-arians would see clothing or armor as a weakness. They face whatever the world gives them with just their flesh; the fact they wear bikini bottoms has to do with my own modesty."
While the women are certainly hard to miss, it's the kittens who are the real stars. One of the main sources of inspiration for them was Dart's cat Orson Kittman, who died in February at the age of 16.
"He was the OG [original gangster] battle kitten, but recently we adopted two little guys from the Vancouver Orphan Kitten Rescue Association," Dart said. "They were abandoned in a box under a bush at a local park. They are a couple of snuggle monkeys, but they drive me nuts."
Dart's first break-out hit was RabbitHead, a surreal Western graphic novel featuring a protagonist who has a rabbit for a head. The choose-your-adventure style story was a hit among comic enthusiasts who praised Dart for her unique storytelling and ability to take something soft—like a rabbit—and give it an edge.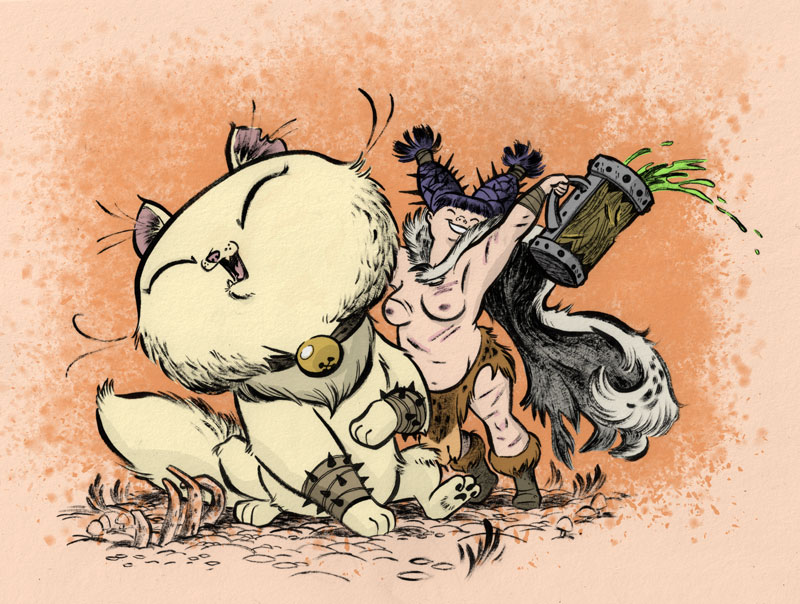 "When designing my babe-arians I felt they needed a mighty steed," she said. "At first I thought a huge boar, or a giant musk ox or something like that, but then it occurred to me the most aggressive (in a playful way) animal I've ever come in contact with were kittens. Who doesn't like kittens! Plus they added a little sweetness to the babe-arians' saltiness."
That same sweet-and-sour juxtaposition is also what Dart channelled when designing Queen Chrysalis, the bossy antagonist featured at the end of the second season of My Little Pony.
"Working on My Little Pony: Friendship Is Magic was a lot of fun, but I had no idea what I was getting myself into," she said. "As soon as I read the script, I had a very clear vision of what I wanted her to look like. Villains are always more fun to draw."
Such gigs present a double-edged sword for Battle Kittens: It foots the bills but it's delayed her efforts to turn her comics into a full-blown graphic novel, due out next fall.
"I've been a bit distracted lately with other, paying work, but I'm chipping away at it," she said. "In fact a friend of mine came over the other day and did some posing for me, to help me draw the harder figures. She has the perfect Battle Kitten physique: chubby, the most feminine of figures. The Battle Kittens graphic novel is a full adventure comic with characters and dialogue.
"It takes a while because I have to go back to work once in a while to pay the bills."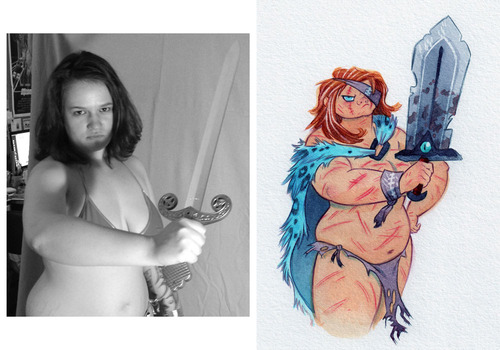 All illustrations and Daily Dot doodle by Rebecca Dart