Anonymous and Occupy to the rescue! It may seem like a flashback to last October, but it's very real and right now. And all are welcome.
This is an urgent message concerning the absolutely devastating impact of the tornadoes that left a trail of destruction through Oklahoma on 5/20/2013. A new Anonymous operation is being launched known as #OpOK in an effort to assist with the clean up/recovery effort. There is no limit to who you can help or what you can do… however we ask that you please do something.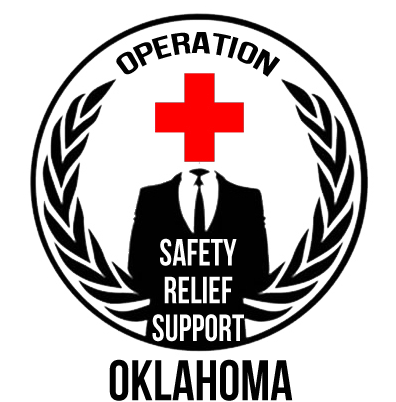 Image via Anonymous/Piratebin
Last October, in the wake of Hurricane Sandy, Anonymous and Occupy activists worked together on Occupy Sandy, a relief and rescue effort which was largely acknowledged to be more effective than FEMA. Now they are working together again, this time helping to find, identify, feed, and shelter victims of the Oklahoma tornadoes. 
Announced yesterday in a Pastebin document by the AmeriSec branch of Anonymous, OpOK works on multiple social media platforms as well as on the ground to provide information and relief to those affected by what meteorologists are calling one of the worst tornadoes in history. A related but continuously updated collaborative document is up at PirateBin, apparently from Occupy Norman, listing shelters, first aid and CPR instructions, needed items, and much more. Anonymous and other activists have been tweeting out information from the documents since they were uploaded.
If you know someone who is missing from the #tornado, tweet their name + #OKMISSING twitter.com/dellcam/status… #OpOK

— Occupy Sandy (@OccupySandy) May 21, 2013
RT @occupydisabled #OpOK Volunteers meet Tues at Home Depot in Moore 650 SW 19th St, Moore, OK 73160, at 7 am

— Occupy Sandy NJ (@OccupySandyNJ) May 21, 2013
#Foodtrucks and/or #Caterers are needed in #Oklahoma. Contact @farm2me ASAP! They need #HELP!!!

— Chef Taz (@cantdance2it) May 21, 2013
Neel Veterinary Hospital is accepting pets for med. treatment. 2700 N. MacArthur Blvd in OKC. 405.947.8387 #okpets #okcpets #opok #moore

— K for Kallisti (@Kallisti) May 21, 2013
The hashtag #okcpets is used to flag tweets about missing animals. Anonymous never forgets the kittehs.
Help find her. RT @llb317: Leslie Marie Lambert #okmissing #opOK #Pray4Oklahoma

— Occupy Sandy (@OccupySandy) May 21, 2013
The hashtag #OpOKMissing is used to tweet out the names of those unaccounted for, while other tweets and posts direct others to the Red Cross's Safe and Well site to register themselves as found and put the worries of their loved ones to rest. The Piratepad document lists sites for donations, including alternatives for those who do not support the Red Cross, as well as food banks, emergency numbers, a dialup Internet alternative to cable or cell phones (similar to the one used in Syria to circumvent the blackout), a link to the crisis map, free flashlight apps for your smartphone, basic evacuation and safety tips, and links to foreign-language editions. It continues to grow as the hours wear on. 
For those who want to follow along or help amplify the messages via Twitter, the listed members of OpOK are @nopuzzlepieces, @der_bluthund (or @der_hundhaus), @phylaxis, @occupypolitix, @OccultUnion, @er0tikka, @OccupyNorman_OU, @noidea125, @sinisteranon, @uk_collapse, and @AnonWolf12.
Rescue and rebuilding efforts will be ongoing for months; many coastal areas in the Northeast are still in recovery from Hurricane Sandy. As the week continues, expect to see more activists on the ground and continued activity online. Oh, and don't even think about hijacking the hashtag for spamming or scamming purposes (as sadly often happens). 
If you use #OpOK for advertising your site will be taken down immediately. #tangodown #anonymous

— Priest (@iamth3priest) May 21, 2013
Image via Rainbow Freak93/Flickr