Are you a criminal? You probably don't think of yourself as one, but Amnesty International has an exciting new website that's here to tell you otherwise. 
Trial by Timeline is a dynamic, animated site that analyzes your Facebook timeline and presents for your delectation a list of crimes of which you would be convicted in various countries around the world, along with their often-gruesome punishments. It's dark, scary, and quite fascinating.
By analyzing your Likes, your activities, your photos, groups, pages, and friends, the site gets a rather frighteningly detailed picture of your life. "Interrogating Barrett Brown" are just words nobody wants to see as a result of a whimsical Facebook analytics tool, but there they were on the site once I'd hit Enter. It "interrogates" your friends, meaning it looks at your interactions with them and what the association might imply. Just as governments can and do.
Here's what it got from me.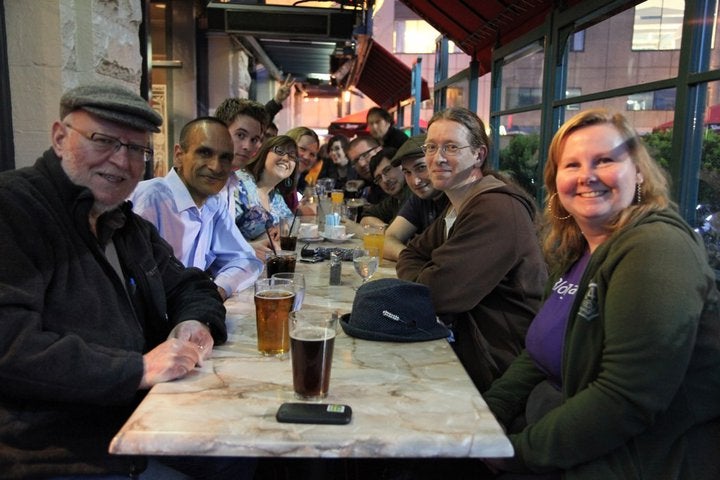 Photo by Kristie Wells/Facebook
This photo, a shot of the Social Media Club of Vancouver having a night out a few years back, is enough to get me beaten and imprisoned in Nigeria and Saudi Arabia, for being in a bar and socializing with an unrelated male (how many counts is that?), not to mention drinking alcohol. 
Liking the Wizard World Portland Comic Con got me beheaded (twice!) in Saudi Arabia and hanged in Iran (only once, those moderates) for sorcery. Thank Allah they didn't find my Severus Snape memes!
We shall not speak of my appearance in the 2010 Reading is Sexy calendar except with counsel present.
The totals are impressive. Mother would be so proud.
Beaten: 103 times
Tortured: 117 times
Beheaded: 2 times
Imprisoned: 181 times
Lashed: 47 times
Hanged: 1 time
Killed by extremists: 109 times
Persecuted: 101 times
Mutilated: 4 times
And from the results, I may be postponing my visit to Portland, lest I be actually, instead of only virtually, imprisoned for protesting the government of the U.S.
Sure, I'm a proud pinko commie, but even I didn't expect a result of 372 convictions for 15 crimes in 104 countries. It bears noting that most of these crimes would be non-crimes had my gender been male. 
These crimes may be jokes to us, but to millions of people around the globe they are devastatingly real.
The site is compelling to use, not just because we're all secretly addicted to quizzes about ourselves, but because of its impressive and impactful design, courtesy ColensoBBDO New Zealand. Amnesty hired the ad company to put together a site which contrasts the freedoms enjoyed by Kiwis with the everyday oppression facing many in other countries around the world. It sounds dry, but using the site is like being in the middle of your own episode of 24.
Kashmir Hill at Forbes raises the issue of privacy with regard to the site: It really does want to see absolutely everything, and she simply does not trust it. That, of course, depends on how much information you feel comfortable sharing with Amnesty International as opposed to, say, PepsiCo. If the government of Saudi Arabia takes over Amnesty International, we're all gonna be in trouble, but for reasons that have nothing to do with Facebook. 
In answer to the obvious questions: No, it won't spam your friends if you say no, and it won't turn you over to the religious police. But it might give you something to think about. 
Photo via Princess Hijab via Napalm Joy/Tumblr