When we saw Sen. Wendy Davis walk up to the podium in those bright red sneakers, we knew she meant business.
Intentionally or not, those shoes have become iconic: a symbol of the senator's plan to remain standing no matter what during her attempt at a 13-hour filibuster of Texas Senate Bill 5, legislation opponents argued would severely limit options for Texan women seeking a safe and legal abortion.
Not only do those shoes have their own Twitter account, but the brand and model have been tracked down, so now you too can dress like a filibustering badass.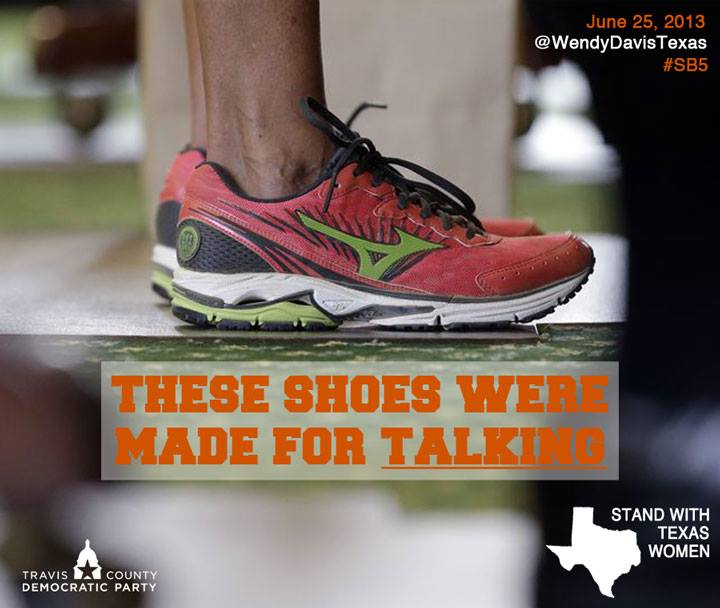 Via @TCDP/Twitter
OK, so maybe this isn't the most appropriate moment for a fashion endorsement. But the Amazon reviews on the Mizuno Women's Wave Rider 16 Running Shoe are just too awesome not to share. 
To the untrained eye, these are just normal running shoes, accompanied by a typical product blurb emphasizing something called "Innovative Wave Plate Technology," whatever that is. But as soon as the Internet figured out that these were Wendy's shoes, the reviews section went wild. 
"Guaranteed to outrun patriarchy on race day," writes one reviewer, while another adds, "These shoes (and a woman's body) have a way of shutting the whole thing down."
The most topical, however, has to be this biting one-star review from Amazon customer Tom Miller, titled "Do not buy these shoes."
Even though…

1) I am a man and these are clearly women's shoes
2) I have never gone through the experience of wearing them
3) These shoes are not designed for my feet; and
4) They are of a color I would never wear…

I feel somehow compelled to decide for the shoe's female target market whether or not they should own them.
Thanks, Tom. We'll be sure to pass the message on to the rest of womankind. 
Photo via steroge/Tumblr