Warning: This post contains links to violent imagery.
A firestorm over a careless joke turned disturbing after violent threats were sent to the woman at the heart of the incident. Now Adria Richards, who caused an online outrage after she tweeted a photo of two men who were laughing about "big dongles" at a programmers' conference called PyCon, has been fired—publicly, on Facebook.
Richards's picture of the guffawing PyCon attendees caused one of them to lose his job at a company that sponsored the event. But as the debate around his firing turned public and ugly, and the backlash spread to SendGrid, Richards's employer, her contract was terminated. SendGrid released a statement on Facebook:
Effective immediately, SendGrid has terminated the employment of Adria Richards. While we generally are sensitive and confidential with respect to employee matters, the situation has taken on a public nature. We have taken action that we believe is in the overall best interests of SendGrid, its employees, and our customers. As we continue to process the vast amount of information, we will post something more comprehensive.
While there was certainly intelligent, civil discourse on the matter, it was overshadowed by more inflammatory comments. The backlash against Richards (who had no intention of making the man lose his job) has turned increasingly, grotesquely violent.
Richards has been called practically every name under the sun. Some Twitter commenters demanded she kill herself. A 4chan user allegedly released Richards's personal information. But few reactions were more disturbing than this one, sent to her Wednesday evening: a photo (blurred but still NSFW) of a bloody, beheaded woman, bound and stripped, with the caption "when Im done." Next to it was a home address and phone number, ostensibly Richards's.
The implied threat was clearly murder and rape. Several people in the Twitter community reported the tweet. While the user was suspended, we found his violent threat indexed by Topsy. 
At least one other user shared the apparent personal information of the troll tweeter in question, including his LinkedIn profile, email address, and phone number. He may be from the Sydney, Australia, area, though that can't be confirmed. 
Elsewhere, SendGrid suffered an apparent DDoS (distributed denial-of-service) attack, causing service outages at the email company. 
At least part of the attack came from 4chan's anarchic /b/ forum. We tracked it all here.
PyCon, the conference at which the incident took place, updated its code of conduct with regards to dealing with harassment in the future. "Public shaming can be counter-productive to building a strong community. PyCon does not condone nor participate in such actions out of respect," PyCon chair Jesse Noller wrote. 
Meanwhile, a Pastebin document claims that Anonymous has SendGrid's client list and was harassing customers amid calls for Richards's firing.
Whatever happens next, this firestorm looks set to burn on for a while yet.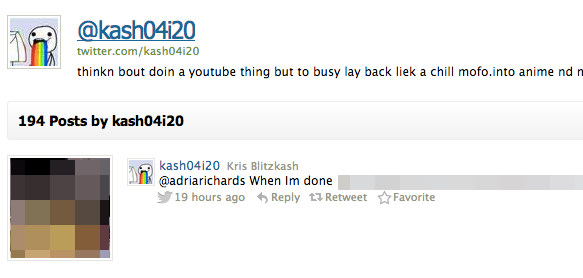 H/T @HimawariChibi/Twitter | Photo via @adriarichards/Twitter