When Kate Pietrasik woke up on Wednesday, she could not have guessed that by the evening she'd discover more than 72 notifications on Twitter informing her that major British retailer Marks & Spencer was apparently selling a copy of one of her fashion designs.
The founder and creative director of Tootsa MacGinty, a unisex fashion brand for children, is grateful to her followers for bringing the issue to her attention: Her bear sweatshirt design appears to have been used without permission by the retailer.
"Unlike Marks and Spencer, Tootsa MacGinty is new and a very small company," Pietrasik told the Daily Dot. "I am the sole designer of all our collections and I work extremely hard to run Tootsa MacGinty as an ethical company with strong values, as well as making great efforts to create distinctive designs to establish my own brand." 
While there appears to be no sign of the shirt being sold on the Marks & Spencer website, on social media people have been sharing photos of the shirt design supposedly being sold in stores. A photo comparison of the designs first appeared on Instagram this week, before making the rounds on Twitter, with a second photo appearing later, taken by a different customer, showing the shirt sold at a specific stated location.
I know high street copy the catwalk but didn't think @marksandspencer would do it to indy designers @TootsaMacGinty pic.twitter.com/DIsnL6C9xo

— clare dwyer hogg (@claredwyerh) August 28, 2014
@TootsaMacGinty Newcastle silverlink. Naughty @marksandspencer ! Glad we've got the original x pic.twitter.com/fli30R5XUB

— Lauren C Davies (@lozzadavies) August 26, 2014
According to Pietrasik, the bear design was first sold as part of Tootsa MacGinty's autumn/winter 2012 collection and was such a popular seller that they've been producing it in subsequent collections. As photos of the alleged copy made the rounds, M&S reached out to Pietrasik and others on Twitter. Pietrasik said she was sent the email address of the M&S chairman to contact about the issue on Friday, but has so far received no response to her email.
@marksandspencer Yes, disappointed you've copied one of our best selling designs. You said you were talking to kidswear dept but no news.

— Tootsa MacGinty (@TootsaMacGinty) August 29, 2014
@loveitloveit Thanks for your tweet. We'll look into this with our Kidswear Team.

— M&S (@marksandspencer) August 26, 2014
Pietrasik has received a lot of support on social media and has even heard from artist Louise Verity, who saw the photos on Twitter. Verity experienced her own copyright issue with Marks & Spencer in November 2013, when they sold book page art exactly like hers. Verity shared her experience with Pietrasik and a few potentially helpful contacts.
Verity and Pietrasik are not alone in seeing copies of their work sold at Marks & Spencer. In 2012, the company withdrew products similar to an independent artist's flower designs. Retailers Urban Outfitters, Hot Topic, and Disney have faced similar accusations in the past.
Pietrasik said this is not the first time her work has been copied, either. Last year, Australian department store Myer apparently copied the same design. After being contacted by Pietrasik, they told her they would continue selling it but produce no more of them, and did not apologize for the copy. Pietrasik thinks Myer and Marks & Spencer realize she doesn't have the resources or time to pursue the matter further.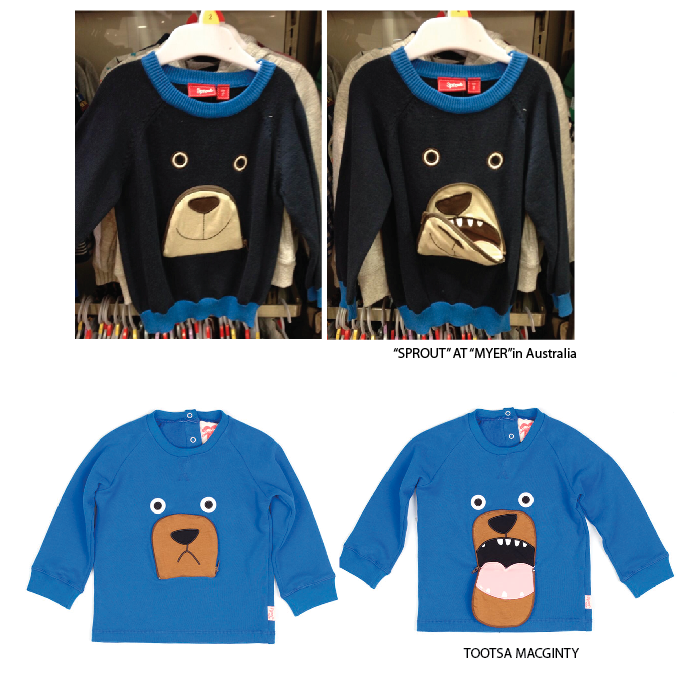 Pietrasik has worked in the industry for more than 15 years and said while she understands designers follow the same trends and inspire each other, it's not right for a larger retail giant to just copy a design she as a smaller company worked hard to create as part of her unique brand.
"I began the brand in a bid to stem the flow of, in my opinion, dangerously gendered children's products flooding the kidswear market, and have discovered there's a real appetite for an alternative," she explained. "A stylish, ethical, quality alternative. If M&S approached me to help design a 'unisex' collection with them, then I would have been delighted. If M&S took inspiration from my designs, realising the need for less gendered fashions, that too would've delighted me, as my main aim with Tootsa MacGinty is to try and galvanise a trend for less dangerous genderization of children's products."
Marks & Spencer did not respond to requests for comment at press time.
Update: Pietrasik tweeted Sunday that she'd been contacted by the company.
As if by magic M&S have emailed! A short email to say they are investigating and thanks for my patience.

— Tootsa MacGinty (@TootsaMacGinty) August 31, 2014
Meanwhile, Marks & Spencer responded to our request for comment by clarifying that the products were available in select stores only, and not for sale online. "We take claims of this nature very seriously and are looking into it," a spokesperson said.
Photos via Kate Pietrasik/Tootsa MacGinty