Oklahoma City Thunder center Enes Kanter said he had been detained at a Romanian airport on Saturday after having his Turkish passport cancelled, and he told Twitter he thinks his political views are to blame.
According to the New York Times, Kanter, who was born in Switzerland but is Turkish, posted several videos and photos to Twitter on Saturday indicating that he had been detained at the airport. Kanter claimed, however, that the detention and passport cancellation were because of his political views against Turkey's president, Recep Tayyip Erdogan.
Kanter, who also turned 25 on Saturday, was on tour for his Enes Kanter Light Foundation when he was detained at an airport in Bucharest, the capital of Romania. In one of the videos, Kanter said he was told his passport was cancelled, and he was subsequently held in custody for hours. All this, Kanter said, was because of his denouncement of Erdogan and his support for Fethullah Gulen, an Islamic cleric in the U.S. whom the Turkish government has accused of leading the failed coup attempt against Erdogan last year.
I'm being held at Romanian airport by Police!! pic.twitter.com/uYZMBqKx54

— Enes Kanter (@EnesKanter) May 20, 2017
"You guys know [Erdogan] by, you know, he has attacked the people in Washington," Kanter said, referring to a video in which Erdogan can be seen watching as his security team violently charges a group of American protesters. "He is a bad, bad man, he is a dictator, and he is the Hitler of our century."
Kanter also posted photos of himself posing with the officers holding him, one with the caption "#FreeEnes."
In another photo translated from Turkish by the Times: "Haha, the police officers guarding us are taking pictures. Who do you think you are messing with you cowards."
https://twitter.com/Enes_Kanter/status/865915672739459072
#FreeEnes pic.twitter.com/y07aGwVRIS

— Enes Kanter (@EnesKanter) May 20, 2017
A spokesperson for the Romanian border police told the Times that by 5pm local time, about three hours after Kanter posted the video, he left the airport on a flight to London. The spokesperson also refuted that Kanter was "detained;" he just wasn't allowed to enter the country.
"Today at around 1pm local time an individual arrived from Frankfurt," Fabian Badila, the spokesman, said. "My colleagues established that his travel documents weren't valid, that they had been canceled by his home country, so he wasn't allowed to enter the country … At around 5pm, he left the airport on a flight to London … While he was at the airport he wasn't detained or locked up, he was allowed to wander around, but he couldn't enter the country."
Since his original posts, Kanter hasn't updated Twitter on his status, and a Thunder representative said the team is working with NBA officials to gather information. Kanter's Twitter likes, however, do reveal that he last liked a tweet from Sport Illustrated posted at 5:43pm local time.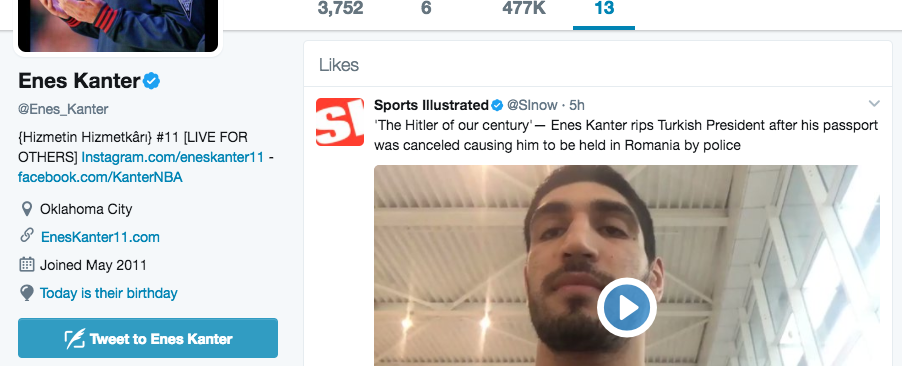 Kanter has been an outspoken opponent of the authoritarian president Erdogan prior to his heated video, and he received death threats after criticizing the government following a terrorist attack in Turkey in July. In August, Kanter's father condemned his son's politics and wrote a public letter alleging Enes had been "hypnotized" by Gulen.
Kanter also alleged that he was left off the Turkish national basketball team for EuroBasket 2015, though the team coach has since denied the allegations.
According to the Times, had Kanter been deported to Turkey, he could have faced imprisonment—Turkey has already arrested thousands of people thought to support Gulen.
Update 12:44pm CT, May 21: On Sunday morning, Kanter tweeted that he had finally made it to his final destination.
https://twitter.com/Enes_Kanter/status/866335014320984064
H/T New York Times