While Google says it was an error, the video is still unavailable.
First Lady Michelle Obama's speech last night at the Democratic National Convention was one of the most celebrated and discussed speeches of the 2012 election season, drawing rave reviews and more than 28,000 tweets per minutes.
That number could have been a lot higher if people intending to stream the speech on YouTube had been given the chance to watch.
Instead, would-be American viewers tuning in to the livestreams hosted on YouTube and Barack Obama's home page were graced with a black screen and a white message:
"This video contains content from WMG, SME, Associated Press (AP), UMG, Dow Jones, New York Times Digital, The Harry Fox Agency, Inc. (HFA), Warner Chappell, UMPG Publishing and EMI Music Publishing, one or more of whom have blocked it in your country on copyright grounds."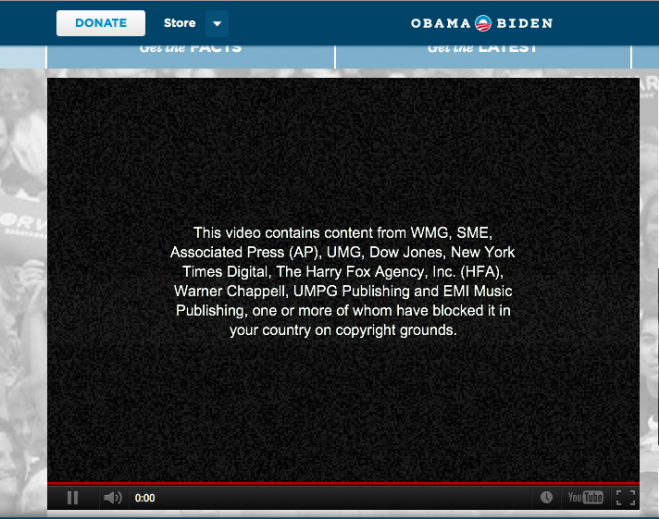 YouTube is the official streaming partner of the Democratic National Convention and planned to stream the convention in its entirety.
YouTube re-marked the video as "private" shortly thereafter, and Google released a statement that read "After tonight's live stream ended, YouTube briefly showed an incorrect error message. Neither the live stream nor any of the channel's videos were affected."
It was a kind sentiment but technically untrue: the live stream was most certainly affected. It remained private as of press time.
Mrs. Obama's speech was likely the target of one of YouTube's much-maligned preemptive DMCA content filters, which shoot first and ask questions later, taking down videos before the poster has any chance to claim ownership.
The Digital Millenium Copyright Act (DMCA) is the law governing user-posted content on websites. It allows for a "takedown" notice to be sent to a website by a copyright owner to remove infringing content. The websites are required to comply with the takedown quickly, without any review process. The poster can contest the takedown after the fact, but the system has been prone to abuse.
It's a phenomenon that her husband knows quite well. In July, a clip of his rendition of Al Green's "Let's Stay Together" was subject to a takedown claim after GOP candidate Mitt Romney tried to use it in an ad.
The Washington Post is currently hosting a mirror of the speech on its YouTube channel.
Photo via YouTube
Pure, uncut internet. Straight to your inbox.