A popular 30-year-old YouTuber is being accused of pedophilia after he was caught on camera allegedly trying to meet with a 13-year-old girl.
EatDatPussy445, or Bryant Moreland, with more than 2 million subscribers on YouTube, is known for being an avid Philadelphia Eagles fan and for his vulgar, funny vlogs. He is receiving backlash after footage of him meeting up with a minor in Bakersfield, California, was posted by YouTuber Chet Goldstein.
Goldstein is part of an activist group called Predator Poaches, which catches alleged predators who prey on underaged children online.
Goldstein and a team created a fake online profile under the name "Sophie" with her age clearly stated in her profile. "Sophie" messaged Moreland first, and then he double-texted her after she didn't respond for nine hours, according to screenshots of the messages.
According to the screenshots, the texts eventually became sexual, even after Moreland allegedly became aware that Sophie is 13.
"I can taste and lick on your vagina and then you can suck on my d*ck," Moreland allegedly wrote in one message. "Sorry if that's weird."
Despite questioning the ethics and consequences of their relationship, Moreland allegedly continues messaging with Sophie. In the messages, he admits to always wanting to meet someone young and talks about his sexual fantasies.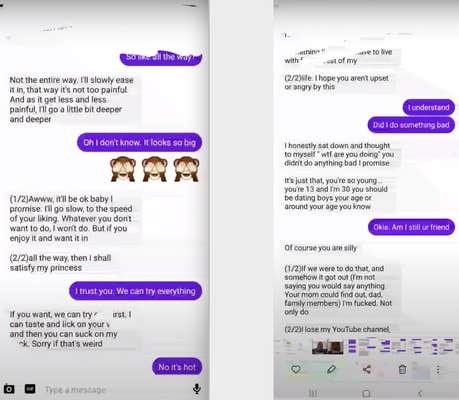 "Handcuff you, throw you in the back of my car and bring you back to my dungeon," Moreland allegedly wrote in another message.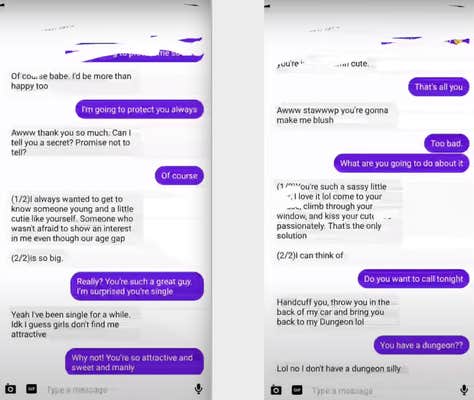 When he goes to allegedly meet Sophie in person, he finds three men with a camera instead.
In the video, Moreland says he came out to pick up a cupcake from Sophie and was going to go back home right after. "There was nothing that was going to be sexual involved," he says in the video. "I'm not like that."
When confronted on why he is allegedly attracted to 13-year-olds, Moreland says loneliness and that fantasizing about young girls started happening about seven or eight months ago. The three men interrogate him on all the actions he allegedly engaged in with Sophie, which allegedly includes sending and asking for graphic photos and showing up to engage in sexual activity.
California's child pornography laws prohibit the possession or sending of obscene photos of minors, including acts of "sexual conduct" such as the showing of genitals. It is also a crime to send any material to a minor with the intent to seduce or appeal to them. Adults convicted of committing these offenses are required to register in the sex offender registry.
When asked by the men what would make him learn his lesson, Moreland responds, "This shit right here" and says there isn't going to be a next time.
But the men aren't satisfied with that answer and continue to go over the screenshots of messages from Moreland and tell him about the hundreds of messages they reportedly received from people asking them to look into him.

"You're not in the position to be saying 'Oh, I don't care what you think," because imagine if we were the brothers," says one of the men. "Every time a car drove by, you said lower your voice because you don't want people overhearing."
The men ask Moreland if he thinks he deserves to go to jail, to which he responds, "If I'm being honest with you, I think so."
Moreland asks the men if they think his life is over, and the men tell him that he can choose to get help and hold himself accountable. Moreland says he will get help, but the men question his motives and ask, "If we went to the cops, would you still get help?"
Goldstein ends up calling the police as Moreland pleads, "No no no." One of the other men responds by saying, "You're the one who put yourself in this position. You have the audacity to say 'Please don't do this."'
However, even Goldstein has since been embroiled in his own controversy after saying on video, "I provide her with plenty of D, just not the vitamin part" when referring to a 3-year-old. The @Predatorpoacherschet Instagram account has also been removed.
The video of Moreland ends with him telling someone over the phone that he's going to jail, but he walks back to his car. The men can be seen continuing to call for the police to arrive at the scene.
Viewers on YouTube are heartbroken to see someone they used to love watching get exposed for alleged pedophilic acts.
"This is actually sad asf to see someone you watched to laugh and now be a complete monster," one user commented. "My heart is crushed."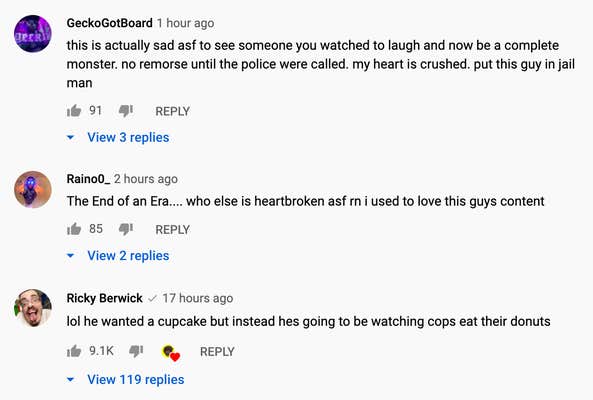 Over on Reddit, social media users made memes of Moreland using images from the screenshots and from the Predator Poaches' video.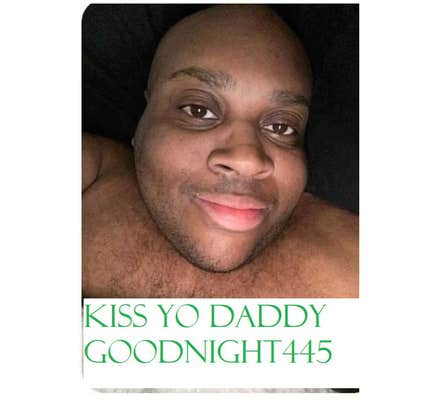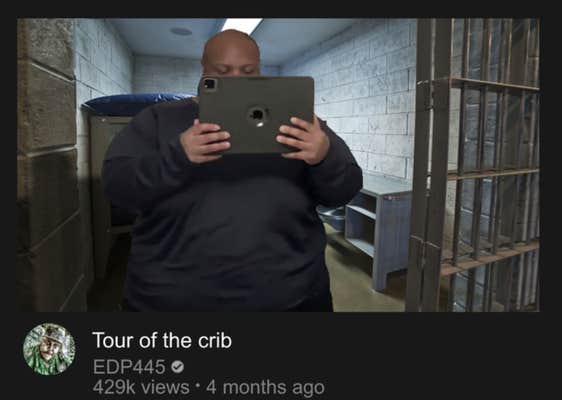 No known arrests have been made so far. Moreland and the Kern County Sheriff's Office did not immediately respond to the Daily Dot's request for comment.
---
Today's top stories
H/T Dexerto