A white woman in Virginia was fired from her job at a food bank after she was caught on what appears to be a home security camera telling her Black neighbor that she's "not the right color."
Laquetta Good, the Black neighbor, told the Daily Mail the two women got into an argument regarding their children, who reportedly don't get along.
Good shared clips of the Thursday incident to Facebook on Friday.
In one clip, the woman tells Good, "You are not the right color, honey."
The woman is standing on the sidewalk and approaches Good's house, while Good stands on her porch.
"I'm a (N-word)?" Good asks the woman in another clip, to which she replies, "Yes, you are."
Good told the Daily Mail that while the woman has "called (her) many names before," she was "shocked" at the racism she exhibited.
The woman—who seems to be wearing a work-related name tag in the videos—has yet to be officially identified. However, the food bank she works at revealed in a statement that it terminated the employee in question.
"We, here at the CFB, are broken-hearted to view this conduct as it goes directly against our values and beliefs. We are honored to serve everyone in need with dignity & integrity," Chesterfield Food Bank CEO Kim Hill wrote on Friday. "'In response to this situation, we have terminated this employee. We remain committed to creating and providing a positive, uplifting, and encouraging environment for our staff, volunteers, and clients."
The food bank also thanked members of the public who apparently made it aware of the video's existence.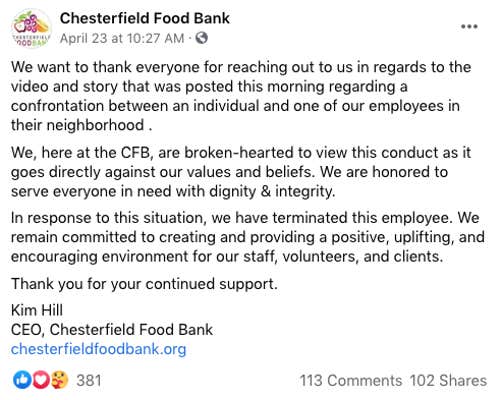 It appears that an officer with the Colonial Heights Police Department responded to the incident, according to a another video posted to Good's Facebook account. Good alleged in the caption that the officer watched the video and that "all he said was she (wasn't) on my property." It's unclear who called the police.
Good alleged on Facebook that the woman previously "called the police to search (her) house for drugs because her words were I couldn't afford my house." "I never leave the house so I had to sell drugs because I'm black and had a Porsche," Good wrote. "Yes the POLICE SURE DID SEARCH MY HOUSE FOR DRUGS SMH. No drugs were found I work from home!! This has been going on for MONTHS."
The Daily Dot has reached out to the Colonial Heights Police Department and Laquetta Good.
---
Today's top stories