High school students at an Iowa school are facing backlash after they uploaded a TikTok video enacting and mocking the killing of George Floyd.
The four teenagers from Assumption High School in Davenport, Iowa, posted the video on the account of user @the.official.tiger.woods, showing one of them being slammed against a wall and his hands behind his back as though he's being restrained. He is smiling throughout.
A copy of the video was posted on Facebook by Tianna Williams, who goes to another school but told the Daily Dot she knows others at Assumption High School.
One of the boys is then seen kneeling near another boy lying face down on the floor, while one of them ties his hands behind his back. There's another boy sitting on a chair reading a book next to them.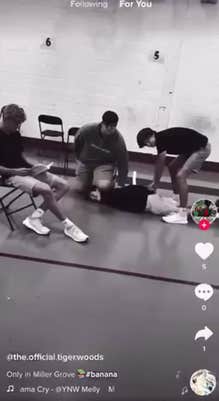 The track playing in the background is "Mama Cry" by YNW Melly with the lyrics "Mama, please don't you cry, I'm sorry; I just caught some time, I'll be home soon." It's likely a mockery of Floyd's last moments when he called out for his mother while being knelt on by officer Derek Chauvin.
On Friday, the TikTok handle led to a private page with only 20 followers; the Daily Dot was not able to verify if the video was posted on that account.
In a statement posted on its Facebook page on Thursday, Assumption High School went short of explicitly condemning the boys' actions, and said it was "heartbroken" by the "social media activity reflecting a highly unacceptable attitude." 
"Understanding the lives of others is the best way to truly understand ourselves," read a part of the statement. "Our words and actions affect others. Sometimes they cause pain. We realize there is more work to do."
The high school did not respond to the Daily Dot's request for comments and further clarifications about the consequences for the students.
Williams told the Daily Dot that the boys are reportedly facing a Saturday school detention which she says only goes to show "the school handles situations like this poorly."
Meanwhile, the comments on the school's Facebook statement show a culture of intolerance in the school that some say has long existed.
"So thankful I transferred out of this bigoted, hateful school. Administration at Assumption very clearly does not care about the students or the community to which it belongs," read one user's comment. "It hasn't for years, and it never will. As far as I'm concerned, every single teacher and administrator is just as complicit as the students." That user's Facebook information says they went to Davenport Central High School. 
Many others were disappointed in the lack of explicit condemnation from school officials toward the behavior. 
"This is an incredibly disappointing statement. Very lackluster and unimpressive," wrote one user.
"Ridiculous! That shows how tone deaf the princpal (sic) and president of AHS really are to the current situation in society to say nothing of an actual appropriate response to this video," wrote another.  
---
Today's top stories