Everything's fine and dandy in this pop culture clothing shop.
WeLoveFine deals in the bright leggings, unique product designs, and must-have character T-shirts that rule the geek apparel universe. Since its creation in 2009, this online store (part of the larger Mighty Fine Inc. brand) has become one of the most talked-about shops on the Web. Its variety of pop culture apparel has earned it a place among other popular geek fashion retailers like ThinkGeek, Her Universe, and Hot Topic. 
"Originally our goal was to merge the kind of social memes and trends that we saw fans responding to and having fun with on the web with popular characters, and see what worked to create really fun and original designs," said Nicole Campos, WeLoveFine's Web promotions and public relations manager. "We also wanted to gauge which titles, from Marvel comics to My Little Pony to Adventure Time, fans were really looking for new and fresh ideas and concepts with."
According to Campos, using social media to connect with consumers and their fandoms has been "absolutely key."
"Our Facebook and Twitter pages are our most popular, but Tumblr is growing all the time too; certain brands, for example Adventure Time, have loyal and thriving fan bases on Tumblr," Campos said.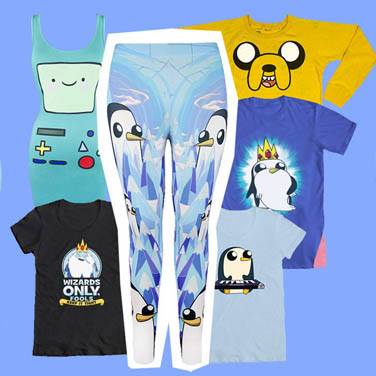 Photo via WeLoveFine/Facebook
WeLoveFine has over 34,800 likes on Facebook and over 13,300 followers on Twitter. Outside of social media, WeLoveFine works to form new relationships with geek culture blogs and fan-operated websites who have passionate audiences to get the word out about their products.
But it's not a purely online affair: The company has successfully translated online popularity with consumers into physical visitors at conventions across the country. WeLoveFine started to appear on the convention scene in 2010 at WonderCon and has since appeared at numerous conventions across the country. At San Diego Comic-Con in July, WeLoveFine had a booth on the show floor as well as a pop-up shop across the street in the Gaslamp Quarter. This was only their second year at Comic-Con International, and already the company could justify opening two locations to deal with demand. Consumers that discover the store at conventions are encouraged to check out their website while online fans are alerted to the store's physical locations on various social media.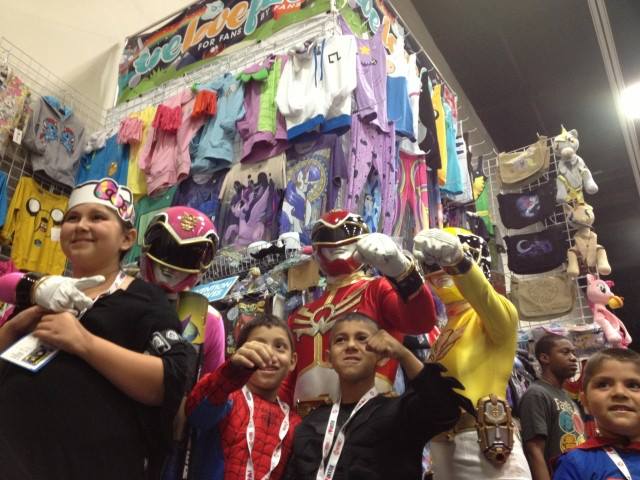 Photo via WeLoveFine/Facebook
Campos declined to share any details on profits or revenues to show if WeLoveFine has seen any increase in revenue to match its increase in online popularity, instead highlighting how their staff has been able to grow from three to 20 over the last four years. The company has increased the number of licenses it holds over the years as well, adding niche gaming and manga brands to its list of more popular names like Star Trek and Star Wars. Their popularity has also allowed them to expand their lines from T-shirts to products like hats, bags, tunic tanks, and even collectibles.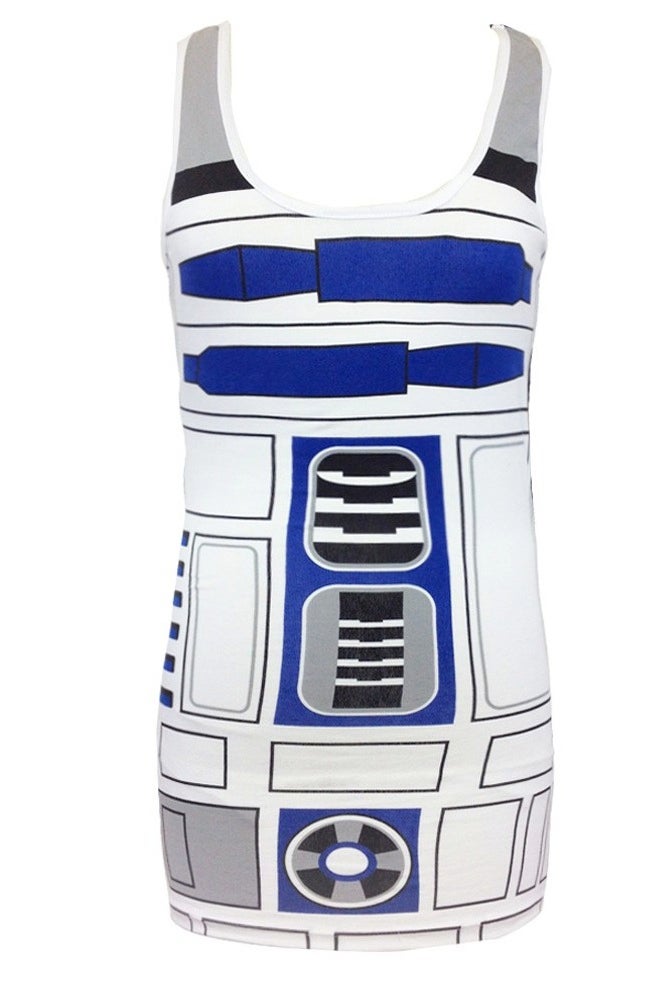 Photo via WeLoveFine/Facebook
Part of WeLoveFine's success is thanks to the company's inclusion of fan art in its business, making designs reminiscent of the unique art seen on Tumblr and deviantART—and unlike any of the competition. The company runs a Mighty Fine Artists program which consists of 30-plus artists contributing designs in licensed brands and sometimes original artwork. WeLoveFine discovers new artists through contests every quarter, where consumers can vote for a design with a specific theme to be featured on a new product. The contests also help the company gauge what consumers want in their apparel.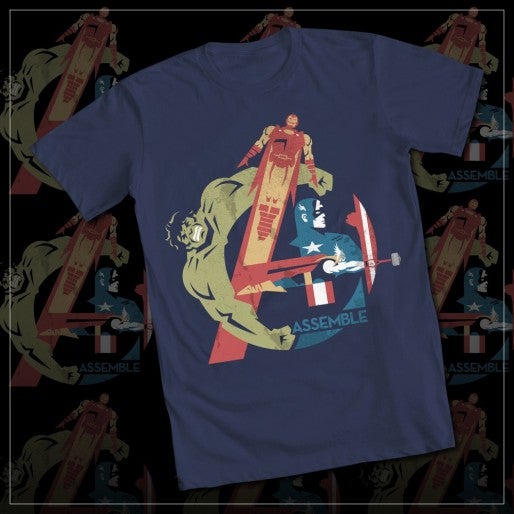 Photo via WeLoveFine.com
Antony Rozwadowski joined the Mighty Fine Artists program after winning WeLoveFine's Avengers Design contest in spring 2012.
"I'm a graphic designer by trade and have a deep passion for logo design. I also work with a small silkscreening business and am very familiar with what works and doesn't work on a T-shirt. So I came up with a concept to simplify the Avenger heroes and have them 'assemble' their 'A' logo," said Rozwadowski, who co-owns K Art and Design with his wife in Culpeper, Va. "I wanted it very graphic and very different from what was being offered on WeLoveFine at the time. I'm very proud that it was received so well."
Rozwadowski also recently won the company's X-Men and Wolverine contest, which won him a trip to San Diego Comic-Con. He currently has a Fantastic Four and Daredevil design already approved and being sold and is working on some more Marvel ideas.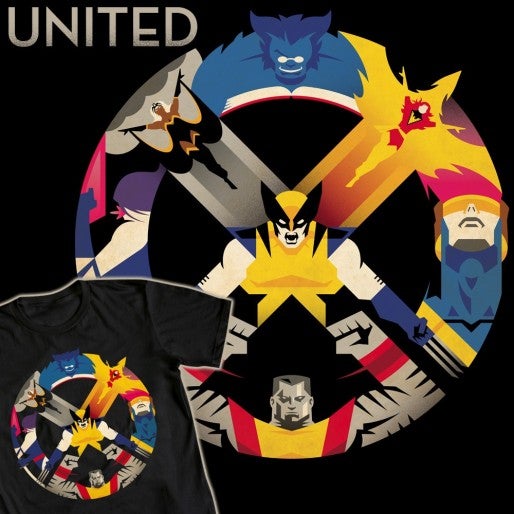 Photo via WeLoveFine.com
Artists like Rozwadowski that participate in the Mighty Fine Artists program are compensated for their work. They receive a commission for the designs that become a part of WeLoveFine collections and are each spotlighted on the company's social media platforms. 
"I definitely think there is a growing business for fan art. It's just about getting discovered and getting a chance to shine. The thing I love about working with WeLoveFine is being able to partner with them to officially use the licenses they own like Marvel or Transformers. With fan art there is a real devotion to the subject matter which makes it special," Rozwadowski told the Daily Dot.
Rozwadowski said he was floored the first time he saw his work released with the official Marvel logo and that having his artwork officially licensed by Marvel was "an incredible feeling."
"It's cool to see friends and family like my designs, but when I was at Comic-Con and had complete strangers telling me that they loved my design or complimenting me on the shirt I was wearing [of my own design], saying it was one of the coolest shirts they had ever seen was mind-blowing. I've never thought about reaching such a vast audience with my artwork before," he explained.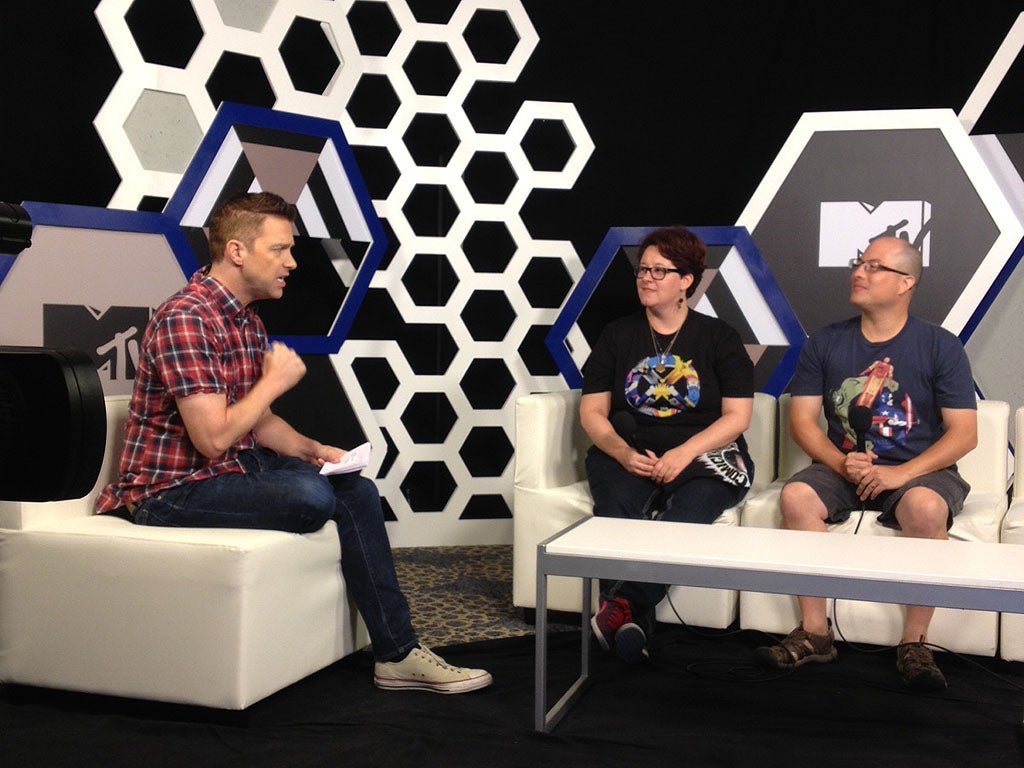 We Love Fine's Nicole Campos (c) and artist Antony Rozwadowski (r) being interviewed by MTV Geek at San Diego Comic-Con.
Photo via WeLoveFine/Facebook
Rozwadowski has enjoyed working with WeLoveFine because he said they're fans of the source material as much as he is, staying true to their slogan that they're "for fans by fans."
"To have that kind of success with online contest voters and to be noticed by WeLoveFine really validates my work, and that simply feels fantastic as an artist," he said.
Regardless of whether this model is resulting in profits for WeLoveFine, their unique incorporation of fan art with geek fashion and their dedication to social media has earned them a spot next to some of the most recognized fashion brands. And by keeping so in touch with their customer base, the company might just be able to remain at the forefront of pop culture apparel for years to come. 
Photo via WeLoveFine/Facebook