An app that was designed to help women gauge safe neighborhoods is now shrouded in what appears to be a misinformation campaign accusing it of "human trafficking."
The WalkSafe app, which was launched in September and is ranked eighth on Apple's App Store, has seen exponential growth in downloads since the murder of Sarah Everard earlier this month in the U.K., according to one of its founders.
Everard's murder, allegedly by a police officer while she was walking at night, outraged women across the U.K. and led to mass protests in the aftermath.
Emma Kay, WalkSafe co-founder, told the Daily Dot that its team "saw a massive increase in downloads" since Everard's killing. Over the weekend, however, accusations surfaced on TikTok and Twitter that the SafewWalk was not safe and would instead subject women to "human trafficking."
Kay said that TikTok user @ryuzakaii started the accusations against the app but has since removed them and issued them an apology. The user posted a TikTok video on Saturday and said the claim was "an honest mistake."
"This is the safe one," user @ryuzakaii wrote, referring to a screenshot of the WalkSafe app. "Clarifying one more time because WalkSafe and I talked last night (I'd show you the messages but unfortunately my name is shared in the texts." The caption of the TikTok says, "Long story short walksafe & I are Frans [friends] now."
User @ryuzakaii did not respond to the Daily Dot's multiple requests for comments. Their comment implies they confused the WalkSafe app with another app. Some commenters claimed there are two apps by the same name, one that is "safe" and another one that is used for "sex trafficking." There was only one app by the name of WalkSafe available when the Daily Dot ran searches on Apple, Google, and Android app stores on Monday.
But by the time the WalkSafe team intervened, the accusation of human trafficking had already gained traction. A screenshot of a post by TikTok user @ilyytasha shared across Twitter says, "Literally begging you, delete 'walksafe' its not safe.
"It sends your location and its used for sex trafficing women," the user continued. "The app isn't even verified. People have been saying people have been showing up outside of their house literally please delete it its (sic) not safe at all."
Twitter user @ilyytasha's profile wasn't available when the Daily Dot ran a search on Monday afternoon.
On Twitter, the warning message was spread via screenshots that urged followers and others to stop downloading the WalkSafe app. Some people's tweets received tens of thousands of "likes" and shares, spreading panic.
"Hello everyone! Please uninstall walksafe, it has been seen to have send your location to two men," one user wrote. "It is used for s3x trafficking as well I believe so please stay safe."
The viral posts and warnings don't provide proof to substantiate the claims.
Twitter user @aqonisv, whose tweet warned that WalkSafe was involved in human trafficking, said the app was tracking people's location. "Everywhere, everything about it was a lie," the user said.
But when contacted on Monday, the user told the Daily Dot they had never used the app and didn't know anyone who had.
"I was scrolling … and found a bunch of videos based on the same app; I decided to spread the information onto Twitter since a lot of people use this app," the user, who did not share their name, told the Daily Dot.
Other users who shared similar warnings in viral tweets did not respond to the Daily Dot's request for comments on Monday. Kay said the warnings were "full of false claims."
On the App Store, WalkSafe was flooded with negative reviews, bringing its average rating down to 1.6 out of five stars.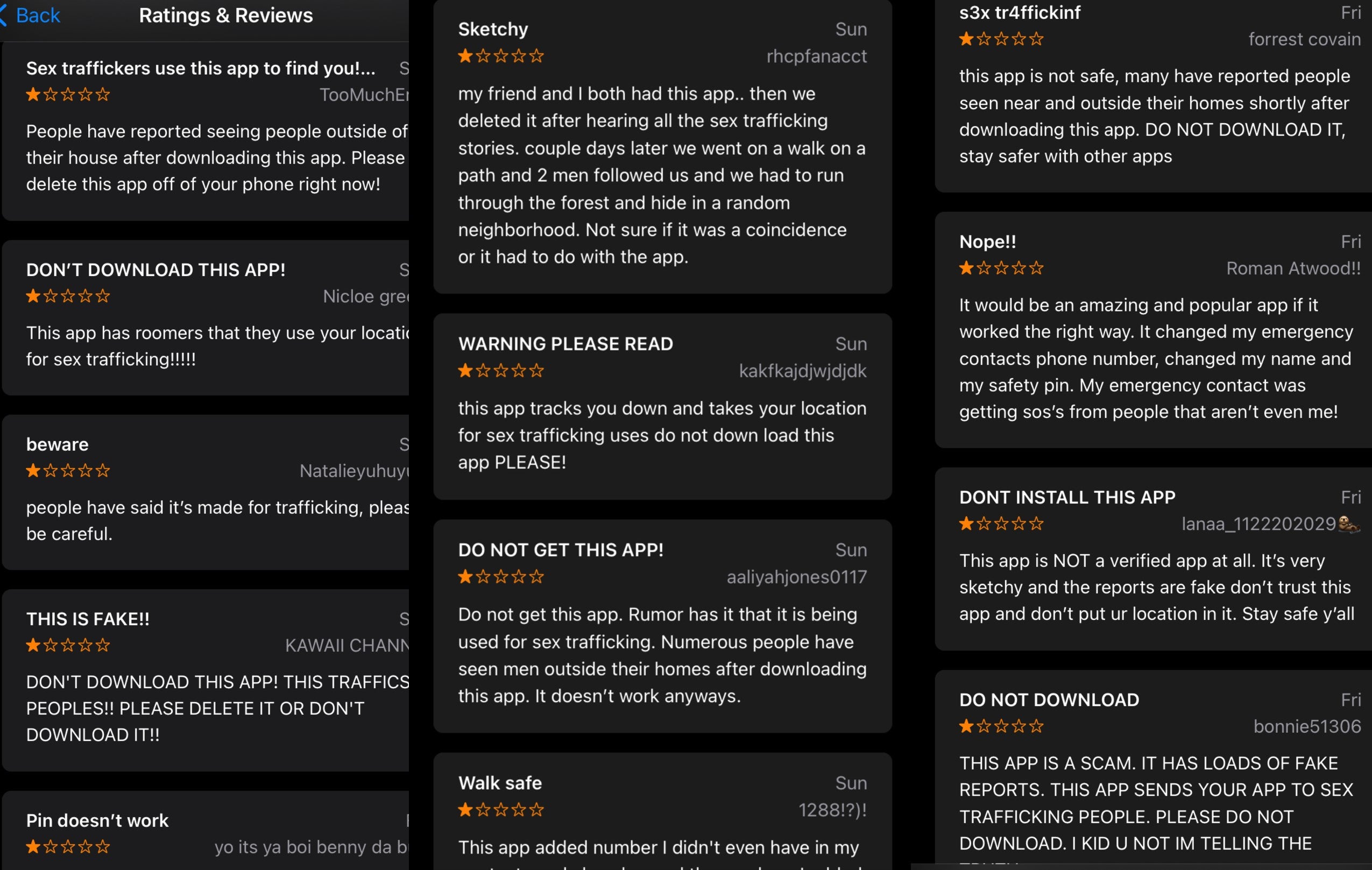 One reviewer said they were "followed" by two men a few days after they deleted the app due to the TikTok rumors. "We had to run through the forest and hide in a random neighborhood," the reviewer wrote. "Not sure if it was a coincidence or it had to do with the app."
"Rumor has it that it is being used for sex trafficking," wrote another user who also encouraged people not to download the app. "Numerous people have seen men outside their homes after downloading this app."
"Sex traffickers use this app to find you!" wrote another.
While there were some reviews that seemed to be about the technicalities of the app, most of the recent ones had to do with the claims made on Twitter and TikTok.
"We have seen some negative reviews based purely on the false claims," Kay said. "These reviews will likely be removed in due course by the App Store and Google Play as they are based on false information and have been reported as such."
Kay also said WalkSafe is working with TikTok to remove other similar claims and will "will continue to monitor all platforms."
On Monday, accounts on TikTok with names like @Deletethewalksafeapp and @Walksafe.isnt.safe popped up with similar warnings about human trafficking.
In the comments of one video making accusations of sex trafficking on the @Deletethewalksafeapp page, people were panicking. "My friend downloaded the app and 3 tall men in dark clothing were standing outside their house," wrote one user.
"I downloaded it cause everybody was telling me too and then my whole family was asleep and I went to [get] something to eat and there was a guy in all black standing in my backyard…" another user wrote.
"Please stay safe by locking all doors and windows and call the police," the TikTok account @Deletethewalksafeapp responded.
Users asking for proof were either dismissed or told they would be "tagged" in a post with more information with no follow-up. By Monday, some TikTokers were raising doubts about the legitimacy of the accusations against SafeWalk.
Screenshots show user @xzonediscord raising doubts. "Nobody knocked, nobody had any weapons, she showed a 2 sec video and made a whole story about it," the user commented, referring to one video that shows two men walking past a security camera outside a house.
TikTok user @dionwaitexo responded to this comment, seemingly backtracking: "I never said they deffo came to my house bc of the app but even if they didnt they're still on my private property anyways." The user pointed to an Instagram page that didn't have any content related to SafeWalk on Monday.
The Daily Dot has reached out to TikTok and Twitter and will update this report if they respond.
---
Must-reads on the Daily Dot