A viral article falsely claimed the phrase "How to hit a woman so no one knows" was Googled 163 million times in 2020. The article was corrected after it was met with doubts online.
The article, published to Blavity on Tuesday, initially cited a study in The Journal of General Psychology that reported striking numbers of Google searches related to domestic violence. The author of the study has now admitted "inaccuracy and shortcomings" in her research amid a debate about domestic violence statistics.
"Are people really trying to argue with this article?" one user commented on Twitter in response to a screenshot of the article. "We live in a world where women are still suffering because of their gender. I'm not even surprised anymore."
However, people began to question the validity of the statistics. "Not to throw doubt on this, but who is googling this stuff?" one user commented. "Surely nobody is googling stuff like this? I genuinely don't understand."
Following backlash, the author of the study, Katerina Standish, spoke out on Twitter about the flawed methodology in her study.
"I had no intention to put others at risk and my seeking to research psychological stress has now potentially harmed others," Standish wrote. "The first time I googled these terms my heart skipped… I was shocked."
Standish did not immediately respond to the Daily Dot's request for comment.
Blavity issued a correction story after the study in The Journal of General Psychology was found to be inaccurate. According to the fact-checking website Snopes, Google Trends reports that almost no one searched that question in 2020. The Daily Dot found that a query for the term "How to hit a woman so no one knows" pulled up no substantial data on Google Trends.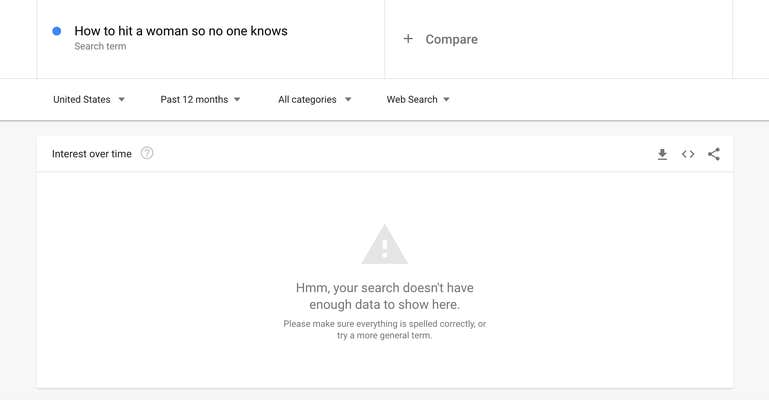 A search for the phrase "how to hit a woman," however, pulled up results for the past 12 months, with a peak interest of 100 searches at the end of August in 2020. The graph represents search interest relative to the highest point on the chart. A value of 100 is the peak popularity for the term.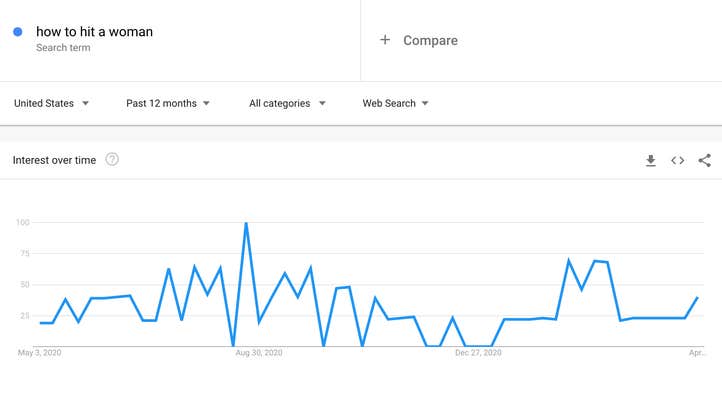 Despite the article's inaccuracies, it sparked discussion surrounding the persistence of violence against women, which has been exacerbated during the pandemic. People online said even though the statistic was false, it should not detract from the prevalence of violence against women.
"People are out here commenting that it's fake and that's the only thing they're caring about," one Twitte user wrote. "Like there's still violence against women prevalent in the world and it would be much better if we focused on that and not on arguing whether it's fake or not."
In New York, domestic violence calls increased by 15 to 20% in April of 2020, according to Melissa DeRosa, a top aide to Gov. Andrew Cuomo. The pandemic makes victims of domestic violence even more vulnerable as they already face isolation from friends and family brought on by their partners.
When some people online tried to use the abuse of men as a counterargument against the issue of violence against women, people asked why that question was only raised in response to women's stories.
"It's sad that the reply to a broken leg is 'Mine is broken too. I need more attention'…rather 'We both broke a leg. Let's get help for each other," one user commented.
If you are a victim of domestic abuse or want more information on domestic violence and resources for victims, contact the National Domestic Violence Hotlineonline or at 1-800-799-SAFE (7233).
---
Today's top stories