A TikTok video shows a group of police officers beating a Hispanic man and woman who were selling food a tent near a street.
The video was originally posted by TikTok user @oceanbreezefam, whose display name is Brisa, on Feb. 9. The clip gained further traction after it was shared on Reddit on Tuesday.
The video begins with a chaotic scene. People are screaming amid commotion in and around a food tent. 
"Cops were called on people selling food in public and this is what happened ??!" the video caption says.
Several officers drag someone from behind the food table to the outside of the tent. Amid more yelling, at least two officers are seen on top of one person, and one of them is seen punching one of the victims on the ground. 
A woman is held down by officers as she tries reach her partner, a man who is also pinned to the ground by officers. 
Someone screams "Papa!" while the two people lay on the ground beneath the officers. One officer hits the man's hand with a baton while it rests on the ground. At least one officer has his knee on the man's back for a brief period.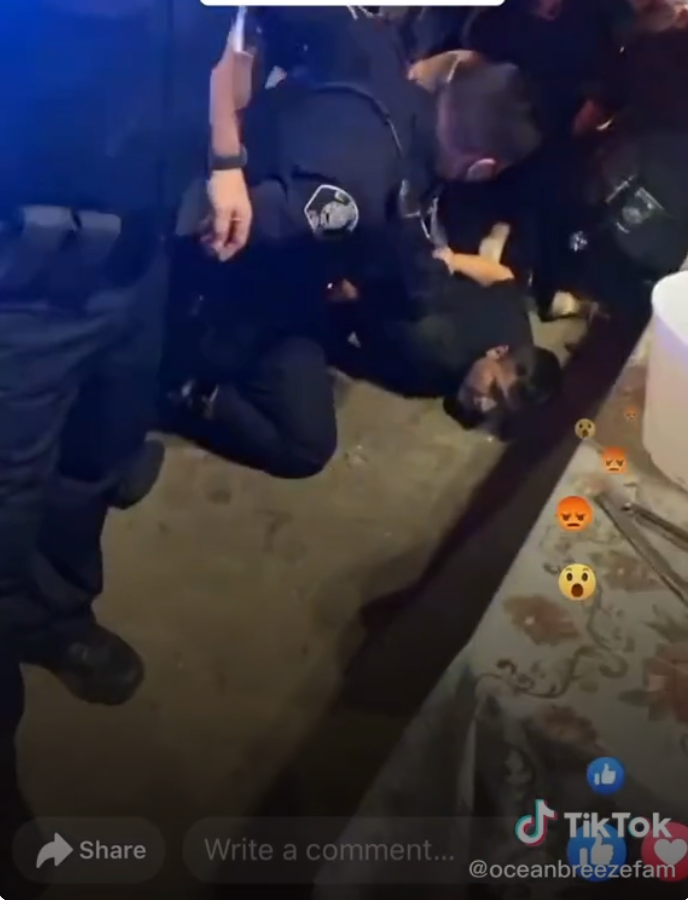 Throughout the ordeal, one officer tries to ward off the person recording. It's not clear where the incident took place, but according to the TikTok user's Instagram bio, they're based in California. The Daily Dot has reached out to the user and will update the report if they provide more information.
The video has been viewed almost 2 million times. In a follow-up video which was also shared by Brisa, the couple shared their account of what happened.
"They hit us they threw me to ground," the woman says in Spanish, according to translation posted in the video. "They wouldn't let him go."
She adds later: "I was scared that they were going to kill him, because they put their foot behind their neck."
"Police always treat us like criminals," the man says. "No sir, we are not criminals. We are only people who want a better future."
After the initial video went viral, many expressed their frustration, and some compared the beating to the police's passive defense during the Capitol insurrection in January.
"Where was this energy at the capital?" wrote one user.
"There's real criminals out there but they focus their energy towards people who are just [trying] to make an honest living," wrote another.
---
Must-reads on the Daily Dot