Recently released bodycam footage shows Chicago Police Department officers barging into the home of a Black woman and detaining her while she is naked, only to eventually realize they were in the wrong house. 
The woman, Anjanette Young, repeatedly pleads with the officers, telling them they are in the wrong house. The officers stand there, watch her cry, and haphazardly throw a blanket on her, leaving her front side exposed. 
According to CBS Chicago, which published the video on Monday, Young told them, at least 42 times, "You got the wrong house."  
The incident occurred in February of 2019. The footage shows a group of officers banging on Young's front door and using tools, such as a crowbar, to try and break it open. 
Young, a social worker, reportedly just returned home from her shift and took off her clothes in her bedroom. That's when the officers entered her home.
The officers announced themselves and screamed "search warrant" as well as "hands up." Young can be seen in shock, naked, and her hands up. 
She later said she stood there humiliated and terrified, confused about what was happening. 
In the footage, she screams and pleads, asking the officers what is going on. The officers detain her by placing her in handcuffs, without covering her or responding to her.
"They were yelling at me, 'put your hands up,'" she recalled in an interview with CBS Chicago. "I just remember being so afraid. I could've died that night. If I'd made one wrong move they would have shot me."
The video shows officers searching the property as at least one officer stood guard by her, ignoring her pleas and questions.
Finally, one officer gets a blanket to cover her, and she's heard frantically crying, "My name is Anjanette Young. What is going on?" The blanket keeps sliding off of her, and she is not able to adjust it because she is detained.
"You need to tell me what you're looking for?" she tearfully asks them.
"Oh my god. This cannot be right. How is this legal?" she screams in frustration.
One officer can finally be seen explaining what's going on to her. When she says she's been living in the house for four years, an officer says, "OK. You don't have to shout."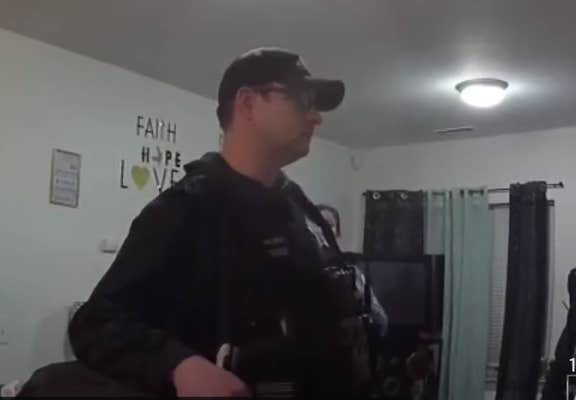 According to CBS Chicago, police were acting on a wrong tip when they went into Young's house: They were looking for a 23-year-old felon, who an informant claimed was in possession of a gun and ammunition.
The man lived at a different address on the compound and would have been easily traceable because he was wearing an ankle monitor at the time, according to CBS Chicago.
CBS Chicago's report on the incident, nine months later, reportedly prompted the Civilian Office of Police Accountability (COPA) to contact Young.
As of Nov. 30, COPA said the matter is still under investigation.
---
Today's top stories
H/T CBS Chicago