A recently surfaced video shows a picketer outside an abortion clinic attacking a woman and accusing her of "property damage" over a cardboard poster.
TikToker @thedeathscorts shared the video of the incident, which took place took place outside Clinics for Abortion and Reproductive Excellence in Bellevue, Nebraska.
The video, which was posted on Friday, appears with the text, "Ive struggled for months whether or not to share the footage of this assault, but here it is."
The TikToker identifies the attacker as Pat and his accomplice as a woman named Bernadette.
"I understand what you are and this whole world is about to see," Pat says to the TikToker, who identifies herself as Shelly in another video on the account. The incident happened in September, Shelly says in a third video.
The Daily Dot reached out to Shelly via Instagram and will update this report if she responds.
In Friday's video, Pat is seen threatening to "handle" Shelly. "I'll handle our liar, you can handle the truth," he says. "It's the easier job."
Pat asks someone out of the frame if they have a phone and will be the "taper and documenter and all that." He directs the person to stand on one side and says that would be a good spot for filming.
He walks up closer to the camera, and a scuffle ensues. Pat and his white cardboard blur amid the frenzy.
"You are hurting me," Shelley says repeatedly. "What the fuck are you doing?"
Pat asks someone to call the police while coming closer to Shelly and apparently hurting her. "You're such an asshole!" she says.
"I understand what you are and the whole world is about to see," Pat says, appearing to smile under his mask.
He points toward the cardboard, which is broken, and says, "property busted." "You're going to jail!" he adds.
"You hit me!" Shelly yells. "I have it all on tape."
Pat's companion, Bernadette, defends him: "You came to his face," she says. "You do it every time."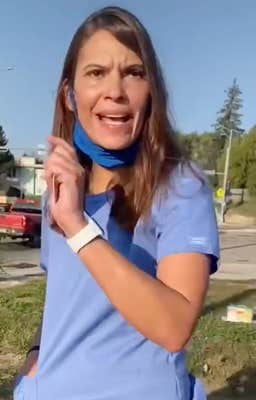 "I did not go in his face," Shelly says.
Another woman standing nearby accuses Pat of hitting Shelly with the sign.
"You're in big, big trouble," Pat says repeatedly, coming closer to Shelly and trying to block her with his cardboard.
"Don't touch me!" she yells.
At one point during the attack, another woman with a "Life Runners" jacket apparently tried to intervene. Life Runners touts itself as the "world's largest pro-life team," according to its Instagram description.
The Daily Dot has reached out to the organization.
Pat goes on about the alleged "property damage" and claims the cardboard cost him $100. According to Shelly's post, he did not share his own video of the incident when police showed up.
In another clip also uploaded on Friday, Shelly says Pat has been found guilty of "third-degree assault with mutual consent."
According to the Nebraska legislature, a "mutual consent" assault is one in which the "mental state" of the victim—in this case, Shelly—is in question.
In the video, Shelly says she's taking a break from the clinic.
"Essentially, the judge is saying that I asked for it," she says. "So that was a little disappointing."
She says Pat was sentenced on Friday to a fine of $50 and unmonitored probation for 12 months.
She also says while it was disappointing that the judge "put a price on our heads," she is happy that her case went forward.
"I do think that this is a win in some ways," she explains. "I mean, a man who is extremely well connected, wealthy, white and powerful was convicted of assaulting a worker at an abortion clinic in a very conservative county, so to me, that's something."
The Daily Dot could not independently verify the charges against Pat and reached out to the Bellevue Sheriff's Department for further information.
---
Today's top stories