A United Parcel Service (UPS) employee found himself in the middle of a shootout between armed robbers and police in Florida on Thursday. He was fatally shot, and now the UPS is facing backlash for thanking the police in its initial statement on the incident.
The UPS driver has since been identified as 27-year-old Frank Ordonez, according to People.
Ordonez was covering a coworker's delivery route when two armed robbers, who have since been identified as Lamar Alexander, 41, and Ronnie Jerome Hill, 41, hijacked his truck and took him hostage. The robbers were using the truck as a getaway car after robbing a jewelry store.
At least 20 officers opened fire on the truck as it was stopped in rush-hour traffic, ensuing a shootout with the robbers. Ordonez and another bystander were fatally shot. Richard Cutshaw has since been identified as the bystander. Cutshaw was driving home from work, according to NPR.
Graphic footage shared by various news outlets and on social media shows the moment of the shootout. A person can be seen falling out of the truck's doorway. The person is wearing a uniform that is the same color as the UPS uniform. 
When Ordonez's stepfather, Joe Merino, saw the video he said, "I knew he was dead. He wasn't moving," according to NBC News.
Merino, along with many others, criticized the way the police handled the incident, which is now under investigation by the FBI
In a Thursday press conference, FBI special agent George Piro called it "completely inappropriate" to answer whether the civilians were killed by police or the robbers, per People.
https://twitter.com/Myamii_Manager/status/1202784197959700480?s=20
The UPS addressed the incident in a now-deleted tweet on Thursday. The Daily Dot was able to review the tweet before its deletion.
"We are deeply saddened to learn a UPS service provider was a victim of this senseless act of violence," the statement read. "We appreciate law enforcement's service and will cooperate with the authorities as they continue the investigation."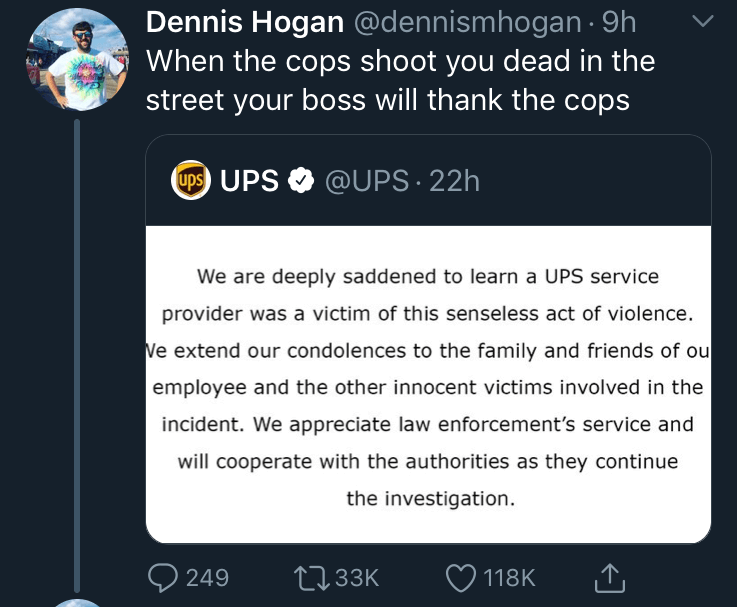 The UPS received backlash for not naming Ordonez and thanking the police, as many believe they were the ones to fatally shoot him.
After receiving backlash, the UPS appeared to delete the tweet and posted a new statement, in which it named Ordonez and made no mention of the police.
"No one should ever forget that your first try not only left Frank Ordonez nameless, but you also thanked the police for murdering him," Twitter user @girrl_friday wrote in response to the new statement.
Others shared similar sentiments.
"Took 17 hours to figure out his name? laughable," Twitter user @jerrynunie wrote.
No one should ever forget that your first try not only left Frank Ordonez nameless, but you also thanked the police for murdering him. pic.twitter.com/Lk5daONYl6

— Girl Friday. No, the OTHER Girl Friday. (@girrl_friday) December 7, 2019
Good thing you thanked the cops for killing him first though. Really showed you cared.

— Sounders Scandinavia (@SNDRNVIA) December 6, 2019
Kids are really going to need Psychological counseling because first someone has to explain why daddy is not coming home from work and then explain why the company his dad worked for thanked the cops for murdering him.

— David & Michael (@CenTXgaycouple) December 7, 2019
https://twitter.com/Xandre06292040/status/1203069977852551169?s=20
https://twitter.com/nothanksmorgan/status/1203051998280503296?s=20
took 17 hours to figure out his name? laughable.

— jeremiah (@jerrynunie) December 6, 2019
You still have boot polish all over your face.

— Richmond Police (@TheQueerCrimer) December 7, 2019
Ordonez is the father of two girls, ages 3 and 6 years old.
His brother, Roy Ordonez, described him as "outgoing and happy" in a GoFundMe he set up.
"He was gun down like a criminal by the Florida police. he didn't deserve to die the way he did, he was just going to work to provide for his two little girls, which he loved so much," Roy wrote.
Roy wrote that the GoFundMe will help pay for a lawyer, funeral costs, and go to Ordonez's daughters.
The Daily Dot has reached out to UPS.
READ MORE: