This year was a tumultuous one for Tumblr. After being bought by Yahoo, the site has all but settled into a surprisingly mature adolescence, cleaning up reputation for housing porn and making a concerted effort to showcase its good side.
We found, too, when looking at Tumblr for the top ten people we felt had added the most to the site during 2013, that we had a wealth of wisdom, diversity, and creativity to choose from: all of the things that Tumblr's userbase loves it for, but which is often overlooked by the business community when considering how to value the website. This, then, is our look back at the people whose presence made Tumblr better in 2013, across all fronts—and who arguably made the world a little better, too.
1) Lorde
Illustration by jemshed/Flickr
This New Zealand high schooler may be up for a slew of Grammys, but she's still a girl who goes to rock concerts and embarrasses herself for love of good music. Lorde has built her phenomenally successful persona as a musician around the idea of authenticity and a somewhat gentler approach to class warfare, so it makes sense that Tumblr has both helped nurture Lorde's success and helped succor her from the brunt of fame. 
On her 17th birthday earlier this year, she made the kind of self-reflective yet dreamy Tumblr post that speaks to the heart of the Tumblr aesthetic, whether you're the hipster snapping Instagrams of New York or the lost teen dreaming of the big city—a feeling that you have a home away from home, and while it may not be the cold, cold city, it might just be the Internet. 
"I'm going to wrap up warm and walk around the city listening to stevie nicks and broken social scene," she wrote, "feeling all seventeen, hugging myself against the cold."
2) John Green
Photo via Wikipedia
Is that Tumblr's most familiar meme? Yes, yes it is.  If you spent any time on Tumblr this year, then at some point, possibly against your will, you took part in efforts to make John Green Find the Thing. Then, once said thing was found, it's possible you were also privy to Tumlr's equally ubiquitous recognition that, yes, in fact, the person who had found the thing was, in fact, can-do-no-wrong Vlogbrother and critically acclaimed Young Adult author John Green.
Lurking on Tumblr under the sly name fishingboatproceeds, Green has basically become a household name on the social media platform. At no time has this been more evident than 2013, as his already massive Nerdfighters fandom joined the equally massive Young Adult fandom for his acclaimed latest novel, The Fault in Our Stars. As the fanbase geared up for the filming of a new movie, the book was everywhere on Tumblr.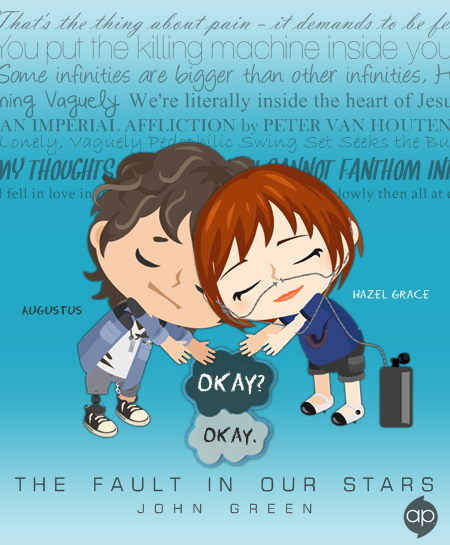 Illustration by iamtrebla/deviantART
Elsewhere on the Internet, Green has conquered YouTube, founded VidCon, raised millions of dollars for charity, hosted educational webseries, and founded a new vlog subscription service, all with his brother, musician and virtual wizard Hank Green. But on Tumblr, he's known for, well, being John Green, and participating on Tumblr just like the rest of us. It doesn't get more Tumblriffic than Tumblr reacting to John Green reacting to Beyoncé. Is that John Green? Yes, and he's just as excited as we are.
When you invite all of Tumblr to your house party it's pretty much a guarantee that you're going to end up on a year-end top 10 Tumblr list. But when you top it off with an album called Because the Internet that taps into everything we love about Tumblr and Internet culture, then it's no wonder our reaction is: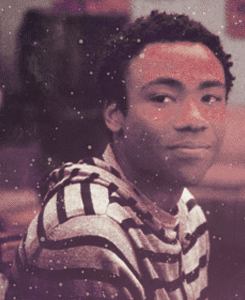 GIF via stonegate-rp
Donald Glover has his delightful fingers in all  of Tumblr's nerd pies. TV fans loves him for comprising half of the Internet's most devout OTP, Community's Troy & Abed. Comics fans love him for that time he became the Internet's Spiderman, and geeks love him for his open honesty and fears about feeling shut out and marginalized as a black nerd from both the community of black musicians and the very Internet culture he's helping to shape. All of that brilliance comes together in his stage persona, Childish Gambino. The music is the final card in Glover's full house: through his music and through his social media platforms, he seems to be laying the scene for something larger, even, than his recent meta-musicianship has allowed him to explore. At the same time, his commitment to honesty and authenticity shines at all times. As he said on Rap Genius recently, "i am def your friend if you're good with yourself and like to talk about stuff." No wonder Tumblr loves him.
4) Coco Rocha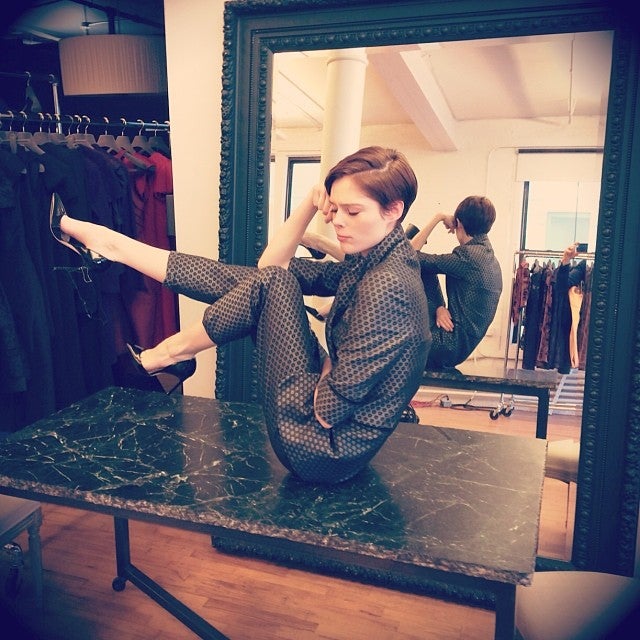 Photo via cocorocha/Instagram
There are plenty of models on Tumblr, but only one of them does double-duty on the pages of fashion's best-dressed lists and the editorial section of PC Mag. This Canadian model turned New York sophisticate has gone from being the toast of Vogue to the toast of the boardroom. When she's not appearing on the red carpet, she's trying out Google Glass and writing about the experience for the tech magazine that hired her to be their newest contributing editor. 
"It might seem a little strange to have a high fashion model write for a technology magazine," she wrote on Tumblr in July, "but I'm actually the kind of girl who'd rather buy a new tablet over a new pair of heels any day of the week."
 In a fashion world where sexism and tech culture often collide to exclude women, Rocha's commitment to having both makes her an important Tumblr participant. She's on the Board of Directors for The Model Alliance, a fashion industry labor group that successfully campaigned this year for the safety of underage models in New York. She's also outspoken against unhealthy modeling standards that encourage eating disorders. This makes her a powerful role model to have on Tumblr, whose "fitblr" community conceals a disturbing number of pro-ana communities full of young girls looking for "thinspiration." A member of the fashion elite who advocates feminist beauty standards and supports women in tech? Coco Rocha is the fashion industry's gift to Tumblr.
5) Kate Leth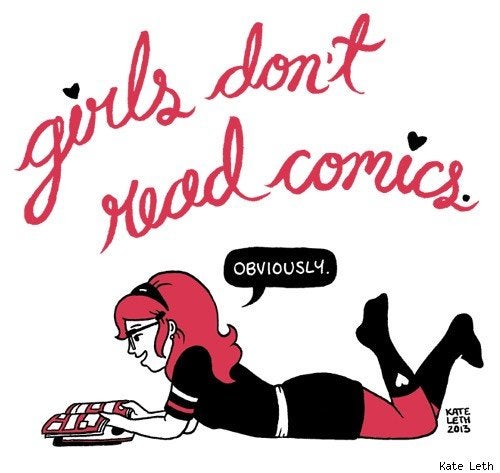 Illustration by Kate Leth via Comics Alliance
No matter where you stood this year on the subject of women in geek culture, chances are there was a Kate or Die webcomic on whatever subject had you gnashing your teeth in any given week. Whether she was reminding Tumblr to appreciate its artists or commenting wrly on her route to Internet fame, she remained one of the most outspoken women in the comics industry, often giving voice to the ongoing frustration of millions of female comics fans who feel underrepresented in the genre they love.
Leth's commitment to speaking out about the marginalization and harassment of women in comics continued in 2013, as she founded The Valkyries, an advocacy network for women who work in comic shops. She also delivered a much-lauded yet controversial series of comics on bisexuality (queer people exist on a spectrum, who knew!) and surprised us all with the end-of-year announcement that she's authoring a highly anticipated graphic novel for fandom favorite Adventure Time. No wonder Neil Gaiman wants to follow her on Tumblr.
Did we mention she also collaborates with Welcome to Night Vale when she's not fangirling it? Tumblr or die, Kate. Tumblr or die.
6) Grimes
Although she's older than Lorde by eight years, Claire Boucher, better known as Grimes, is eerily similar in the ways she uses her Tumblr to supplement her musician persona. 
Grimes has had time to settle in to her role as pink-haired pixie turned dedicated hipster musician, and she's put that image to good use, churning out the kinds of artsy, introspective experiments that have enraptured music critics and earned her a devoted fan following.
Screengrab via YouTube
If Lorde uses her Tumblr to seek, Grimes uses hers to hide. (And sometimes they tag each other on Tumblr posts and the rest of us coo in delight.) They're two sides of the same Tumblr waifling who's struggling to be creative yet real in a community full of like-minded people. Her epic April manifesto speaks to us from the heart, not only about the difficulty of being authentic in the entertainment industry, but about the importance of having a space, like Tumblr, that's all yours.
7) INSA
Photo via gif-iti/Tumblr
Street artist INSA has merged GIF culture and urban art into an amazing blend he calls "Gif-iti," in which he painstakingly creates beautifully detailed murals on walls and other urban environments—then just as painstakingly re-paints them by hand in order to create the illusion of animation when they're put together in GIF format. The results are jaw-dropping, and a reminder that even as Tumblr is giving rise to new art forms, new art forms are finding a welcome community on Tumblr.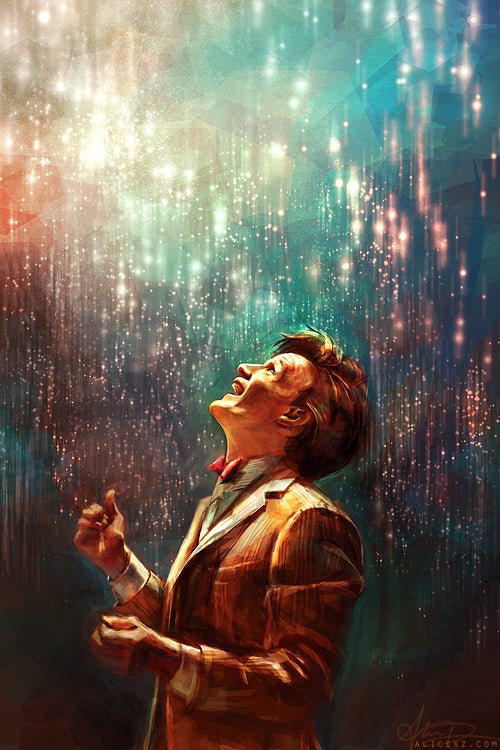 Illustration by alicexz/Tumblr
Whether it was putting 50 years of Whovian magic into a series of universally adored portraits of the Doctor or illustrating our ongoing frustration with Marvel's lack of a Black Widow movie, Alicexz was everywhere in your Tumblr fandoms this year. From Attack on Titan to Supernatural and everything in between, Zhang has amassed thousands of followers on nearly every artistic and social platform around. But it's on Tumblr that she's become virtually ubiquitous, as her incredible works of fanart have become staples of your fandom dash. Even if you didn't know her name, chances are her work crossed your fannish paths this year. And she's shown no sign of stopping: over half of her recently updated store is full of prints that have already sold out. We'll just have to wait until next year.
9) Minkyu Lee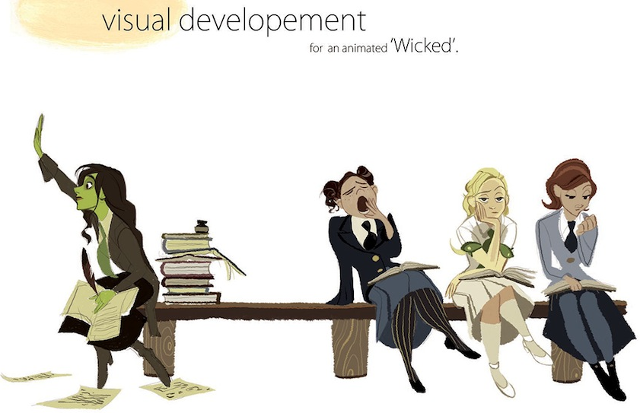 Illustration by Minkyu Lee via adagioformaves/Tumblr; originally from reverianslip/Tumblr
As we were compiling this list, the 27-year-old animation wizard, who was nominated for an Oscar this year for his short Adam and Dog, decided to delete his personal Tumblr, where he'd spent the year sharing gorgeous, iconic character designs and dispensing wisdom and encouragement to young Tumblr artists. Thankfully, we still have snapshots of the talent and wisdom Lee graciously shared with Tumblr all year. The artist, who was named one of the New York Times' rising stars of animation in July, recently left Disney, where he'd worked as a lead character designer on Tangled, Princess and the Frog, and Frozen. But he also left behind a huge trail of inspiration for his fans on Tumblr, many of whom we hope will follow in his footsteps, and share their wisdom with other up and coming Tumblr artists in the industry.
10) Koryos
Koryos may not be a veterinarian, and they may not even be a grad student yet, but they probably gave Tumblr more in the way of behavioral science this year than any other person. If you're a cat lover, or even just someone who likes having interesting things explained in the informal language of the Internet, then odds are you probably ran across Koryos' nothing-less-than-epic post about why cats are so weird. 
"Why are cats like this?" is probably the Internet's most-asked question. The answer, as the 22-year-old writer and possible future animal behavioral scientist informed us, is evolution. But cool evolution, as it turns out. Koryos not only outlined a complicated subject in a memorable, entertaining way, they followed it up with other interesting animal posts and the reminder that, wow, nature is pretty great. 
Illustration by Jason Reed